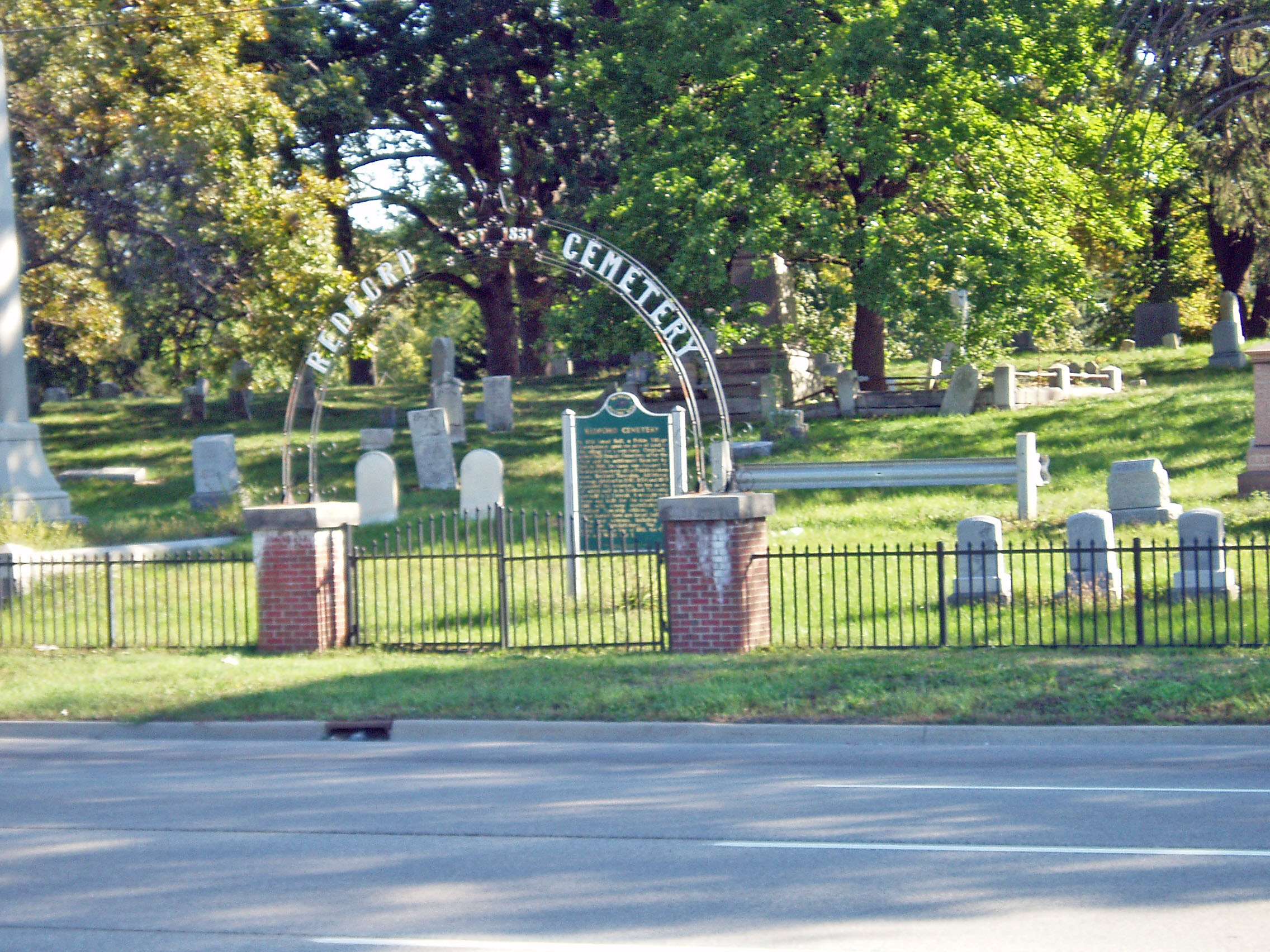 Redford Cemetery/Bell Branch Cemetery
Telegraph Road at Puritan in Detroit and Redford Township
Cemeteries remind us or the strong link between the present and the rather distant past. In 1818, Israel Bell, one of the first European settlers in this area of Wayne County, founded a community in the area now known as Redford. In 1829, he assisted in developing a chartered township, then known as Pekin but now called Redford Township. A township needs a cemetery. Israel Bell donated one acre for purposes of burying the dead. This was nam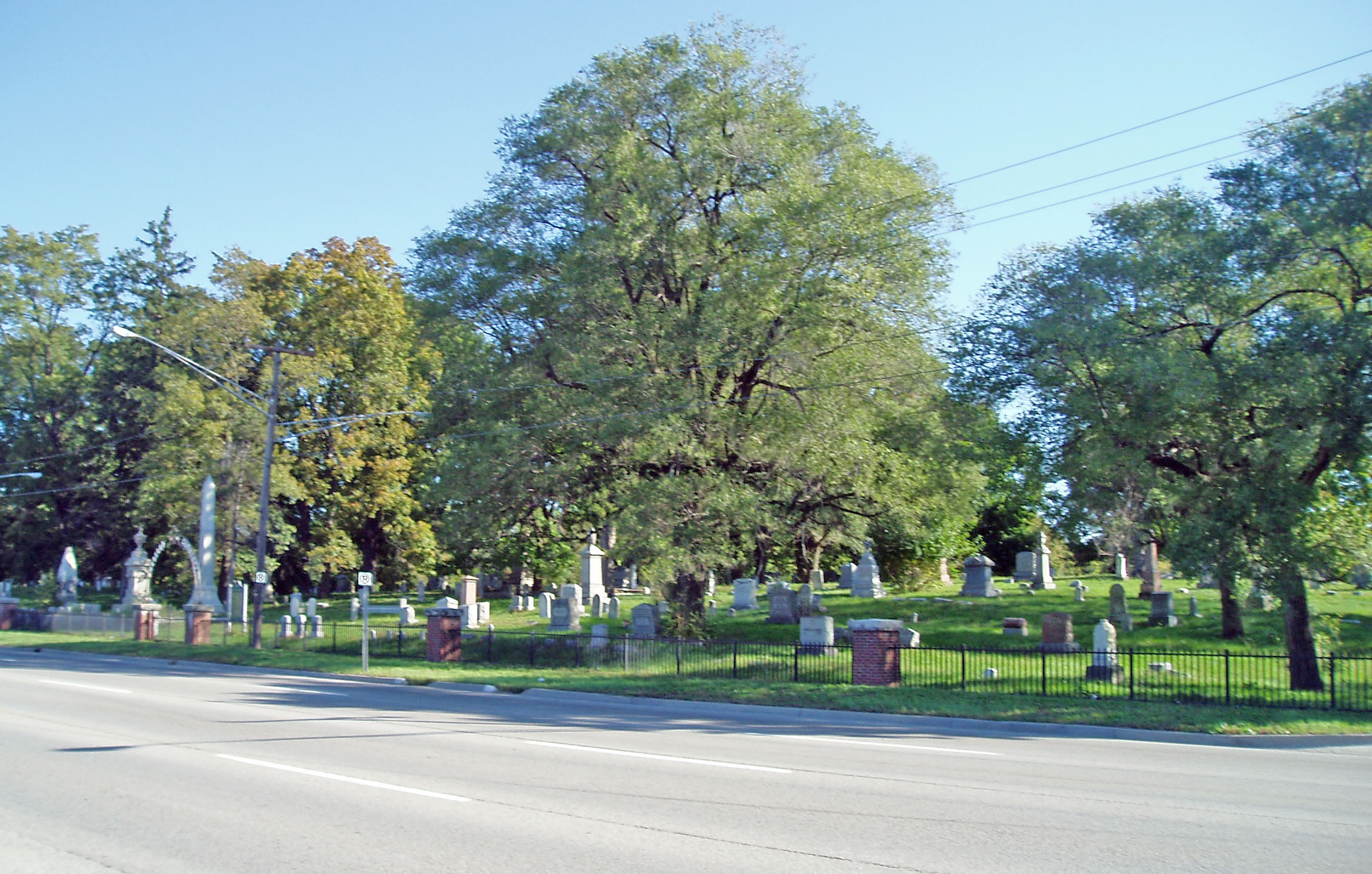 ed as Bell Branch Cemetery in honor of Mr. Bell and the local creek.
This cemetery is the final resting place of two veterans of the Revolutionary War, ten from the War of 1812 and 44 from the Civil War. At least one World War I veteran is also buried here. In all, there are about 2000 graves, 900 from the Nineteenth Century including Israel Bell and 1100 from the Twentieth Century.
The cemetery expanded over the years. In 1840, local resident Nathaniel Armstrong deeded two acres to expand the Bell Branch Cemetery. Charles and Catherine Nardin deed two additional acres in 1854 and then, 29 years later, they gave the cemetery another six acres bringing the total size to about 12 acres. In 1886, local residents funded the design and erection of the attractive ironwork fence with its arch that faces Telegraph Road. By that time, the popular name was Redford Cemetery.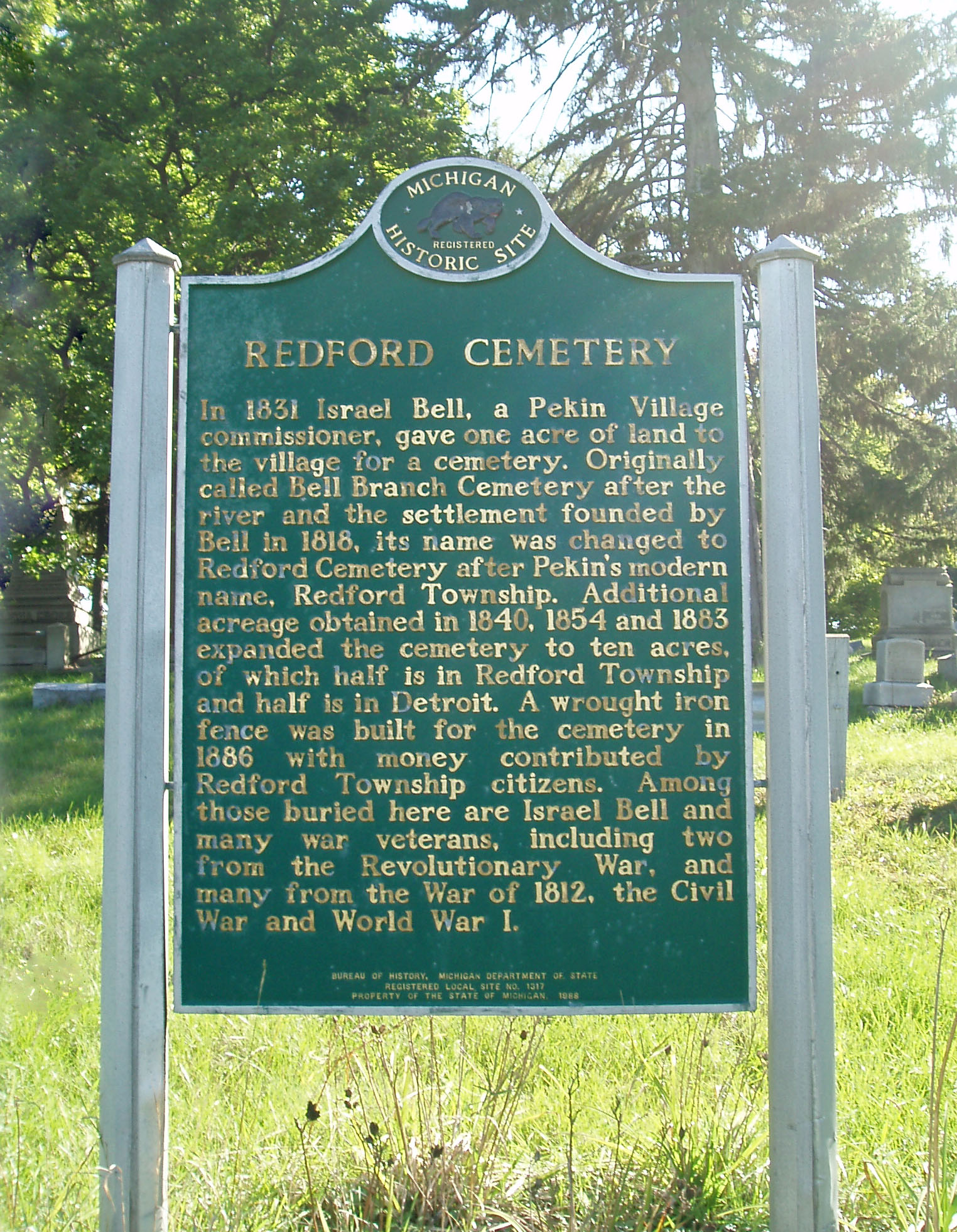 In 1933, an organization called the Redford Cemetery Association was formed to administer the grounds. Redford Township gave the association a deed for the westerly two acres that lie within that township. However, by 1933, the city of Detroit had annexed the easterly 10 or so acres. The charter of the city of Detroit precluded a donation of the land to the Redford Cemetery Association but the city leased the property in perpetuity to the association.
When the state legislature—in 1829—first granted a charter for this area, they approved the name Richland Township. Later, legislators realized that they had already approved the name Richland for a township in Kalamazoo County and that an 1827 legislative act specified that every Michigan township had to have a unique name. Recognizing that they had already made a mistake, the legislature selected names that were unlikely to be use by any Michigan township: the name of large Chinese cities. Thus the area now known as Redford got the name Pekin while the township to the west was named Nankin. In 1833, local residents apparently got tired of the Chinese name and replaced it with Redford. They knew that French trappers crossed the River Rogue at this point so they Anglicanized the trapper's activity and the river's name to Redford.

Date of founding: 1831
Construction of ironwork fence: 1886
City of Detroit Designated Historic District: Not Listed
State of Michigan Register of Historic Places: P 25,209 Listed June 13, 1986
State of Michigan Historical Marker: Visible from Telegraph Road at the
entrance to the cemetery. This marker was erected on June 1, 1988
National Register of Historic Sites: Not Listed
Website: http://redfordcemetery.org/
Use in 2008: Cemetery
Photograph: Ren Farley; October 5, 2008
Description prepared: October, 2008
Return to Cemeteries

Return to Historic Districts in Wayne County