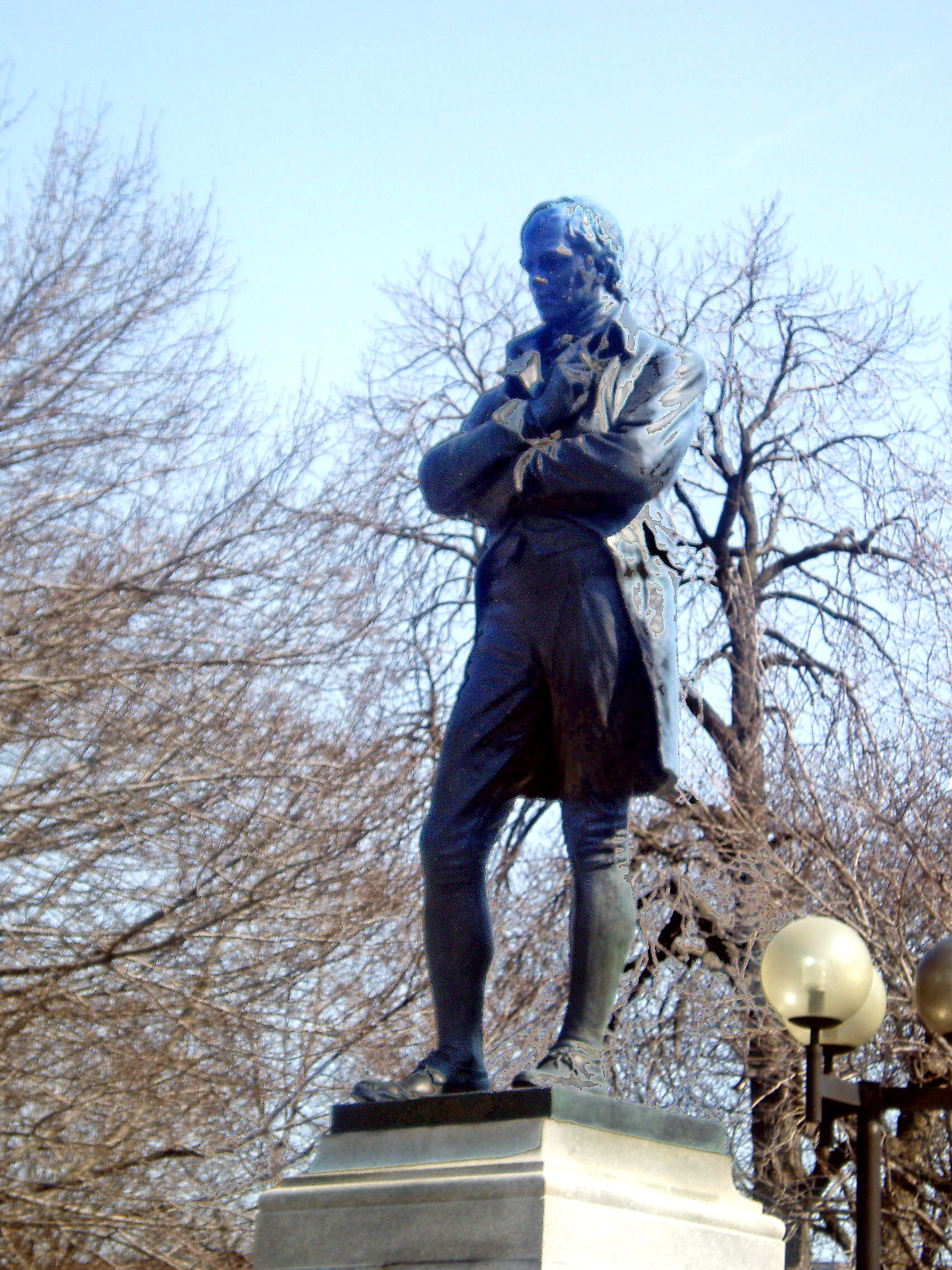 Statue of Robert Burns
Located in Cass Park at the Corner of Temple and Second
near downtown Detroit
Robert Burns (nee Burness) was born near Aye, Scotland on January 25, 1759. He is famous for the many poems and songs he wrote that celebrated his native land—its history, its land, its fair women, its liqueur and its foods, including haggis. His father was a struggling farmer, so Robert Burns grew up in poverty and completed only a few years of schooling. Nevertheless, he read extensively in both English and French. I do not know if he read or wrote any poems in Scotch Gaelic.
His poetry in standard English is not exceptionally distinguished. However, the poems he wrote in the Scotch dialect are reprinted and repeated again and again. He must have been extremely interested in daily life in Scotland for his poems depict those scenes, much as Garrison Keilor's monologues tell us about daily life in Lake Woebegone. In addition to poetry, Burns collected an immense array of Scottish folk song and wrote them down, thereby assuring that they would not be lost.
Perhaps his most cited poem is My Luve. The first two stanzas are below:

O my luve is like a red, red rose,
That's newly sprung in June.
O my love is like the melodie,
That's sweetly played in turn.
As fair as thou, my bonnie lass,
So deep in love am I;
And I will love thee still, my dear
Till a' the seas gang dry.
Burns' motivation for publishing poverty was his failure as a farmer. Needing money, he published his first volume of poems in 1886 at age 27. It was a financial success, but Burns made the mistake of ploughing the royalties into the purchase of more farm land, and again, he failed. He apparently became depressed, turned to alcohol consumption despite his doctor's warnings, and died at age 37.
We revere Joel Chandler Harris and Alan Lomax for their successful efforts to record isolated southern dialects for posterity. Burns deserves a similar type of credit, but he has become a symbol of Scotland and that land's cultural history. If you are an activist in a Scottish ethnic organization, you will spend much time speaking about Burns and his accomplishment. His birthday—January 25—is a celebratory day for Scots, just as March 17 is for the Irish. On January 25, Scots celebrate with a Burns Night Supper centered around the consumption of haggis and the drinking of Scotch whiskey.
The statue you see was placed in Cass Park in 1921. On the South side, is a bronze bas relief showing a plowman and a team with the couplet:

"Wee, modest, crimson-fipped flower
Then meet me in an evil hour."

The bas relief on the east side of the statue has a bas relief showing horsemen pursured by spirits with the phrase:

"Nae man can tether time not tide."
On the north side the bas relief shows a father reading to his family who are gathered in front of a fireplace with the couplet:
"From scenes like these,
Old Scotia's grandure springs"
When the city of Detroit refurbishes potentially beautiful Cass Park, they may be able to restore the words of Burns that once graced the front of the statue, words that are extremely appropriate for Detroit with its musically gifted and diverse population:
"The highest mead of praise flows to him who makes a people sing,
who strike one note, the common good, one chord a wider brotherhood."

Sculptor: George A. Lawson
Date of Original statue: 1891
Location of original statue: Aye, Scotland, the birthplace of Robert Burns
Date of dedication of this statue in Cass Park: July 23, 1921
Sponsors of this statue: City of Detroit Burns Club and their ladies auxiliary,
The Jean Amour Club
Use in 2004: Public Art
Photograph: Ren Farley; April 6, 2005