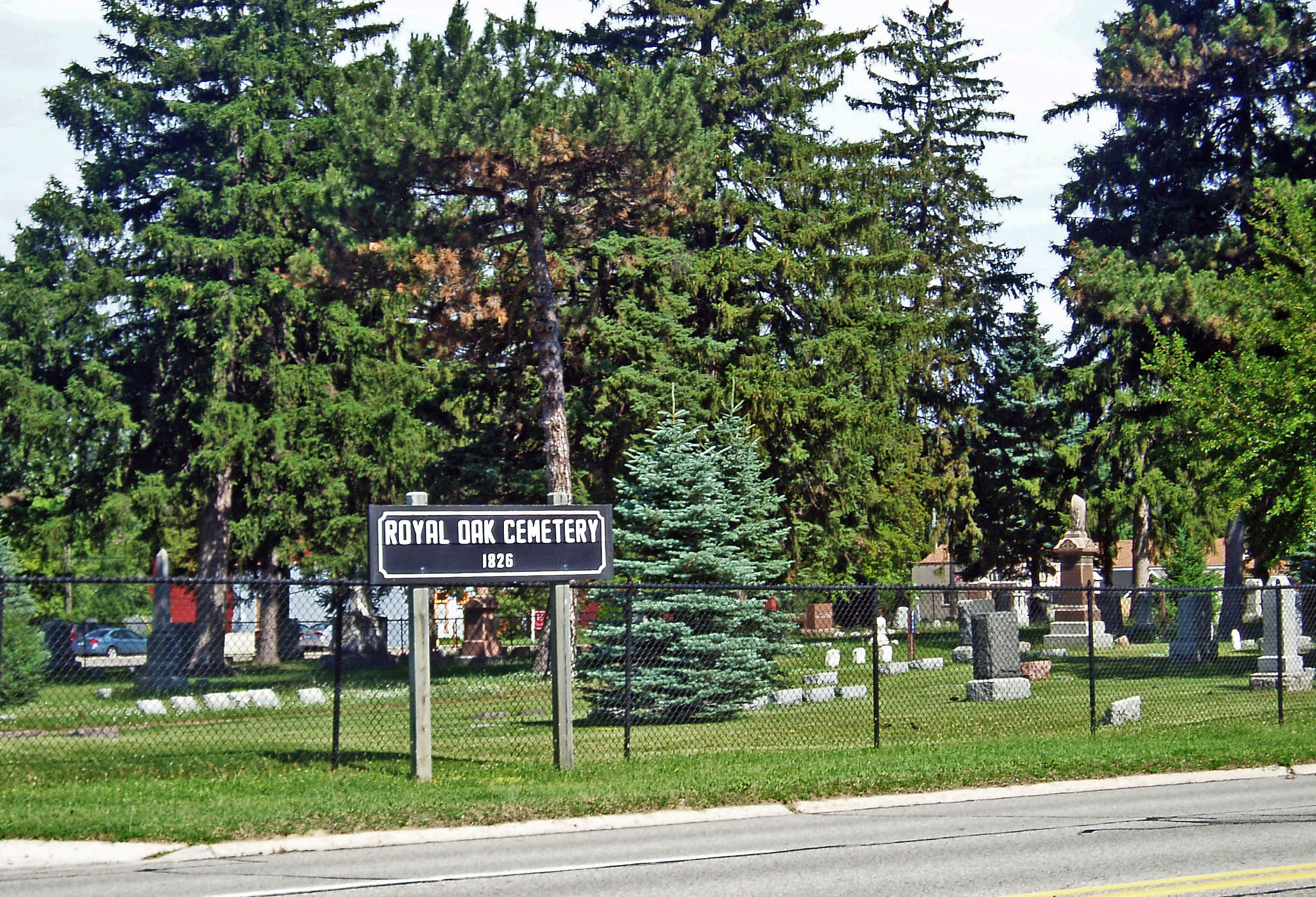 Royal Oak Township Cemetery/Royal Oak Cemetery
Bounded on the north by Twelve Mile Road, on the east by
Rochester Road, on the south by St. Mary's Catholic Cemetery
and on the west by Main Street

After the War of 1812, this triangular space was owned by Daniel Burrows who, in 1826, donated the six acres to serve as a public cemetery. In 1857, the Royal Oak Township Board of Health took over administration of this cemetery. Royal Oak Township and city have operated it since then. The first internment, in 1826, was of the infant daughter of Laura Swift and David Chase. Mr. Chase established the first store in this area and operated it from 1826 until 1854 when he moved to Detroit.

This cemetery contains more than four thousand graves, including 700 from the Nineteenth Century. One veteran from the Revolutionary War, Ezra Parker who died in 1842 at age 97, is buried here. Other veterans from subsequent wars through the conflict in Viet Nam rest in this cemetery. Orson Starr's final resting place is also in this cemetery. He was the first industrialist to operate a factory in what was then Royal Oak Township. He manufactured cow bells in this area from about 1835 through 1875.

There are many large and interesting memorials in this historic cemetery. The website listed below provides information about many of them. The largest may be a War Memorial that is affixed to a boulder listing the names of the veterans of the Civil War and the First World War who are interned here.

This cemetery is contiguous to St. Mary's Cemetery, a Catholic cemetery established in 1876.

Royal Oak Township has an interesting history. It was chartered in 1833 as a standard Michigan township; that is, six miles east to west and six miles north to south. At the time of World War I, Detroit's industrialization propelled suburban growth and formerly rural areas and hamlets close to the city became suburbs. Beginning in 1921, settlements located within Royal Oak Township were incorporated so the township got smaller and smaller.

Eventually, the independent cities of Berkeley, Clawson, Ferndale, Hazel Park, Huntington Woods, Madison Heights, Oak Park, Pleasant Ridge and Royal Oak were carved out of Royal Oak Township. By 2000, Royal Oak Township consisted of one almost exclusively African-American area of about 2,500 residents along Eight Mile Road and another non-contiguous area along Ten Mile. This was a largely middle class area with numerous Jewish residents and a total population of about 2,800. In 2004, the surviving area of Royal Oak Township near Ten Mile was annexed by Oak Park.

The southern tier of Royal Oak Township just north of Eight Mile Road, as well as the area to the South in Wayne County, was "developed" as a place where blacks might live in World War I. This was known as a "shack town" since those who settled there were expected to build their own residences using sweat equity. There were few municipal services. In 1925, the Wayne County area south of Eight Mile Road was annexed by the city of Detroit. The enclave of blacks living there were, in the late 1939s, separated from neighboring while by the well-known wall erected from Eight Mile Road to the south.

The population quickly grew and then grew again in World War II. After that war, as whites moved to the suburbs in tremendous numbers, suburbs were carved out of Royal Oak Township but the black area was never included in any of these suburbs. Indeed, civil rights spokespersons in the late 1940s and 1950, believed that some of the suburbs drew their boundaries and became municipalities to make certain that the black area of Royal Oak Township would be excluded from their towns. After the Supreme Court's Brown ruling in 1954, an additional issue became controversial. Black children in Royal Oak Township had their own elementary school, George Washington Carver School, but there was no high school although some buses were chartered to take Royal Oak Township black students to Detroit High School. After much controversy and national attention, the state of Michigan more or less forced some of the neighboring suburban school systems in the former Royal Oak Township to accept African-American children from the sliver of Royal Oak Township that remains.

By 2010, Royal Oak Township was down to .55 square mile in size along the north side of Eight Mile Road across from Detroit. That area grew very rapidly during World War II since strict segregation limited where blacks might live. Census 1950 counted 10,500 residents in present-day Royal Oak Township and a special census in 1956 counted more than 11,000. The homes were of very low quality. Indeed, a 1959 study classified 75 percent of the residences in this area as dilapidated. Royal Oak Township began a 16-year urban renewal program in 1960. Many of the inferior homes were torn down and, not surprisingly, many who could afford to do so moved away from this pocket of suburban poverty. Census 2010 counted 2,419 residents in present-day Royal Oak Township, far less than one-quarter of its population peak. This area remains a black suburban enclave since 94 percent of those residents identified themselves as black or African American.
Established as a cemetery: 1826
State of Michigan Registry of Historic Sites: P256, Listed April 18, 1996
State of Michigan Historic Marker: Put in place August 8, 1998
Use in 2013: Cemetery
Website for Cemetery: http://www.graveaddiction.com/royaloak.html
History of Royal Oak Township: http://www.royaloaktwp.com/historypart2.html
Photograph: Ren Farley, June 29, 2009
Description updated: May, 2013