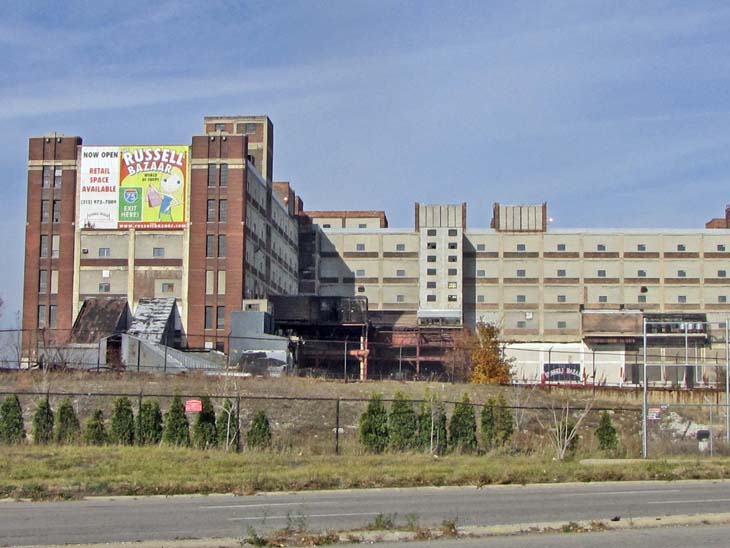 Russell Industrial Complex
1600 Clay Street in the Milwaukee Junction Neighborhood

It would be pleasant to visit a website that focused upon historically significant major buildings in Detroit that were once abandoned and at risk of deteriorating, but were successfully renovated for profitable commercial activities.  A list of such places would include the Book Cadillac Hotel, the Parke-Davis complex on the waterfront, the Fort Shelby Hotel and the Willis-Overland Building on West Willis. The Russell Industrial Complex would rank toward the top of that list of successful revivals.  Is there any other large automobile plant that has been so successfully renovated?

John William Murray, born in Ann Arbor in 1
862, went into business running a machine shop there.  As the vehicle business grew rapidly in Detroit, he realized there was much more potential in the Motor City than in Ann Arbor.  Along with his son, he moved to Detroit in 1913, located a plant on Clay Street and began stamping large items such as fenders and hoods for auto manufacturers.  This was the J. W. Murray Manufacturing Company.  Milwaukee Junction was an ideal location since it was close the crossing where the Michigan Central line to Chicago intersected with the Grand Trunk Western line to Muskegon where rail cars were put on ferries and sent to Milwaukee and points west.  Murray's stampings could easily be shipped to any vehicle firm.  At this time most auto companies were very minimally capitalized so they purchased from suppliers a great many or the majority of the parts that they used when assembling cars.  In 1916, Murray had sufficient funds to commission Albert Kahn design a large stamping plant on Clay Street.   The business prospered as Murray stamped component parts for many auto brands including Chandler, Chrysler, Crosley, Dodge, Ford, Hudson, Hupmobile, Lincoln, Mercury, Marmon, Packard, Peerless, Reo and others.   Additional buildings were erected on this site through 1925 and then on a campus located in Ecorse.

In 1924, two of the major Detroit body producers, J. W. Murray and C. W. Wilson, merged with two smaller stamping firms to form the Murray Manufacturing Company with headquarters located at the Clay Street address.   Mr. Murray retired at the time of the merger. The new managers—from large Detroit banks—made such serious mistakes that the firm went into receivership at the end of 1925.   The firm got out of bankruptcy two years later and survived the Depression, at least in part by diversifying to produce stamped steel products for a variety of uses.  Almost all Detroit firms prospered during World War II.  Employment at this Clay Street plant exceeded 13,00—most of them women producing wings for airplanes.  That is, Murray Manufacturing developed the capability to deal with aluminum as well as steel.  Murray continued to produce auto bodies and parts at this plant after World War II.  Indeed, in that booming era, there were plans to convert the plant to the complete production of c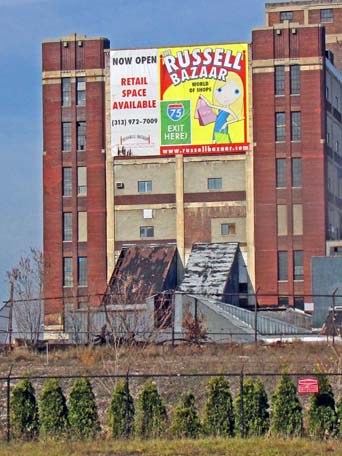 ars, but that did not occur.  By the 1950s, these older buildings were losing their cost effectiveness and the production of auto parts in this plant ceased about 1955.  The final bodies stamped out here in the 1950s were for two subcompacts that were 60 or more years ahead of their time: the Hudson Jet and the Willys Aero.

The plant was subsequently used for a variety of other purposes.  In the 1960s and 1970s, many printers located in these buildings.  The edifice changed hands several times in the later decades of the last century.  Leonora and Harry Helmsley owned it for some years.  Most recently, it was purchased by Dennis Kefallinos in 2003.  There are about two million square feet of floor space in the Murray Body buildings that were constructed from 1915 to 1925.  More than one-third of that space has been converted into rental space for creative individuals.   Presumably, additional space will be renovated as more small entrepreneurs recognize the advantages of locating in facilities such as the Russell Industrial Complex.  The Russell Bazaar is also held weekly in this building.  This provides the artists will an opportunity every week-end to sell their works to the public.

The urban commentator, Richard Florida, is one of many who have argued that older cities such as Detroit will have bright and prosperous futures if they can attractive young, highly motivated and extensively educated young people who will create new works of art, write innovative computer programs, design new medical devices and come up with ingeneous financial instruments.  There are several foci for such activity within Detroit including the Russell Industrial Complex and the nearby Techtown development in the New Center area not far from Wayne State.

If you look at the professionals who had space in the Russell Industrial Center in 2011, you would have seen the following professions represented; architecture. candle maker, collage designer, couturier, glass blower, graphic designer, musician, music producer, photographer, physical trainer, sculpture, sign maker, upholsterer, woodworker, and writer.
Date of buildings in this complex 1915 to 1925
Architects: Quite a few.  Albert Kahn designed the first major building in 1916
Use in 2011:  The building provides space for creative artists and small businesses
Website: http://ricdetroit.org/2010/?id=homehttp://ricdetroit.org/2010/?id=home
City of Detroit Designated Historic District: Not listed
State of Michigan Registry of Historic Sites: Not listed
National Register of Historic Places: Not listed
Photograph:  Ren Farley
Description prepared: October, 2011