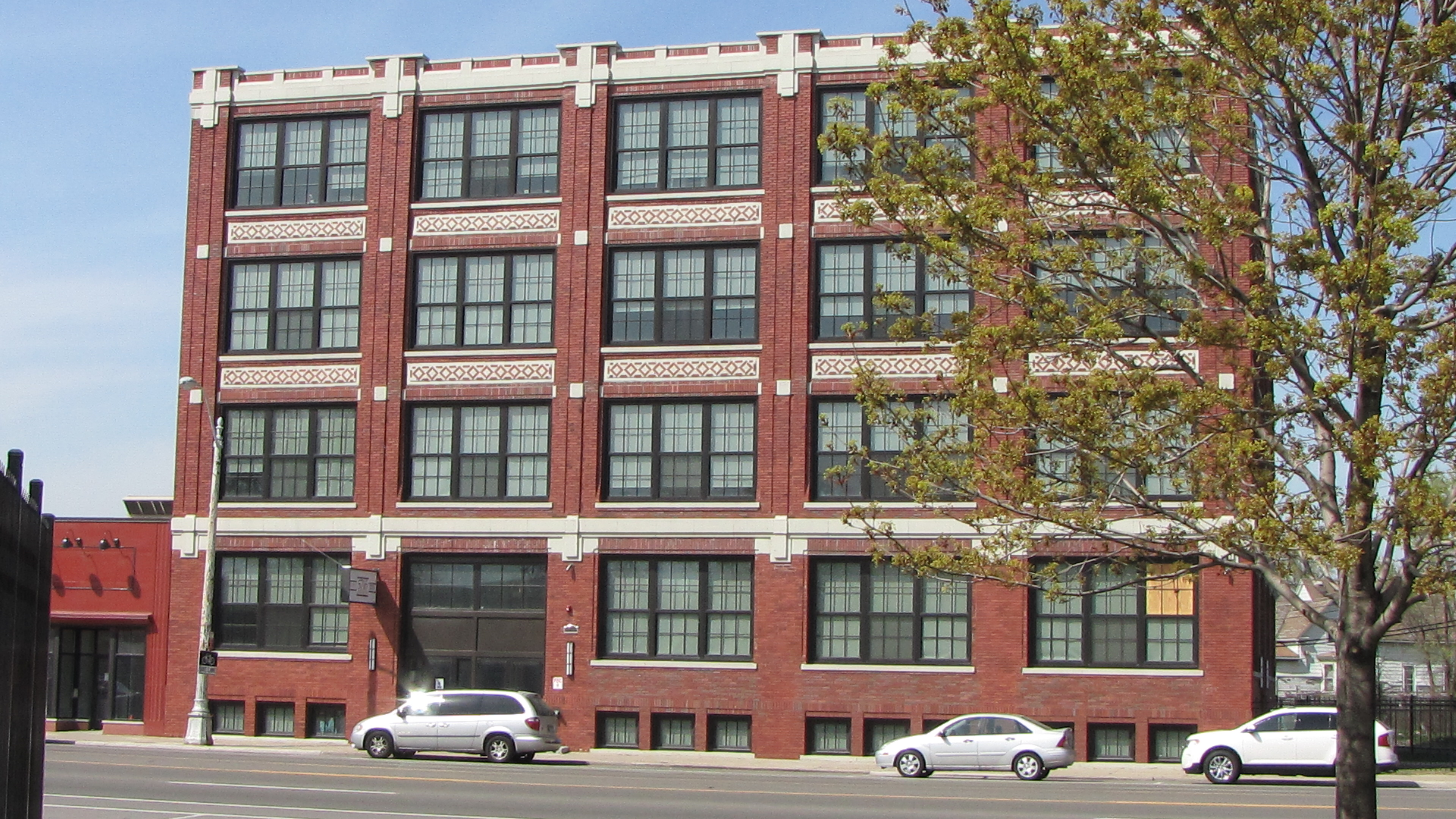 San Telmo Cigar Factory
5716 Michigan Avenue in Southwest Detroit


No Detroit architect was more imaginative or more productive than Albert Kahn. People are impressed by the range of structures he designed: the Livingston Lighthouse on Belle Isle, the beautiful Clemens Library on the campus of the University of Michigan, the Fisher Building in the New Center area of Detroit, the Detroit Athletic Club at Grand Circus Park, the Reverend Samuel Francis Smith Memorial Flagpole on Belle Isle and dozens, if not hundreds, of industrial plants and several synagogues, especially the two Beth El edifices on Woodard. However, the massive but attractive four-story structure you see pictured above is one of two Detroit cigar factories he designed.  It also has a special historical significance.  Through the late Nineteenth Century, wood beams, typically heavy oak beam, I think, were used as a basic structural element in buildings.  They were replaced by steel I-beams a little more than a century ago.  One of the contractors who helped remodel this building, Mike Brown, pointed out that this may be the last remaining wood beam building designed by Albert Kahn.

Detroit became one of the nation's leading tobacco production centers in the late Nineteenth Century. The availability of high-quality tobacco from nearby Ontario is one reason. The presence of many Germans who enjoyed cigars and knew how to make excellent ones is another. Those immigrants and the availability of high quality locally-grown tobacco explains why Detroit became one of the nation's leading centers for manufacturing cigars and cut plug tobacco in the decades before 1900. Cigarettes did not become a popular way to consume tobacco until after J. B. Duke perfected a machine for their production, a machine that greatly reduced the cost of cigarettes. Prior to that, those who used tobacco often smoked cigars or placed it in their mouths—chewing tobacco for men and snuff for women. I am an older person myself, but I have never met a woman who reported using stuff. My father told me that when he was young, many women used snuff even if they did not admit it. The term cut plug tobacco is not often used today but you can still buy it.  It is a tightly packed small amount of moist black or brown tobacco from which you bite off a chew to enjoy while you are at work.  I used cut plug long ago when I worked in rubber factories in Akron. 

Oscar Rosenberger founded the San Telmo firm in 1898 and headed the business until his death in 1918. As the firm expanded, they needed more space for production so Albert Kahn was engaged to design the pleasant four story structure you see, one that was completed in 1910. Rosenberger's firm had at least one other plant and sold cigars under such labels as Court Royal, La Renta and Joan of Ark. The Hess Brothers purchased the firm after the death of Mr. Rosenberger. So far as I know, no one has yet written an authoritative book about the history of the prosperous tobacco industry in Detroit, so I do not know when this firm closed. The tobacco industry played an unusual role in the city's labor history. Many of the workers were women; indeed it was one of the few manufacturing industries where many immigrant women held jobs. And it was highly unionized with a vibrant history of strikes as women walked off their jobs to seek more pay.  Detroit's tobacco factories were unionized long before the vehicle plants.

I do not know when Detroit lost its dominant position in the tobacco industry. The rise of cigarettes and the decline in the use of cigars and cut plug tobacco probably played a role. Perhaps the Ontario tobacco lost favor after North Carolina and Virginia farmers perfected the growing of that crop. However, by the end of the Nineteenth Century, a great deal of Cuban tobacco was arriving being imported to Detroit so there is a long story about Detroit and tobacco that has yet to be told.

Nor do I know why Oscar Rosenberger selected San Telmo as the name for his successful tobacco firm. San Telmo is one of the oldest neighborhoods in Buenos Aires. Perhaps, he borrowed the name from that city. That neighborhood carried this name because it is the location of the parish of San Pedro Gonzalez Telmo, the patron saint of mariners. He was born in Fromista, Spain in 1190, studied theology and was ordained a Dominican priest. He was apparently a gifted orator who devoted himself to preaching the gospel to the poor and to mariners in Galicia. He died in 1254 and was beatified by Pope Innocent IV just eight years after his death. However, there has been a delay in the canonization process for San Pedro Gonzalez Telmo, and as of 2011, he was not yet an official saint in the Roman church.

In 2009, the Southwest Housing Solutions group in Detroit—a nonprofit that has had great success in rehabilitating older buildings and erecting new ones for low-cost housing—announced that they would renovate the San Telmo Cigar Factory.  The picture above shows the building shortly before 2009 when a part of it was being used as a night club.  Eventually $ 11.2 million was spent to reconfigure the building.  It was given a new name: 5716 Wellness.  The Covenant Community Center occupies the first floor while a Children, Youth and Families programs is sited on the fourth floor.  There is also space for Madonna University's Women's Educational Empowerment Program, for a Moms and Babes Too program and for a clinic that provides dental and medical services to those who lack insurance.  Some space is occupied by administrative offices of Southwest Solutions.  The renovation was financed, in part, by federal grants and money appropriated by the Kresge Foundation.

That work involved cleaning and restoring the exterior masonry and installing new and environmentally sound windows, but ones that were historically consistent with Kahn's original design.  Paint was removed from the original timbers to reveal the post and beam style with its attractive natural colors.  Clearly, a great deal of effort went into the restoration even though this building has yet to be listed on any historic register.  It seems worthy of such recognition.
In 2016, there were at least six major tobacco building standing in Detroit. There may be more. The ones I know about are, in order of birthdate:
Brown Brothers Cigar - 119 State Street in Capitol Park. Designed by Gordon W. LLoyd and opened in 1887. In 2015,the building was purchased by the Lear Corporation and will become a center for design.
Globe Tobacco - 407 East Fort Street. Designed and built by Alexander Chapton and opened in 1888. This building was renovated for use as offices and then purchased by Dan Gilbert's Bedrock financial and real estate firm.
San Telmo Cigar - 5716 Michigan Avenue in southwest Detroit. Designed by Albert Kahn and opened in 1910. This structure now is the home of the Southwest Solutions organization.
John P. Hemmerter Building - 230-242 East Grand River near Capitol Park. Designed by Richard Raseman. This building was also purchased in 2015 by the Lear Corporation.
Banner Cigar - 2941 West Warren. Designed by Louis Kamper and opened in 1914. Plans were announced in 2015 ro convert this structure into a gallary for art and artists.
Mazer Cigar - 5031 Grandy. Designed by Albert Kahn and opened in 1924. In 2016, this structure provided office space for the city of Detroit.



Architect: Albert Kahn
Date of Completion: 1911
Architect for the 2010 renovation: Steve Parisean of Shelter Design Studios of Royal Oak
(www.shelterstudiollc.com)
City of Detroit Designated Historic District: Not listed
State of Michigan Registry of Historic Sites: Not listed (But it should be listed)
National Register of Historic Places: Not listed
Use in 2009: Night club awaiting redeveloping into apartments or condominiums
Website for Southwest Housing Solutions: http://www.swsol.org/
Photograph: Ren Farley; November 12, 2009
Description updated: November, 2016

Return to Industrial Buildings

Return to Home Page