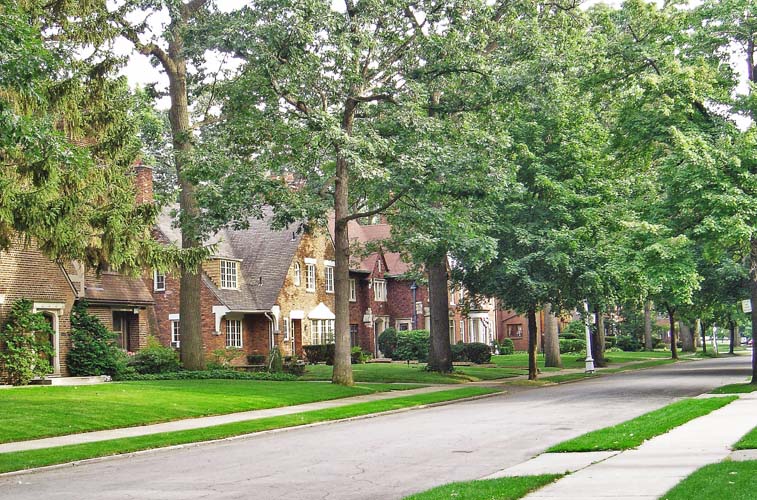 Sherwood Forest Historic District
Bounded by Seven Mile Road, Livernois, Pembroke and
Parkside in northwest Detroit

This and several adjoining neighborhoods were among the first built in Detroit after the prosperity of the vehicle industry created a demand for elegant homes. Sherwood Forest consists of two subdivisions: Sherwood Forest, plotted in 1916, and Sherwood Forest Manor, plotted ten years later. The area was marked as an exclusive residential neighborhood close to Palmer Park, the Detroit Golf Club and the even more expensive and exclusive Palmer Woods residential area immediately to the east.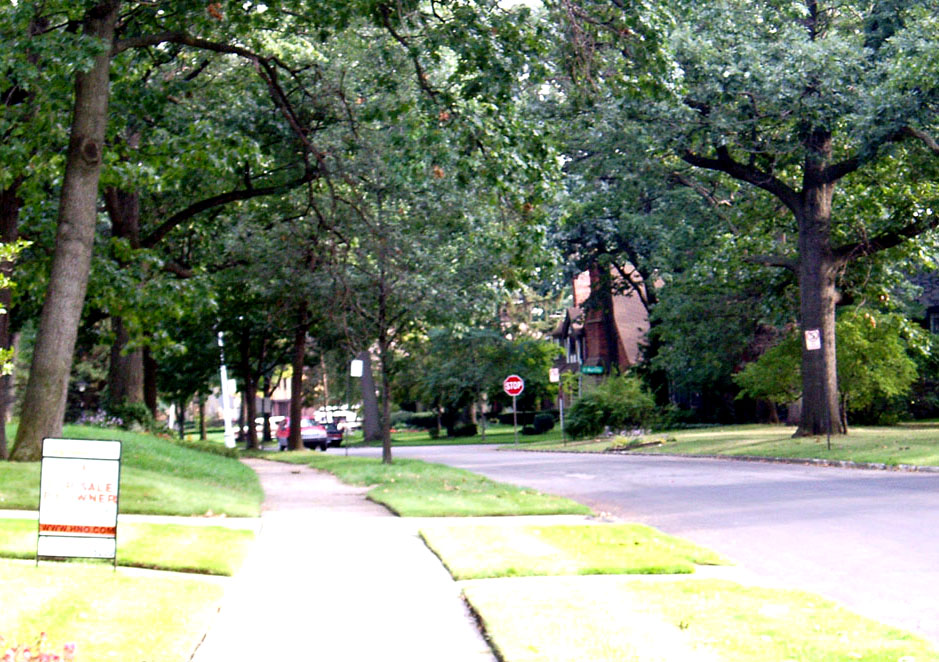 Developers thought that the area should resemble an English village; thus, they selected appropriate English names and curved and winding streets. You will not find a rectangular street pattern here or in old English villages. There are about 435 homes, most of them built before the Depression terminated housing construction in the city. Many of them are Georgian Colonials or English Tudor homes in keeping with the English theme. Some of the homes are newer, having been constructed after building resumed in 1947. They are large, even by the standards of early 21st-century architecture since they average about 3,600 square feet with four to six bedrooms.
To preserve the ambiance of Sherwood Forest and sustain property values, numerous regulations specified what might be built. If you go to the neighborhood association's current website, you can find a dozen or more pages listing what may or may not be done. For example, flat roofs were prohibited, and the exteriors of every home had to be of brick or of stone or concrete over tile. A long list of garage regulations seeks to prevent the emergence of uncomely "parking lots" at the side of these impressive homes.
Control over who lived there was also deemed important, so a restriction stated "No lots in said division shall be sold or leased to or occupied by any other person than of the Caucasian race." A 1948 Supreme Court decision, in litigation arising from the Orsel and Minnie McGhee home on Seebalt, prohibited courts from enforcing such restrictive covenants. Prosperous Jewish Detroiters selected Sherwood Forest for their residence after World War II. At that time, Livernois Avenue bordering Sherwood Forest developed such a strong reputation for elegant stores that the merchants renamed the street Fashion Avenue and the sign changed accordingly.
This residential neighborhood continues to rank as one of the most appealing in the metropolitan area. Some of the major thoroughfares in this area of Detroit look a little shabby because of abandoned stores and building that need much refurbishing. However, a drive down the arching streets of Sherwood Forest will suggest to you that you are in one of the most appealing and upscale suburbs of Boston, New York or Chicago.
Architects: Many represented
Date of residential construction: The Sherwood Forest subdivision of this historic district dates from 1916. The Sherwood Forest Manor subdivision from 1926.
City of Detroit: Local Historic District: Listed: May 13, 2002
State of Michigan Registry of Historic Sites: Not listed
National Register of Historic Places: Not listed
Photograph: September 11, 2004; Ren Farley
Return to City of Detroit Historic Designations