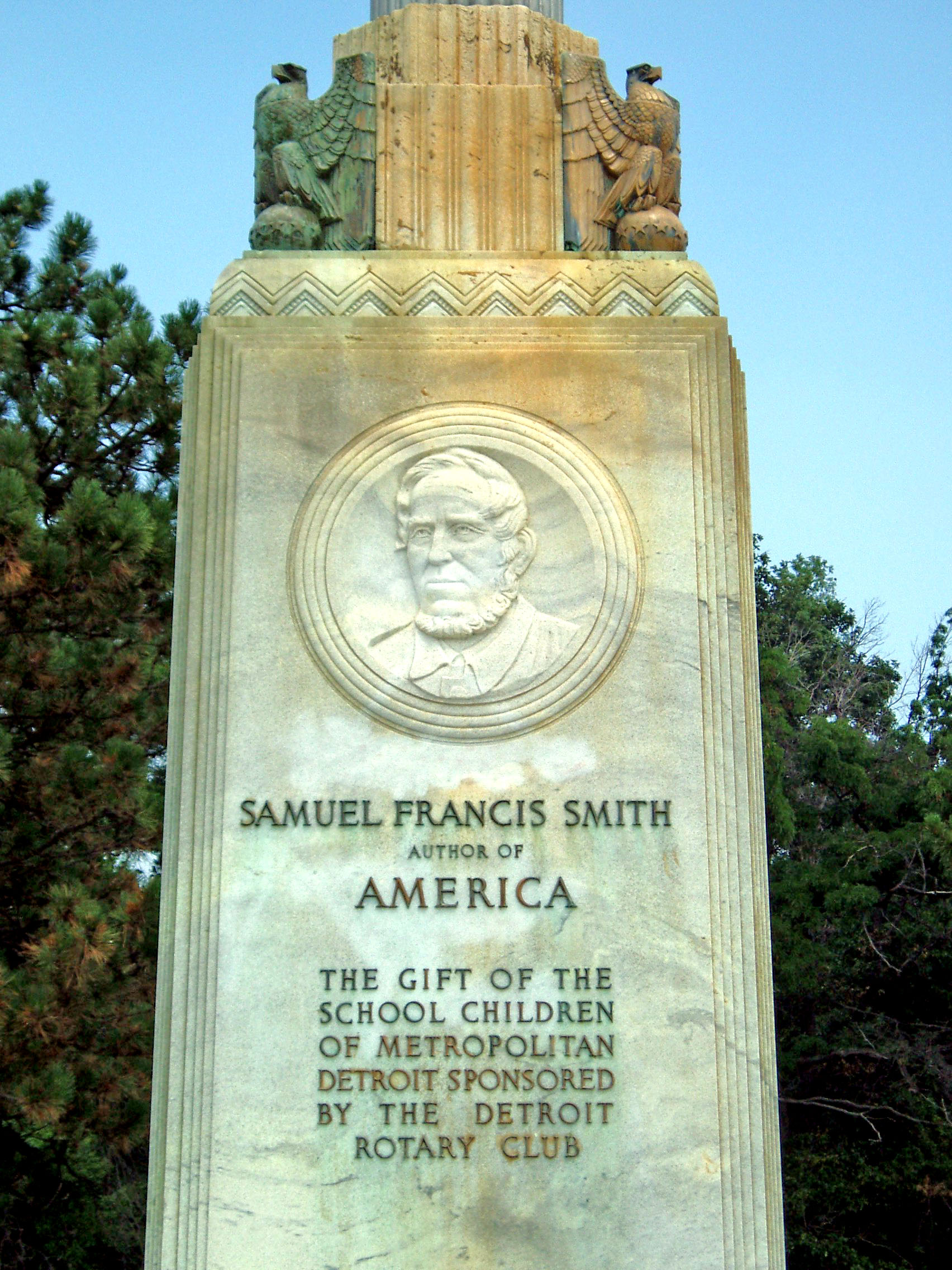 The Reverend Samuel Francis Smith Memorial Flagpole
At the intersection of The Stand and Vista Way on
Belle Isle in the Detroit River
"America"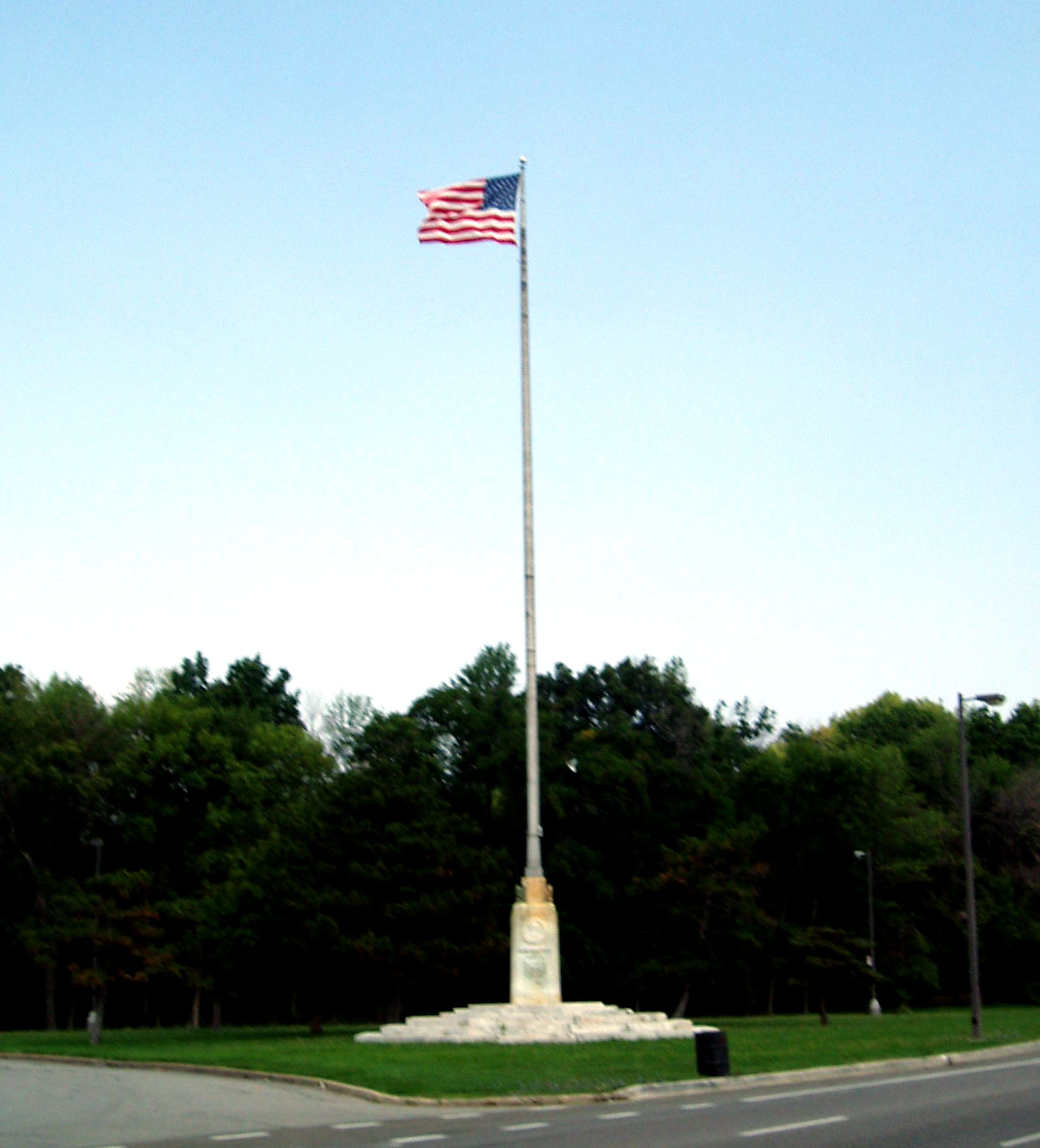 My country, 'tis of thee,
Sweet land of liberty,
Of thee I sing;
Land where my fathers died,
Land of the pilgrims' pride,
From every mountainside,
Let freedom ring!
My native country, thee,
Land of the noble free,
Thy name I love;
I love thy rocks and rills,
Thy woods and templed hills;
My heart with rapture thrills,
Like that above.
Let music swell the breeze,
And ring from all the trees,
Sweet freedom's song;
Let mortal tongues awake;
Let all that breathe partake;
Let rocks their silence break,
The sound prolong.
Our fathers' God, to Thee,
Author of liberty,
To Thee we sing;
Long may our land be bright
With freedom's holy light;
Protect us by Thy might,
Great God, our King.

The flagpole that you see is, I presume, the only such pole designed by Detroit's most acclaimed architect, Albert Kahn. The Reverend Samuel Francis Smith was born in Boston in 1808. He attended Boston Latin School, the first public school in this nation, and then in 1825, enrolled at his local college, Harvard. He graduated in 1829 and then, the next year, enrolled in Andover Theological Seminary to study for the Baptist ministry. For some years, he served as a minister in Waterville, Maine and taught foreign languages at Waterville College, the institution that was renamed Colby College.
There are, perhaps, four leading patriotic hymns for the United States. Francis Scott Key composed the words and music for the Star Spangled Banner. The words and music for America the Beautiful were written by Katherine Lee Bates. The immigrant from Russia, Irving Berlin, wrote the words and music for God Bless America. The Reverend Samuel Francis Scott deserves an equal place in this nation's patriotic history. He supported himself as a student at Harvard by translating German into English. He continued this remunerative activity as a ministerial student.

In the early 1830s, his friend, Lowell Mason, gave him a patriotic song to translate. This was a German tune, written in 1732, and titled, "God Bless our Native Land." Apparently, Scott was very impressed by both the tune and the patriotic words, so without changing the music, he wrote the words that you see above. America was first sung, according to Scott, at a children's celebration on July 4, 1832 at Park Street Church in Boston. While its origin is German, the same music was used for the patriotic anthem of the British Royalty, God Save the King (or Queen). This music currently serves as the national anthem of Lichtenstein, and in the past, has been used a national anthem by Denmark, Germany, Russia, Sweden and Switzerland.

Four verses of America are shown above. Scott wrote a fifth stanza shown below, but concluded that it was too critical of England, so he tried to suppress it. Recall that at this time, the prospect of war with Britain was real, as evidenced by the building of Fort Wayne in Detroit more than a decade after Scott wrote the words for America.

No more shall tyrants here
With haughty steps appear
And soldier bands
No more shall tyrants dread
Above the patriotic dead
No more our blood be shed
By alien hands

After writing teaching and preaching in Waterville, Maine, Samuel Smith returned to Boston and served as the Secretary of the Baptist Missionary Union. He visited mission sites throughout the world and learned to speak 15 languages. He died at age 97.

During the Depression decade, the Rotary Clubs in Detroit took the lead in raising funds from the city's school children for the construction of the impressing flagpole that you see; one that is worthy of marking the international boundary. Albert Kahn donated his time and designed the pole. The centennial of the writing of the hymn, America, was 1932. I have seen references to the date of erection of this attractive flagpole as 1932, but also 1934.

Date of erection: 1932 or 1934
Architect and Designer: Albert Kahn
Sculpture: Samuel A. Cashwan
City of Detroit Local Historic District: Not listed
State of Michigan Registry of Historic Sites: Belle Isle, listed September 10, 1979
National Register of Historic Places: Belle Isle, listed February 25, 1974
Use in 2004: Flagpole
Photograph: Ren Farley; August, 2005