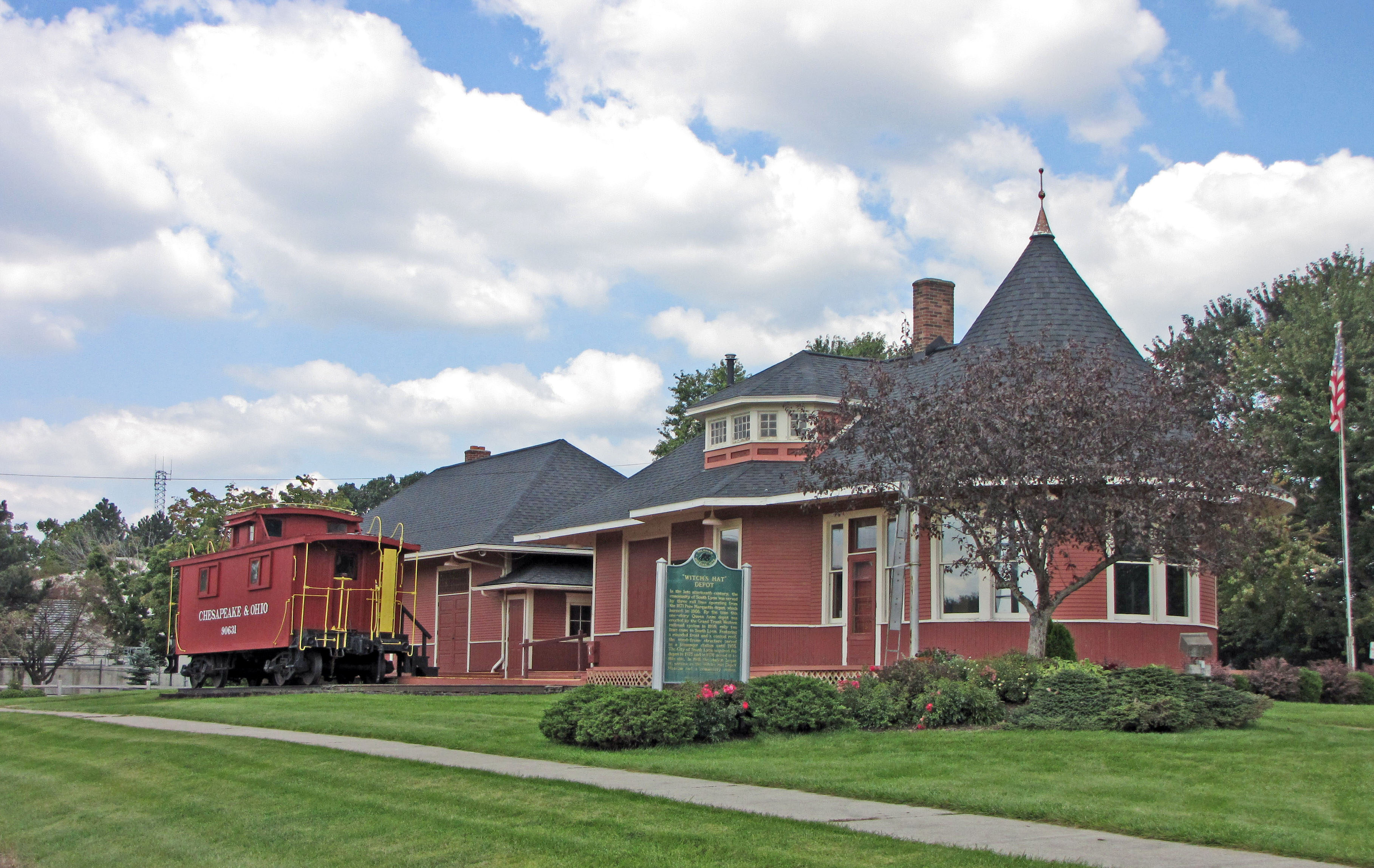 Grand Trunk Western, South Lyon "Witch Hat" Depot
Few cities opt for a witch hat as their totem, but South Lyon does.  Settlers first came to this location in the early 1830s, establishing a community called "Thompson's Corner," presumably named after one of the families.  The Grand Rapids solon, Lucius Lyon, served in the state legislature shortly thereafter and apparently had the honor of naming an Oakland County township after himself.  This is a time when the territorial legislature involved themselves in naming locations.  When this village was incorporated in 1873, the organizers selected the name South Lyon and it has been used since.
Now to the story about railroads and chapeaus for witches.  In the early 1870s, there was no rail line directly linking Detroit to Lansing, but investors knew that one would be profitable.  A railroad called the Detroit Lansing and Northern built west from Plymouth through Lansing to Ionia.  In 1871, they laid their rail through the settlement that would become South Lyon two years later.  By the late 1870s, Lansing and Detroit were linked by rail, a line that later became part of the very extensive Pere Marquette system.
As soon as the Michigan Central completed its line to Ann Arbor in 1844, residents there complained about its monopolist prices.  By 1855, investors in that city sought to build a rail line to Toledo in hopes of cutting costs, but nothing came of that endeavor until 1869 when enough money was raised to do some preliminary construction grading.  From 1872 to 1874, the nation was in a Depression so nothing happened with the Ann Arbor Toledo line at that time.  In 1877, James M. Ashley, an abolitionist who, while representing Toledo in Congress, introduced and sponsored the legislation that prohibited the selling of slaves in Washington, DC, took over the rail project.  He decided to build a line northwest from Ann Arbor to Lake Michigan.  There rail cars would be put on ships to cross that great lake.  This meant that freight traveling from the Midwest to the Northwest would not have to be delayed by time-consuming and expensive interchanges in Chicago.  Ashley, who also served as governor of the Montana territory, had grand ideas for his rail line, but lacked access to capital.  He did secure money to complete his tracks to Ann Arbor, and on June 21, 1878, the Michigan Central Railroad in Tree City had a competitor.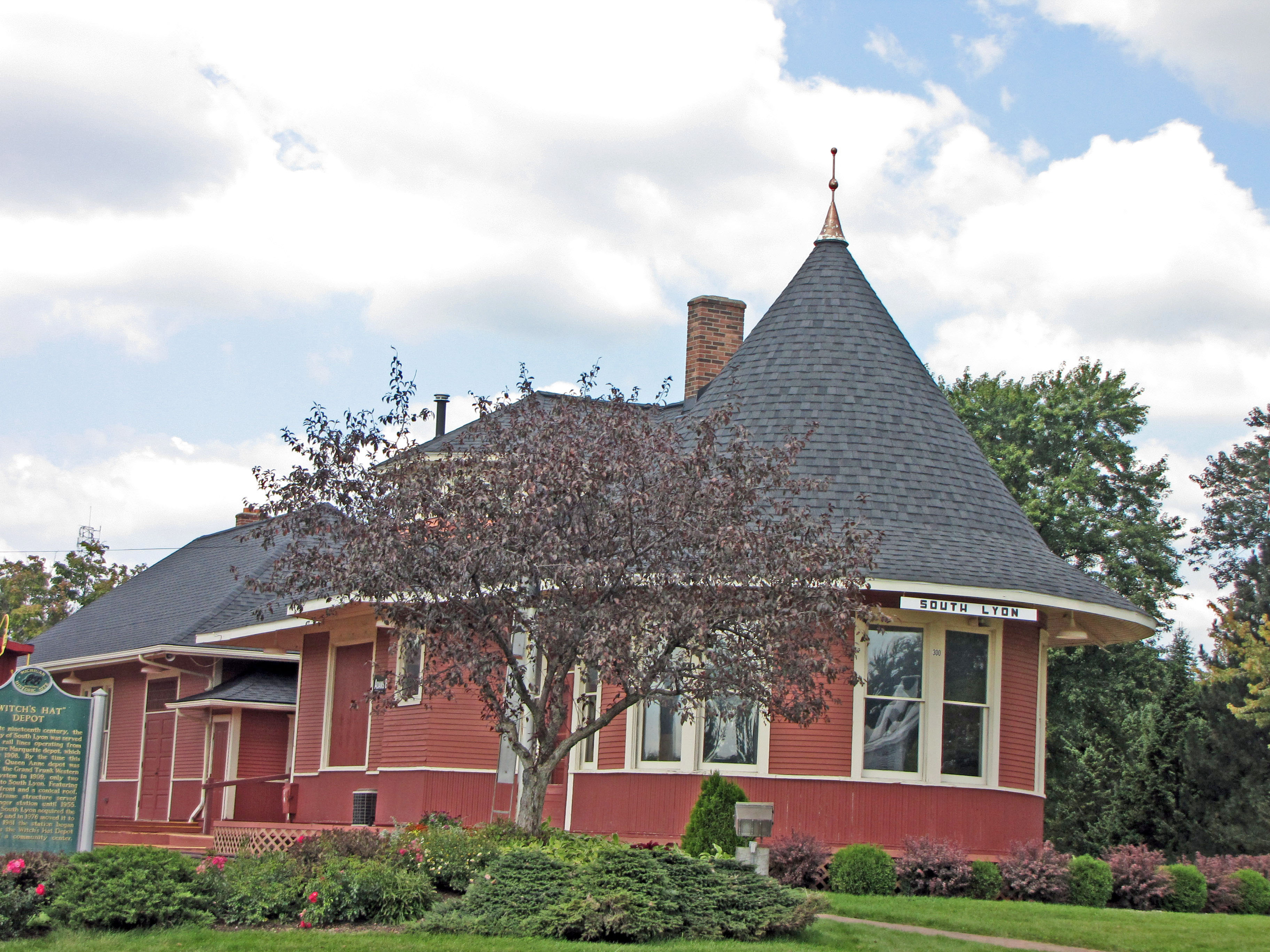 Ashley intended to continue his line on a northwest route from Ann Arbor, but got another idea—or found capital to change his route.  That is, he decided to build a line northeast from Ann Arbor to Pontiac where it would intersect with the Grand Trunk Western (GTW) Railroad.  He thought there would be profit interchanging freight with the GTW there.  He built a line from Ann Arbor toward Pontiac, but only got to South Lyon before running out of funds.  That line is now traced by the road known as Pontiac Trail.  The first train left South Lyon for Ann Arbor in July, 1881.  Ashley had money to grade some of his planned line northeast from South Lyon, but never laid any rails there.  In the meantime, he gradually built his line northwest from Ann Arbor and bought lines that would help his road eventually reach Frankfort on Lake Michigan.  The South Lyon branch line traffic was not profitable so the Ann Arbor Railroad abandoned the line in 1890 or 1891.
The State of Michigan Historical Marker says that South Lyon was served by three rail lines in 1906.  I wonder which lines are counted?  The Ann Arbor had been gone for a decade and a half by that date.  But there was another line and it built the striking station you see pictured above.
The Grand Trunk Railroad headquartered in Montréal shipped much freight to the Midwest and had a major presence in Michigan, where it became the Grand Trunk Western line.  After they reached Sarnia, and by ferry, Port Huron, the Grand Trunk considered, in 1871, building a modern line toward Chicago but lacked the capital to move quickly.  The Michigan Central Line had reached Jackson in the late 1840s and was extended to Battle Creek, Kalamazoo, Niles and Chicago by 1855.  However, much of that line was built at minimum cost so it had many hills and numerous curves.  In the early 1870s, a group of investors in Jackson decided to firmly put their city on the rail map by building the Michigan Air Line.  This would be a high speed, efficient line linking Jackson to Niles, on the west, and to Port Huron on the east.   They completed a direct line to Niles in 1871 and, shortly, thereafter, it was purchased by the Michigan Central.  The Michigan Central used this line for many freight trains but it by-passed the important metropolises of Marshall, Battle Creek, Kalamazoo and Dowagiac, so it gradually became a secondary line.  By 1900, the Michigan Central had funds to modernize its main line through those cities.
The Grand Trunk Western did not give up their idea of a high speed line to Chicago.  They saw an opportunity with the abandonment of the Ann Arbor right of way near South Lyon.  By 1883, they completed a line from a point on their Port Huron to Detroit line—Ridgeway—through South Lyon and on to Jackson.  This was known, until its demise, as the Michigan Air Line.  But is was not a major line since, by 1877, the Grand Trunk Western had completed a line from Port Huron to Chicago passing through Flint, Lansing, Cassopolis and South Bend.  This was the main line that they used to ship freight and passengers from Chicago to Toronto and Montreal.  Only branch line trains used the Michigan Air Line to Jackson.
The original Detroit, Lansing and Northern depot burned so the GTW built the structure you see at the point where their line intersected the Pere Marquette near the present-day South Lyon elevator on east Main Street.  From the perspective of the Twenty-first century, it is difficult to appreciate how very important rail depots were in the pre-vehicle age.  Almost everyone who arrived in a town or who left spent time at the rail station.  All mail was delivered by trains, as well as both large and small packages.  There were quite a few people spending time at a station throughout the day so they became social spots, perhaps similar to today's coffee shop. You could take a direct train to Detroit, Lansing or Grand Rapids on the Pere Marquette from this station, but on the GTW, there were only local trains to Jackson and Pontiac where you could change to a train for Detroit.  Passenger trains continued to pass through South Lyon until the Amtrak takeover on May 1, 1971, but they did not stop.  I think the last Pere Marquette ceased stopping their passenger trains here in the Depression decade.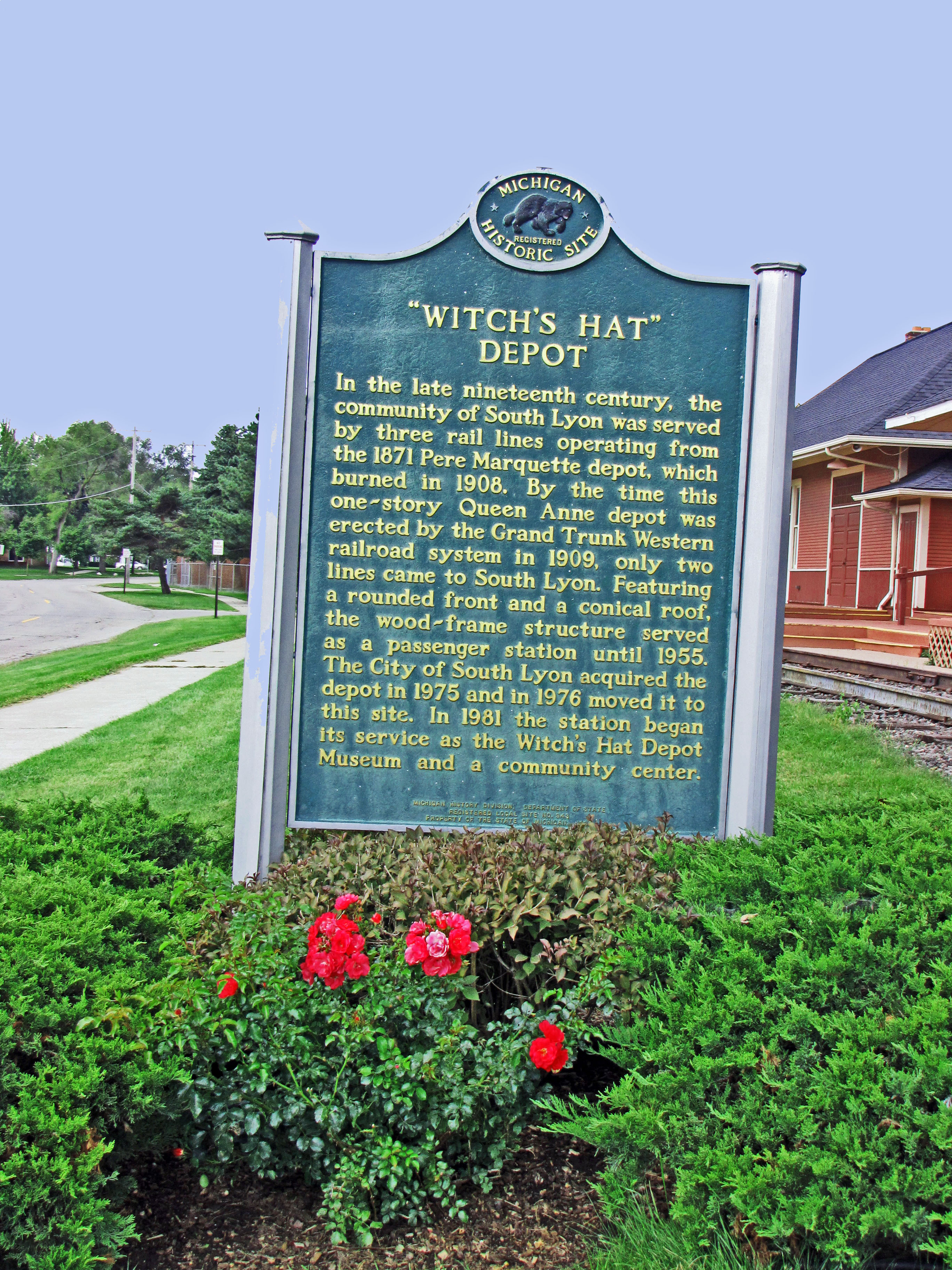 The GTW operated a mixed train that carried passengers and freight on its Michigan Air Line from Pontiac to Jackson into the 1950s.
The Detroit architectural firm of Spier and Rohns designed many depots for the GTW, so it is likely they were the architects for the building you see.  If you look at pictures of their original stations in Durand, Lansing and Battle Creek, you will see conical towers. They were borrowed from the Queen Anne style of architecture.  Other examples of their work presented on this website include the Chamber of Commerce Building in downtown Detroit and the very beautiful Gethsemane Evangelical Lutheran Church on West 28th Street in Detroit.
The Michigan Air Line from Pontiac was abandoned in the early 1980s.  Fortunately, a considerable fraction of the line has been paved for use as a bicycle trail, including the section from South Lyon to Kensington Park.  The city of South Lyon carefully moved the station you see from its original location to its present location where it serves as the Witch Hat Depot Historic Museum.
Architects: Frederick H. Spire and William C Roans
Architectural style:  Queen Anne
Date of Construction: 1906
Use in 2009: South Lyon Historical Museum
Website: http://www.southlyonmi.org/1/223/witchs_hat_depot.asp
Books:  Willis F. Dunbar, All Aboard! A History of Railroads in Michigan (Grand Rapids, Mich.: William B. Erdmann
Publishing, 1969)
Robert I. Warrick, The Ann Arbor Railroad: History and Operations: 1869 to 1976:  (Scotch Pine, N. J. Morning Sun Books, 2008)
State of Michigan Registry of Historic Places
State of Michigan Historical Marker
Photograph:  Ren Farley; September 5, 2009
Description prepared:  September, 2009