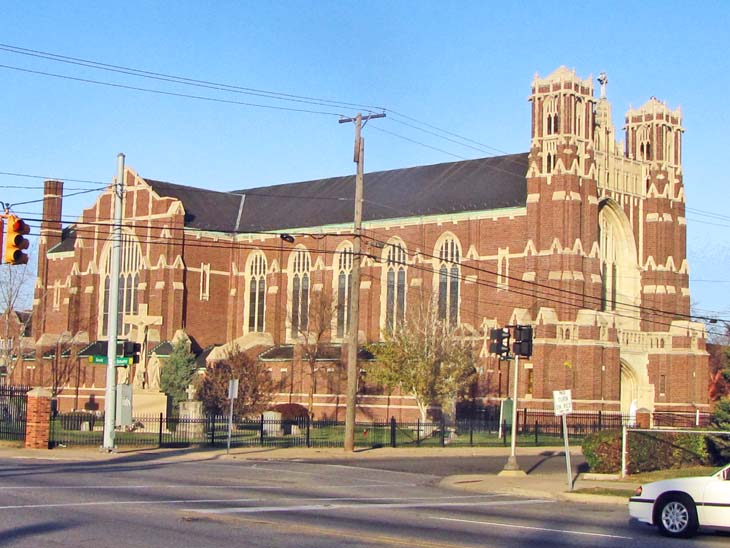 St. Alphonsus Roman Catholic Church
7469 Calhoun near the intersection of West Warren and Schaefer, Dearborn
The Irish and the Germans were the first two European nationality groups to migrate to Michigan in substantial numbers.  To be sure, Antoine Cadillac established a French village in 1701 but very few migrated from France to Detroit.  A very small number of Quebequois came to settle on both sides of the Detroit River but French migration ceased when the English took control of Detroit in the Fall of 1760.  And very few English settled here.  Detroit was a lightly-staffed British military outpost located in a small Francophone village.  After the United States took over in 1797, there was no growth spurt.  A few New Englanders found their way to Detroit, but not many.  A major problem was the challenge of traveling across northern Ohio which was then a great dismal swamp.

The Erie Canal was c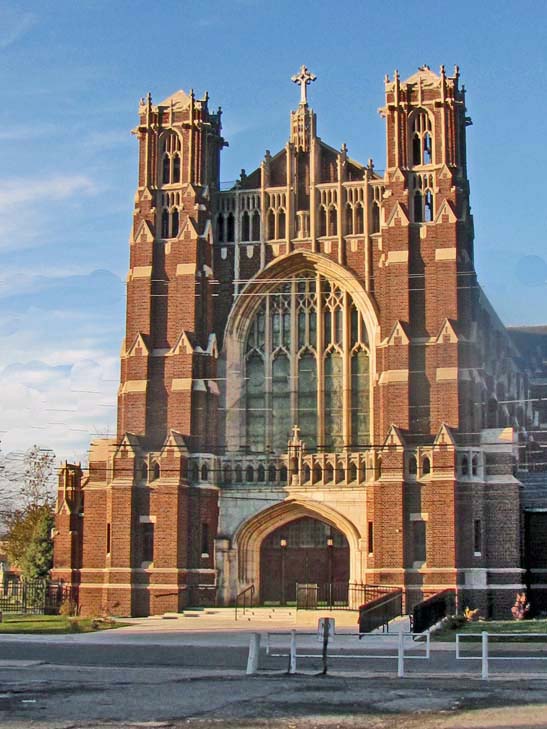 ompleted in 1825.  Many of those who built it were Irish masons or Irish laborers.  After it was finished, they were out of work so some of them sailed across Lake Erie to Detroit and, for the first time, European immigrants contributed to a modest but more rapid growth of population in Michigan.

German immigration to Michigan began, I believe, shortly after 1830.  A group of farmers from Wuerttemberg found an opportunity to settle on productive land near Ann Arbor.  By 1832 there were 25 German farmers or families in the Ann Arbor area.  And shortly thereafter, a stream of migrants from Westphalia began arriving.  I do not know what motivated their departure but several issues are often mentioned.  Germany demanded military service from all men so it was common for some to leave their native land rather than serve.  While there was not a major economic crisis in Germany in the 1830s, prices rose sharply, presenting financial challenges to many.  Germany, in the early Nineteenth Century, had only three approved religious denominations: Roman Catholics, Lutherans and Calvinists.  In 1818 the government merged the Lutherans and Calvinists giving Germans, basically, a choice of only two religions.  So members of other faiths may have had reasons to consider emigration.

I do not know what brought people from Westphalia to the Dearborn area but they began to arrive in the 1830s.  The US military had established an arsenal here in 1833 to supply troops who often spent their summers dealing with Indians throughout the Midwest.  The state's first governor, Stevens T. Mason, strongly believed in infrastructure investments.  By the late 1830s, a rail line linked Dearborn to Detroit making it easier for Dearborn farmers to ship their products to a port,

I suspect that Martin Kundig had some role in the arrival of migrants from Westphalia.  Into the late 1820s, most Catholics in Detroit were French speakers.  The pastor of their church—Ste. Anne du Detroit—was Father Badin.  But in 1830, a number of German Catholics arrived in Detroit. At that time, the Catholic parish in Detroit was a component of the diocese of Cincinnati.  The bishop there, in 1833, dispatched Father Martin Kundig to establish a German parish in the city.  He was a Swiss priest, educated in Rome, who spoke French, German, Italian and English.  While in Detroit, he served as the city's first commissioner of the poor and also on the body we now know as the Board of Regents of the University of Michigan.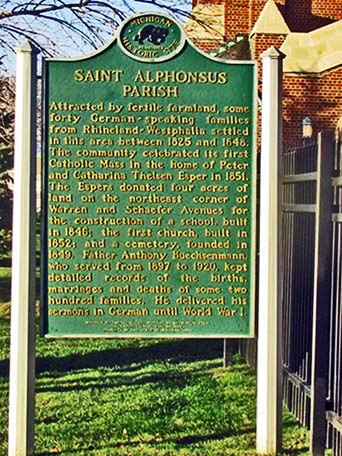 I do not know what his contacts in Westphalia were but I believe that he had some.  There is a small town in Clinton County,Michigan called Westphalia.  That community was established by German Catholics who purchased land there thanks to the efforts of Father Kundig.  There is a Michigan Historical Marker commemorating the work of Father Kundig located near Greektown in Detroit, but it is not included in this website at present.

The German Catholic community in what is now Dearborn established a school for their children in 1846 and a cemetery three years later.  By 1852, they had a church.  The impressive structure you see here is the third church for this parish.  The population of Dearborn grew from 2500 in 1920 to 50,400 in 1930 as Henry Ford's River Rouge complex became the massive array of factories that you can see today.  This Collegiate Gothic church wasdesigned by Arthur DesRosiers who won commissions to design a number of such structures for the diocese of Detroit.  I have not enumerated them but I presume that there were at least four dozen such large gothic churches built in Detroit and the inner ring suburbs in the 1920s.  And then, as the economy boomed following World War II, the Catholic diocese built another dozen and a half or so large and attractive structures.  They did not anticipate the exodus of their members from the city to the ring, so many of those post-World War II churches were located in Detroit.  Many architects who designed impressive structures in the 1920s more or less saw their careers come to an end with the arrival of the Depression.  Arthur DesRosiers was more fortunate and continued to design beautiful churches after World War II including St. Ladislaus on Caniff in Hamtramck in 1953 and St. Jude's Church at 15,889 East Seven Mile in Detroit which was completed in 1959.

St. Alphonsus was born near Naples in 1696, the son of an Italian naval officer and a Spanish mother.  He was a very studious young man and earned his legal degree by the time he was 16.  He went on to practice law and, apparently, was a leader of the Neapolitan bar as he approached his late 20s.  In 1723, he had a religious conversion experience and decided to study for the priesthood.  He was ordained in 1726 and, in the 1730s, became a co-founder of an order of priests known as the Congregation of the Holy Redeemer. This congregation continues to the present and its members are called Redemptionists.  After a few years Alphonsus became leader of that congregation.  In 1767 he was appointed bishop of a diocese in the suburban ring of Naples.  Hewas recognized as an important religious leader throughout his life.  He died at age 91 and was canonized as a saint in 1839.

The Bishop of Cincinnati had a challenging time finding priests to serve in his immense diocese which, in the early Nineteenth Century, included Ohio and Michigan.  Apparently one of his staff traveled to Europe to recruit priests who would be willing to serve in the remote wilderness.  A few Redemptorists were found in Vienna who willing to come to the United States.  The bishop in Cincinnati assigned them to a German-speaking area in the Upper Peninsula.  I do not know why this parish is named for St. Alphonsus.  I presume that it was established about 1852, and quite likely, one of more of the early pastors were Redemptorist priests who selected this name to honor the founder of their congregation.

The architect's firm continues in operation.  I believe that his son or grandson is the current leader of the architectural group now located in Bloomfield Hills.
Architect for the church and the convent: Arthur DesRosiers
Architectural Style: Collegiate Gothic
Date of Completion:  1930
Stained glass: Detroit Stained Glass Works
Use in 2015: Roman Catholic Church
Website: http://www.stalphonsusdearborn.org/
Website for DesRosier firm: http://desarch.com/
State of Michigan Registry of Historic Sites: P1238, Listed August 29, 1996
State of Michigan Historical Marker: Erected November 7, 1997
National Register of Historic Places: Not listed
Photograph: Ren Farley; November 10, 2010
Description prepared: January, 2015
Return to Religions Sites

Return to Homepage