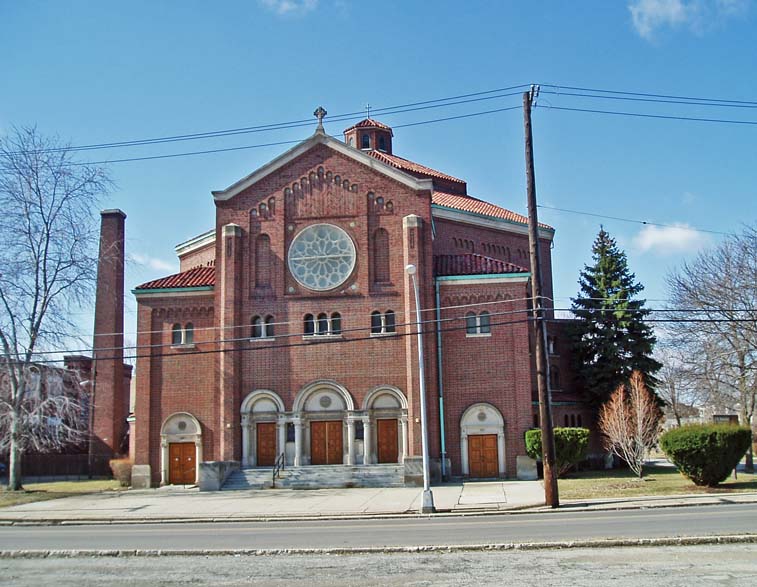 St. Benedict Roman Catholic Church
60 Church Street or 16111 John R, Highland Park

In the first decade of the last century, Highland Park was a sparsely populated township north west of Detroit.  Census 1910 enumerated only 4,100 residents.  Henry Ford designed the Model T at this Piquette Street Plant that is now a National Historic Landmark, and then began constructing a huge factory to manufacture them by the thousands.  He selected nearby Highland Park for his plant and expanded it several times.  By the 1920s, Ford could produced more than 9,000 cars per day at this Highland Park plant.  At the same time, a number of auto plants and office buildings were built toward the northern limits of Highland Park, producers that the entrepreneur, Walter P. Chrysler, joined together to form the Chrysler Corporation in the late 1920s.

Highland Park grew spectacularly—from about 4000 in 1910 to 46,000 in Census 1920 and to its peak of 53,000 residents in Census 1930.  It was a progressive, rather upscale community since many of the white-collar workers employed at Ford and Chrysler lived in Highland Park's attractive neighborhoods.  And the frequent street cars on Woodward allowed Highland Park residents to quickly get to jobs downtown and in other Detroit locations.

St. Benedict Parish was founded in 1915 and flourished.  It is not surprising that in the 1920s, they had the resources to commission two very well-known Detroit architects—John Donaldson and Richard Meier—to design a large and impressive church.  Those two architects designed more than three dozen churches and buildings for the Catholic diocese in the booming period from World War I to the Depression.  It is unusual that Donaldson and Meier selected Lombard Romanesque for the style of this church.  You will notice the extensive use of half arches, the thick walls and the distinctive six-sided shape of this church.  This architectural design originated in northern Italy in the early Christian era.  It was revived in Germany in the first half of the Nineteenth Century where it was known as Rundbogenstil.  About a century later, a few churches were built in the United States using this style

It terms of architecture, this is a rare building that merits inclusion on the State of Michigan and National Historical Registers.  There are very few distinctly Lombard Romanesque churches in this nation.  Two others are St. Cecilia's Catholic Church on South Normandie in Los Angeles and Blessed Trinity Catholic Church on LeRoy Avenue in Buffalo.  Interestingly, both of those churches and this one were completed in 1928 or 1929.  Presumably, these were the last Lombard Romanesque structures built in this county.
This parish, I assume, is named for St. Benedict, a revered figure in Roman and Anglican Catholic churches.  Benedict was born in Nursia, in present-day Italy, in 480.  He is known as the founder of western Christian monasticism.  Benedict popularized the idea of establishing communities of monks who would devote themselves primarily to prayer and religious devotions, although, from time to time, they performed charitable works or taught.  Their major endeavor, however, was prayers and the worship of God.  Benedict founded a dozen monasteries near Rome and then developed what is known as the Rule of Benedict.  This is an array of guidelines, spiritual instructions and teachings for those who would establish monasteries or join them.  He devoted his life to perfecting the idea of modern monastic life.  He died in Italy on March 21, 547.  The Benedictines are one of the most famous monastic orders, but they were founded well after the death of St. Benedict.  Benedict is a very important figure in western history because of the accomplishments of the monks who followed his rules.  When the French and American revolutions sought to create a new secular order, the leaders turned to the ideas of Greek democracy and Roman governance.  It is the monks who preserved the ideas and scholarly findings of the ancients through the so-called Dark Ages that followed the collapse of the Holy Roman Empire.  Most of the denominations founded after the Reformation did not incorporate monasticism, but this religious practice survives among Roman Catholics, Anglicans.  There is a somewhat different tradition of monasticism among the Eastern Orthodox.

In the prosperous 1920s, the city of Detroit annexed many contiguous Wayne County townships.  However, Henry Ford feared that if Highland Park township were incorporated into Detroit, the large city would exert its authority and taxing powers to his disadvantage.  He proposed converting the township into an independent city.  His efforts were successful and Highland Park remains an independent city.  However, demographic trends have not been kind to the place.  The population has been dropping since the Depression started, and in 2009, the Census Bureau estimated that only 13,900 lived in Highland Park, about one-quarter of its peak.  Its poverty rate is among the highest in the nation.  Census 2000 reported that 38 percent of Highland Park's residents lived in households whose incomes fell below the poverty line.  For the state of Michigan, that figure was 11 percent.
Date congregation was founded: 1915
Architects for the church: John Donaldson and Richard Meier
Architectural Style: Lombard Romanesque
Date of Construction: 1929
Use in 2010:  This is the only active Roman Catholic parish in Highland Park
State of Michigan Registry of Historic Sites: Not listed
National Register of Historic Places: Not listed
Photograph: Ren Farley; 2009
Description prepared: September, 2010