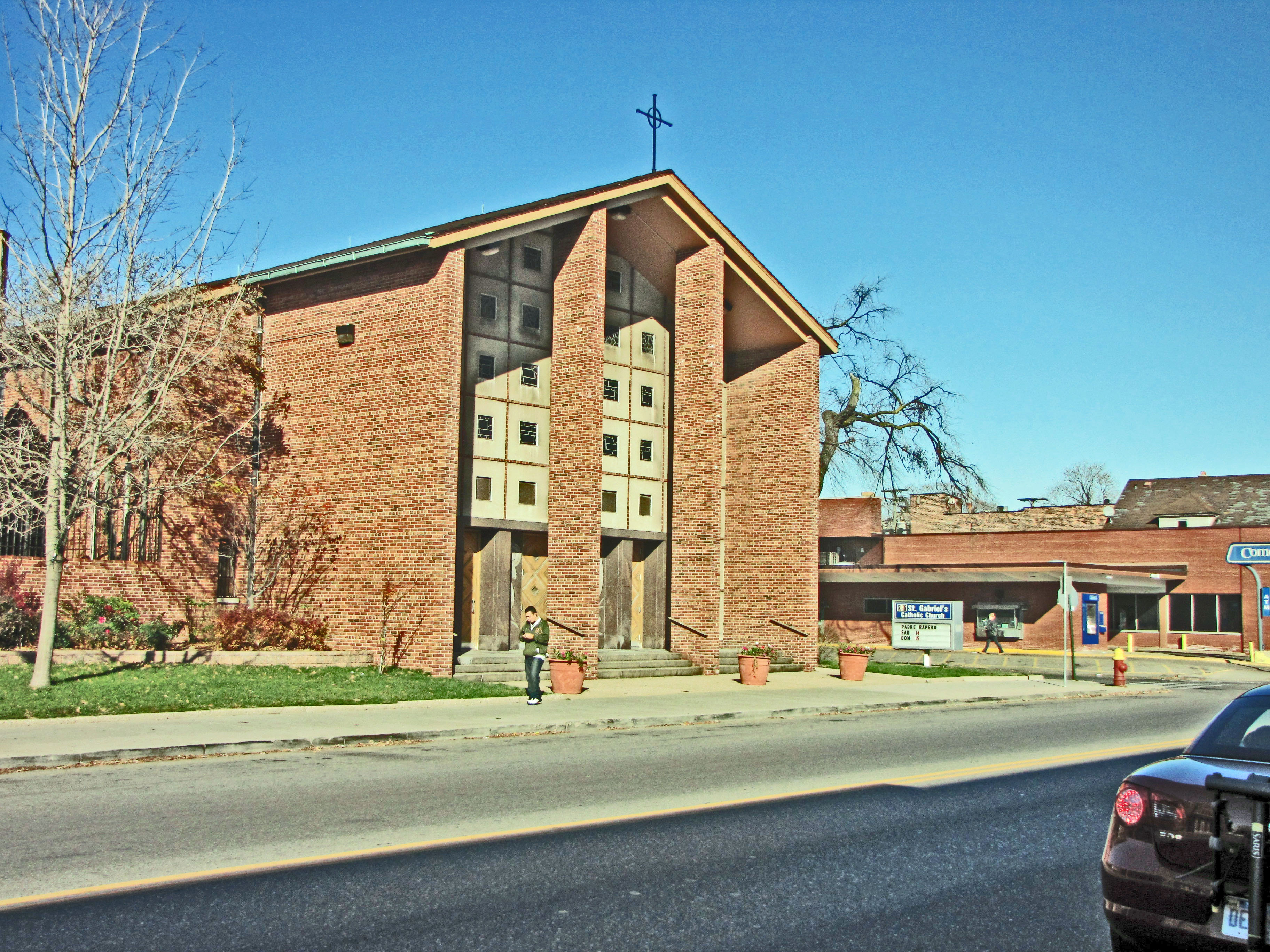 St. Gabriel's Roman Catholic Church
8118 West Vernor Highway
Several books describe the history of the Roman Catholic Church in Detroit so it is ordinarily straightforward to provide information about the founding and development of a parish.  That is not the case with this church.  Perhaps someone who looks at this webpage will provide much more information about
St. Gabriel's.

I presume that St. Gabriel's was founded in the era before World War I and that what we see pictured here is the second church.  It certainly looks to be a post-World War II edifice.  The Catholic diocese thrived in the late Nineteenth Century as many immigrants arrived to work in Detroit's factories.  But there was conflict between the different ethnic groups, many of them desiring their own churches with clergy trained in their counties of origin.  Few of the immigrants were interested in an overarching diocese of Detroit.  By the end of World War I, the assimilation process was well underway.  And Catholics were earning large sums in the vehicle plants so the 1920s were years when many impressive churches were constructed throughout the city, along with major schools, large rectories and convents for nuns.  To be sure, many parishes were identified with an ethnic group but the European languages were being supplanted by English.

The years after World War II may have been a golden age for the Roman Catholic diocese or archdiocese of Detroit.  Parishioners were forced to save their high incomes during World War II.  After that war, they had money to donate to their parishes.  And so, across the city of Detroit, the Catholic diocese built about two dozen impressive new churches in the fifteen or so years after V-E and V-J Day.  Money was also available to build many new elementary and some secondary schools in this city.  These were curious and, perhaps, poorly considered decisions.  The white population of Detroit reached its peak in the late 1940s and was clearly in decline in the 1950s.  This meant that parish enrollments were declining as soon as many of these impressive post-World War II churches were opened.  You wonder what economic and demographic models were being analyzed by the leaders of the diocese.  Auto production thrived in the city of Detroit from the end of World War II until 1955 when Hudson and Packard ceased their operations.  Was there an assumption that people would remain in the older and less desirable homes that comprised much of Detroit?  There is a literature about how urban parishes tried to adapt to the change in the racial composition of their catchment areas.  For the most part, Roman Catholic churches were not very successful in the religious conversion of the African Americans who replaced the whites who moved from the city of Detroit to the suburbs.

This parish, however, is an exception.  It is a modern Detroit Catholic Church that is still in use.  This is explained by immigration.  Detroit is not a magnet for the many immigrants who have come to the United States since the reform of immigration legislation in 1968.  But the Hispanic population of southwest Detroit grew to about 50,000 by 2000 and has been more or less stable since then.  The arrival of Hispanic Catholic immigrants prevented the closing of several Catholic parishes in this area of Detroit including Holy Redeemer, St. Hedwig St. Francis D'Assisi.  Two of the three Sunday Masses at St. Gabriel's are said in Spanish as are all of the week-day Masses.

St. Gabriel's Parish, long ago, had the funds to build a substantial elementary school (See Cesar Chevaz School on this site).  It was located at 8126 West Vernor Highway, was designed by architect Oscar C. Gottesleban and opened in 1918.

The architects for this modern church won commissions from the Catholic diocese to be design a number of impressive structures in the great post-World War II era of church construction, including St. Bridgit and St. Gemma in Detroit, St. Clement in Centerline and St. Mel in Dearborn Heights.  None of those churches are currently pictured on this website.  George Diehl was also the architect selected to design the towers that were added to the Cathedral of the Most Blessed Sacrament in 1950.
Architect: George and William Francis Diehl
Date of Construction:  1954
Use in 2015:  Catholic parish
Website for parish: http://parishesonline.com/scripts/HostedSites/Org.asp?ID=15863
City of Detroit Designated Historic District: Not listed
State of Michigan Registry of Historic Sites: Not listed
National Register of Historic Places.  This church is within the West Vernor-Springwells
Historic District, Listed December 12, 2002
Photograph:  Ren Farley
Description updated:  January, 2015