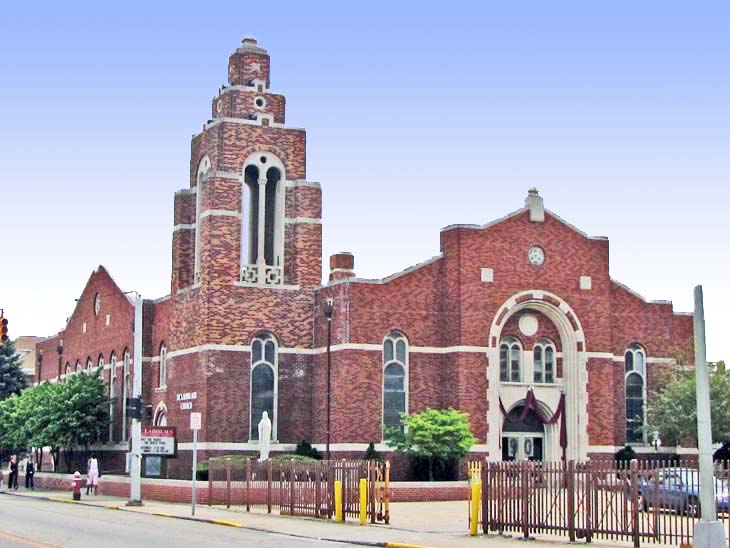 St. Ladislaus Roman Catholic Church
2730 Caniff, Hamtramck

The German Navy and World War I interrupted the flow of eastern European immigrants to the United States after 1915, but the need for blue-collar workers grew in Detroit both during the war and then after the Armistice as the vehicle industry boomed.  As soon as peace returned, immigration to the United States resumed, although it was not to persist for long because of the restrictive laws Congress enacted in 1921 and 1924 to prohibit immigration from eastern and southern Europe.  A substantial fraction of the Polish immigration flow to Detroit in the immediate post-World War I years settled on the east side of the city and in Hamtramck.  Fortunately, for these migrants, the Dodge Brothers—instead of producing parts for Henry Ford—established their own vehicle firm and erected a large plant at the Detroit-Hamtramck border.

St. Florian was the first Catholic parish to serve the needs of Hamtramck's Polish immigrants, but the migration flow was so substantial that St. Ladislaus parish was established in 1919—among the last of the Polish parishes in metro Detroit.  I do not know where the members originally worshiped.  The church you see pictured above was completed in 1953.  The first few years following World War II saw a tremendous boom in the building of modern and large Catholic churches, both in the city and in the suburban ring.  In retrospect, one wonders whether Catholic administrators understood that a huge migration from Detroit and Hamtramck to the suburbs was already underway, a demographic trend that would greatly reduce the need for large Catholic churches in the city.

This parish, I  believe, is named for Blessed Ladislaus of Gielnow.  He was a Lithuanian Franciscan who preached extensively in Poland.  He played a role in establishing the Roman Catholic faith in that country and is a patron saint of both Poland and Lithuania.  This parish is not named for the more famous St. Ladislaus, who served as king of Hungary from 1077 to 1095.
Several dozen Catholic parishes in the Detroit area were closed after 1970.  The Polish population of Hamtramck declined.  St. Ladislaus remains open, but is clustered with nearby St. Florian's, meaning that the clergy at St. Florian's administer St. Ladislaus.  Until the 1970s, St Ladislaus operated an elementary school and high school.
The architect, Arthur des Rosier, designed one other church on this website, St. Alphonsus Roman Catholic. Interestingly, he also designed, in 1922, a large Art Deco church for Byzantine-Slovonic Rite Eastern Orthodox congregation. This was located at 2390 East Grand Boulevard in Poletown. This became St. Nicholas Greek Orthodox in 1932 and then Temple of Faith Missionary Baptisr in 1963. The impressive church was torn down in 1981. I believe that Arthur des Rosiers' grandson is president of the DesRosiers architectural firm in Bloomfield Hills.



Parish founded: 1919
Present church built:  1953
Architect: Arthur Des Rosier
Use in 2013:  Active Catholic Church
State of Michigan Registry of Historic Sites: Not listed
National Register of Historic Places: Not listed
Photograph:  Ren Farley; July 22, 2010
Description updated: December, 2013
Return to Religious Sites

Return to Homepage