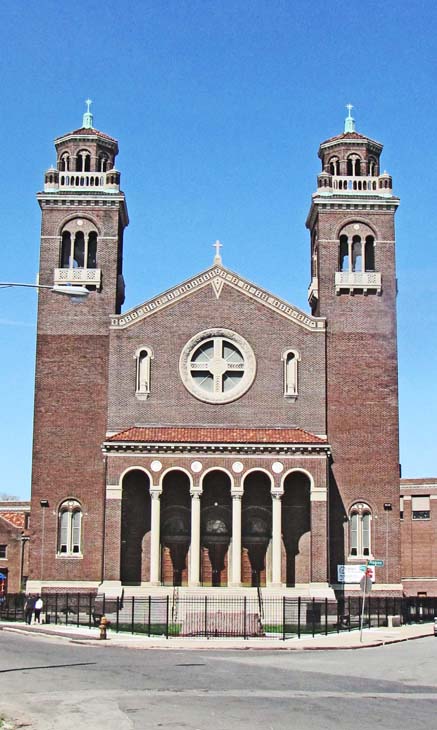 St. Theresa of Avila Roman Catholic Church
8666 Quincy Avenue on Detroit's West Side

There were three periods in which many new and large Roman Catholic Churches were built in the city of Detroit.  After 1875 the city grew rapidly and numerous Catholic immigrants arrived from Germany and eastern European nations.  Ethnic parishes were established. As the Detroit's thriving industries provided more and more high-paying jobs for craf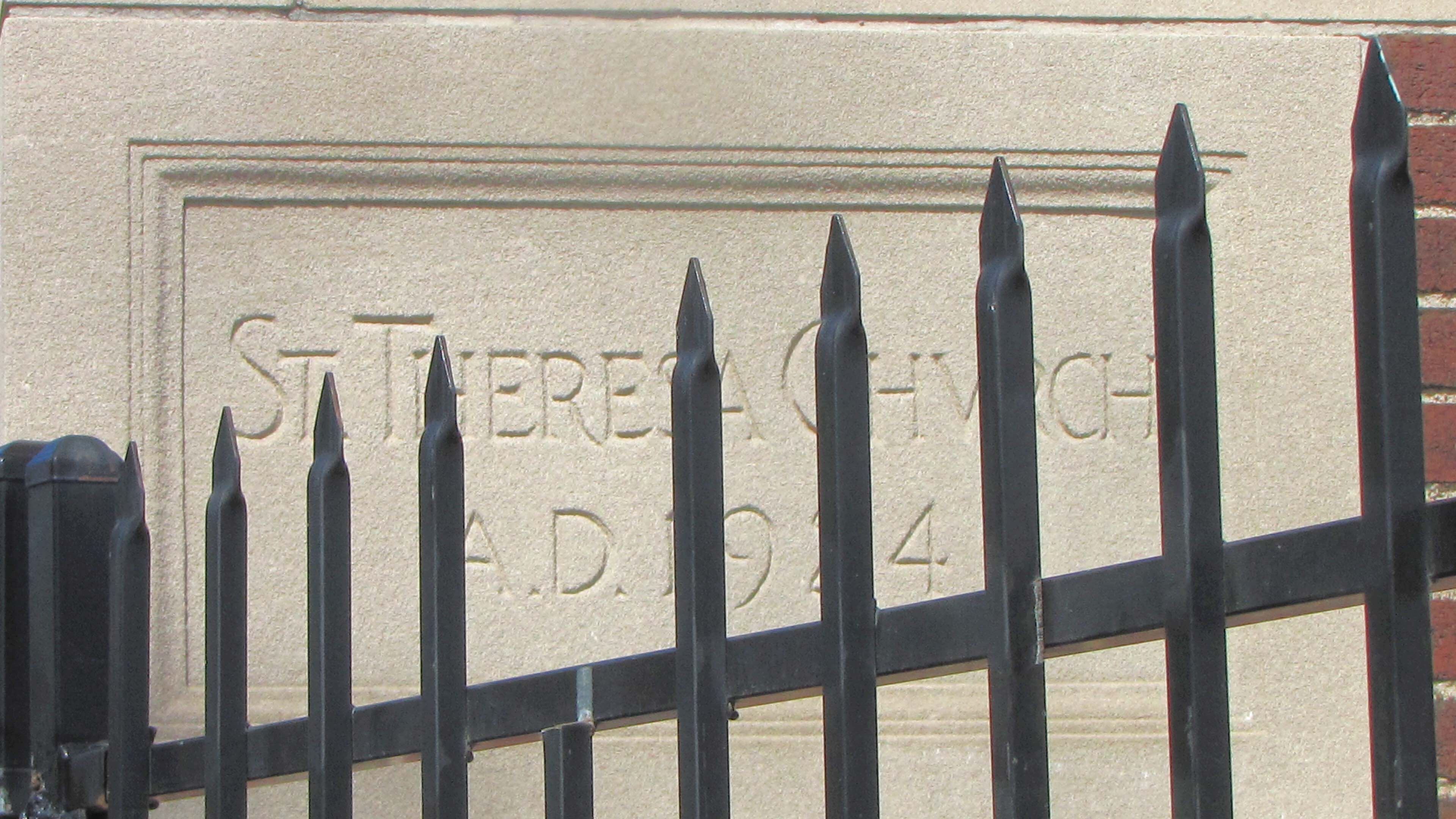 tsmen and their managers, Catholics could contribute substantial funds to erect impressive churches.  After a pause during World War I, church construction continued in the 1920s.  While some ethnic parishes still prospered, the Catholic Church in Detroit was a strong force for assimilation, and in many parishes, English had replaced a foreign language except for the Mass that was said in Latin.  Parishioners, at this time, were even more financially secure so many pastors had access to the funds to build a large church, a substantial brick rectory, an elementary school, a large convent and, perhaps, a gymnasium or recreational center.  If you drive around Detroit today with a focus on former Roman Catholic facilities, you can find about two dozen parishes that were able to build four or more very substantial buildings during the prosperous 1920s.  There was another building boom for Catholic churches in the city of Detroit shortly after World War II.  That one was truncated by the migration of many Catholics from the city to the suburban ring.

This parish served the religious needs of those  who moved into this West Side neighborhood in the 1920s.  Many of the congregants were of Irish heritage.  Indeed, Irish migration to the United States continued long after the famine of the late 1840s, since Ireland's economy grew very slowly.  A high proportion of the young Irish migrated to England, the United States, Canada and other British colonies.

There are four buildings in this complex a church, a rectory, an elementary school and a convent.  The church is the most magnificent of them.  Dark red brick was used with extensive Indiana limestone trim.  The Neo-Romanesque basilica church is worth a viewers' careful attention, particularly for the embellishments of the front.  There are large twin towers on either side of a gabled front.  There is a triple arch entrance with a two-story portico.  In this church,, there are elements of both Art Deco and Byzantine design.

Basilica refers to an architectural style and does not designate the prominence of a church or of the prelate who might be based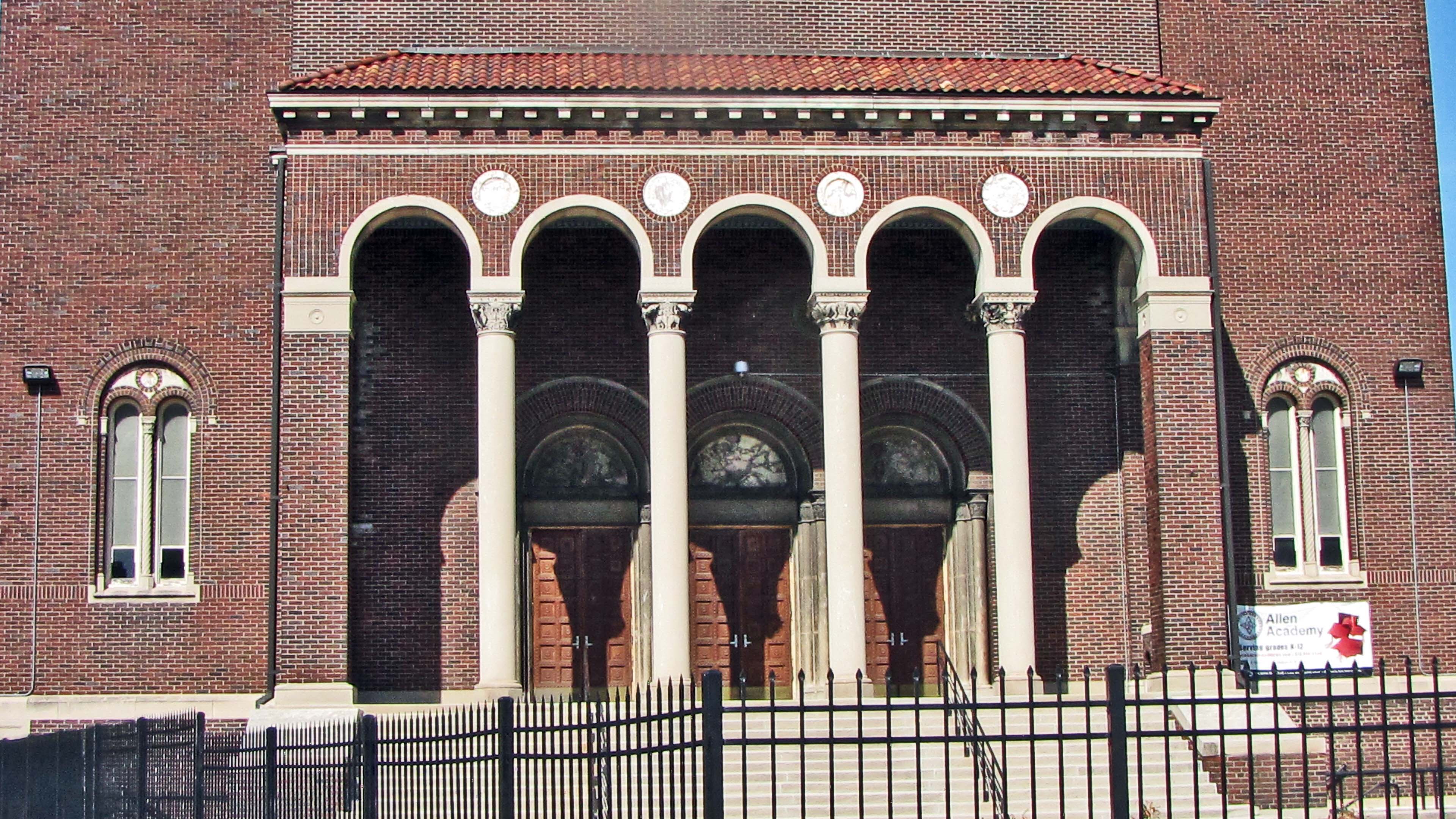 there.  In the Second Century AD, Roman architects perfected the basilica style.  Such buildings included a very long nave with a high ceiling.  On both sides of that nave, space was reserved for two or more aisles of seating.  The ceiling for these parallel aisle sections was lower than that of the nave.  At the end of the nave opposite the entrance, was a semi-circular apse.  Beginning in about the Fourth Century, Christian churches were built in Rome.  Their architects used the basilica style setting a precedent that continued at least to the 1920s when Edward Schilling designed the Romanesque church that you see pictures.

Near the church, stands a large rectory that may be Colonial in its design.  Further away from Grand River, there is a highly-decorated two-story school building.  The substantial convent was built during the Depression and that may explain why it is a bit more modest than the other structures that this once-prosperous parish erected.

The 1950s were prosperous years for Detroit and federal housing policies made it quite easy for workers with modest wages to purchase attractive, if small, new homes in the suburban ring.  Quite quickly, many Catholics moved away from their parishes in the city and into suburban locations where new parishes were being established.  Many Catholic parishes remained open for several years after the neighborhoods they served became African American.  Efforts to convert blacks to the Catholic faith in Detroit were not highly successful and so many parishes were eventually closed since they had few congregants.  This one closed in the 1980s.  In the early years of this new millennium, Detroit's Skillman Foundation made a major effort to improve educational opportunities for the city's young people.  They are supporting a variety of  educational institutions including the Allen Academy, which is located in the former St. Theresa Avila elementary school.  Allen is a tuition-free K-12 charter school, affiliated to Ferris State University.

I attended Catholic school for a dozen years but never learned about how names of saints were selected for new parishes.  Theresa was born in Avila, Spain in March, 1515.  Her mother died when she was 15 so her father, a Toledo merchant, entrusted her to the care of Augustinian nuns.  They encouraged her to read the writing of the saints.  After reading extensively from the works of St. Jerome, Theresa, at age 20, decided to become a Carmelite nun.  She developed into something of a leader in the field of mystical theology.  That is, she believe that God visited her and provided visions about how she or others could develop their spiritual life.  There were many skeptics at the time that challenged her and questioned the soundness of her judgment.  Nevertheless, she began to write extensively and convincingly about mystical theology and her own extensive spiritual journey.

In her late 40s, Theresa of Avila, felt that her Carmelite order of nuns was not sufficiently dedicated to  the spiritual life she promoted so she established her own order of nuns, the Discalced Carmelite Nuns of the Primitive Rule of St. Joseph.  She spent the remainder of her life writing about mystical theology and establishing convents in Spain for women who would follow her views about the spiritual life by devoting themselves to prayer and almsgiving.  She died in 1582, leaving a legacy of religious writings and an order of nuns.  Her order has a monestary located near Ada, Michigan. She was canonized as a saint in 1622 by Pope Gregory XV.  She was also been declared a "Doctor of the Church" by Pope Paul VI in September, 1970, an honor given to those whose writings and teachings are not only deemed theologically correct, but also influential in Catholic thought.

I wonder why the name of Theresa of Avila was selected for a parish that would serve the spiritual needs of first-, second- and third-generation Irish on the west side of Detroit?  I also wonder what will become of this great church that has not be used for about 20 years.  Very appropriately, it is listed on the National Registry of Historic Places.  It is difficult to image that the current demographic trend toward population decline in surrounding neighborhoods will soon be reversed.
Architects: Edward Schilling of the Van Leyen, Schilling and Keough firm
Architectural style:  Italian Romanesque with Art Deco embellishments
Date of completion: 1924
Use in 2011:  The church is an empty structure awaiting reuse. The parish closed in the 1980s.  The rectory and school are home to Allen Academy, a K to 12 school supported by the Skillman Foundation.
Website for Allen Academy: http://www.allenacademydetroit.com/
City of Detroit Designated Historic District:  Not listed
State of Michigan Registry of Historic Sites:  Listed: P25,235
National Register of Historic Places:  Listed July 14, 1989
Picture:  Ren Farley; May  9,2011
Description prepared: July, 2011

Return to National Register of Historic Districts
Return to Michigan Registered Historic Districts

Return to Homepage