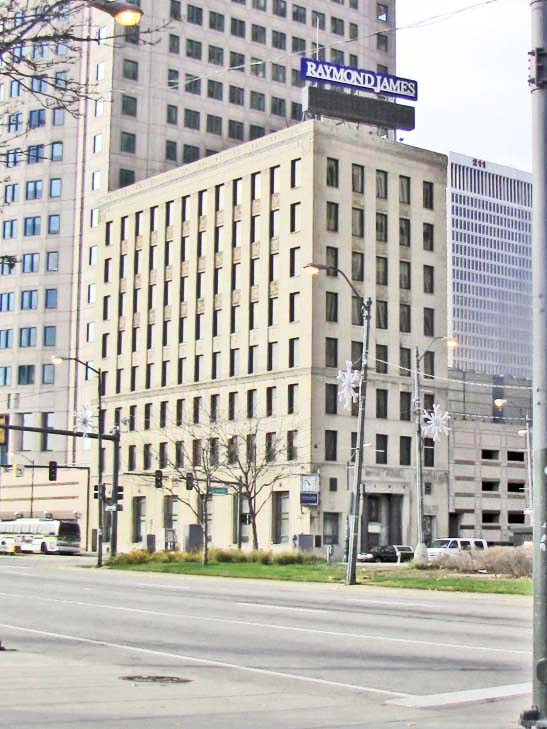 Standard Federal Savings and Loan Building
at the corner of Griswold and West Jefferson in Detroit's Historic Financial District
This building stands on an important historical site: the location of the first church in Detroit, a religious institution that has been providing spiritual support to the city's believers since July, 1701, making it the oldest, continuously operating church in the eastern United States.  I assume several of the Franciscan missions in the Southwest and California are older, but I do not know. 

After receiving approval from the French crown to establish a trading post and settlement at the narrows of the Detroit River, Antoine Cadillac returned to Quebec and, on June 5, 1701 he departed from Montréal with about 100 men to establish a new outpost in the wilderness.  The Iroquois controlled lands south of the St. Lawrence River and along Lake Ontario.  They were extremely hostile to the French so Cadillac could not travel safely to Detroit through the Great Lakes.  Instead, he headed north on the Ottawa River, then portaged to get to Lake Huron where his troop sailed south and then down the St. Clair River and through Lake St. Clair to reach the Detroit River. Cadillac and his men spent the evening of July 23 on Grosse Ile and then, on July 24 arrived at the waterfront at a point that is now Hart Plaza where you will find historical markers commemorating his founding of the Motor City.

One of the first things that Cadillac did was to erect a fort for protection, naming it in honor of his patron, Count Pontchatrain.  At that time, there was no recent history of hostility from the local Indians.  Indeed, some of the Midwestern tribes hoped that the French would offer protection from the exceptionally aggressive Iroquois.  Cadillac's party included at least two priests; Nicholas Constantine del Halle and François Vallant.  While the fort was being constructed, some of Cadillac's crew also began to build a small church. The intention was to build a city here so it needed a church.  They completed that structure on July 26.  The name Ste. Anne du Detroit was chosen because of the date.  In the Roman calendar, that day is celebrated as the feast day of Saint Ann who is honored as the mother of the Blessed Virgin Mary.  Like many buildings in early Detroit it did not survive for long.  The original structure burned to the ground on October 5, 1703 and was replaced by another wooden church.  That one also burned. I believe this long-surviving parish has occupied at least seven buildings, the most recent being the immense church near the intersection of Howard and Ste. Anne (19th Street) in Southwest Detroit designed by Leon Coquard and opened in 1883.    An historical marker at the corner of Griswold and Jefferson—but not an office State of Michigan marker—calls attention to where the first Ste. Anne du Detroit church was sited.

Standard Savings and Loan Association was established on April 25, 1893 when the firm assumed the charter of the Workman's Savings and Loan Association.  Their first offices were located at Griswold and Lafayette and then, in 1914, they moved to Griswold and Larned in Detroit's emerging financial district.  The 1920s were among the most prosperous years in the history of the metropolis, very prosperous years for fiscal institutions since thousands of increasingly highly paid workers had monies to deposit and homes to purchase.  In 1927, Standard Savings secured the northwest corner of Griswold and West Jefferson where the priests accompanying Antoine Cadillac had erected a modest church. 

The building you see was completed in 1930.  It is an eight-story structure with eight bays facing Griswold and twelve facing West Jefferson.  The decorative exterior stonework is the achievement of Corrado Parducci.  Unfortunately, I do not know the name of the architect that Standard Savings commissioned to execute the design.

Standard Savings was among the minority of banks that was able to withstand the Depression.  Michigan—and then the federal government—declared a bank holiday early in 1933.  Banks were closed and depositors could not withdraw their funds for some time.  Very many of the banks went out of business or were reorganized after bankruptcy into new and different firms.  Eventually, many depositors obtained substantial fractions or even all of their funds, but not without delays and difficulties.  Standard Savings was a frugal enough institution that they remained open during the terrible years of the mid-1930s.  Presumably, this was one of the few Detroit fiscal institutions not closed during the 1933 "Bank Holiday."

After the numerous bank failures of the Depression, federal and state laws sought to restrict what fiscal institutions might do.  Banks were prohibited from having branches until after World War II and were restricted to operating within only one state.  Those laws were loosened after World War II, and after 1980, banks and fiscal holding companies were allowed to operate in more than just one state.  Standard Savings opened a suburban branch in 1948, and in 1950 became a federally chartered institution, becoming Standard Federal Savings and Loan.  Prior to that it had been a Michigan chartered savings institution.   When it became possible to do so, Standard Federal merged with or purchased several other banks and savings and loans in Michigan and thereby served a substantial fraction of the state.  In 1973, Standard Federal moved their offices from this central Detroit site to a location on Big Beaver Road in Troy where their successor maintains offices.  Federal laws prohibited banks from operating in more than one state but those laws were changed about 1980.  Standard Federal Savings promptly started expanding, becoming a larger and larger institution.  It acquired a variety of substantial banks and fiscal institutions serving Michigan, Ohio and Indiana.  At one point, it was renamed Standard Federal Bank.  At a later point, after affiliation with a major Chicago bank, the name was changed to LaSalle Bank Midwest.  In 2005, this firm was purchased by the Bank of America.  So the firm that originally constructed this building continues to exist in some sense, but certainly no longer has its own identity and its headquarters are no longer located on the site where Antoine Cadillac once attended Mass and prayed, presumably, for the safety of Madame Cadillac who traveled from Montréal to help found the city of Detroit.

This building has provided office space for the Raymond James brokerage firm.  They erected a huge sign on the roof.  Many people who frequently drive west on Jefferson might now think of this as the Raymond James Building.  When you leave Detroit in the late afternoon's you can look at that sign and know whether the bulls or the bears had their way on Wall Street that day.

Architect: Unknown to me
Date of Completion: 1930
City of Detroit Designated Historic District: Not listed
State of Michigan Registry of Historic Sites: Not listed
National Register of Historic Places.  This building is included within the Detroit Financial Historic District, Listed
December 14, 2009
Short Corporate History: http://www.fundinguniverse.com/company-histories/Standard-Federal-Bank-company-History.html
Use in 2011: Office Building
Picture: Ren Farley
Description prepared: December, 2011

Return to Commercial Buildings