State Savings Bank/Peoples State Bank/Savoyard Center
151 West Fort Street at Shelby

This is one of the most attractive buildings in downtown Detroit, thanks to the talents of Stanford White and the use of pristine marble. It reflects both the land use patterns in downtown Detroit at the end of the Nineteenth Century and the banking industry of that era. State Savings Bank was founded in 1883 and quickly became one of the largest or, possibly, the largest bank in Detroit. At this time, there were no branch banks, no federal guarantees for customers' deposits and no electronic transfer of funds. I suspect that there was little, if any, banking by mail. A bank had to earn the trust of its customers who walked through the door to make their deposits or secure a loan. For those reasons, banks often erected impressive buildings that used classical symbols of the origins of our civilization and governance.

The owners of the State Savings Bank, in the 1890s, turned to Stanford White who may have been the nation's leading architect at that time. White, the son of a prosperous Shakespearean scholar and actor, was born in 1853. He began his architectural career by apprenticing with the nation's most well-known architect, Henry Hobson Richardson. He t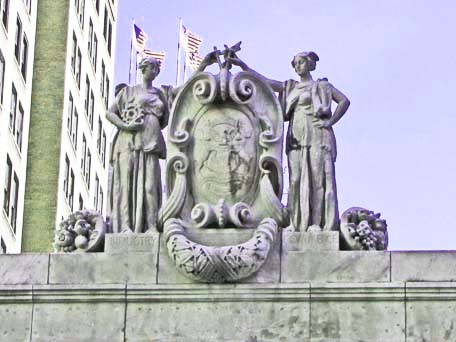 hen traveled to Europe as young architects did and studied at the École des Beaux-Arts. Perhaps because of that training, he was one of the leaders in bringing the ideals of Italian Renaissance architecture to the United States. Upon his return to New York, he joined Charles Follen McKim and William Rutherford Mead to form the highly successful McKim, Mead and White firm. This firm designed some of the most esteemed structures from that era. This includes the east and west wings of the White House, Pennsylvania Station in New York, the James Farley Post Office in that city that will soon become the Moynihan Station, the Boston Public Library and the Brooklyn Museum. White, however, may be as well known for the spectacular way he died—shot in 1906 at a party held on the roof of the Madison Square Garden that he had designed—as he is for his marvelous buildings that grace numerous Atlantic Coast cities.

Skyscrapers were just emerging when this building was designed. Land in Detroit was not so dear that State Savings Bank had to have a large tall structure. Thus, White worked with this available land at West Fort and Shelby. As you notice, White divided the Fort Street face of this bank into three bays with large arches and Ionic pillars. A cornice runs across the top of this white marble building with a hipped roof hidden by a balustrade. The windows are in bronze. The interior also used much marble with Roman arch colonnades and bronze grill work. Above the entry way, you will see attractive statuary with figures depicting commerce and industry.

The consulting Detroit architect who carried out the design of Stanford White was John C. Donaldson. Born in Scotland in 1854, Donaldson's parents migrated to Detroit when he was only two. He attended Detroit public schools then decided to become an architect. For his training, he first went to the Academy of Fine Arts in Munich, then to the École des Beaux Arts in Paris and then on to Venice for additional training. After retur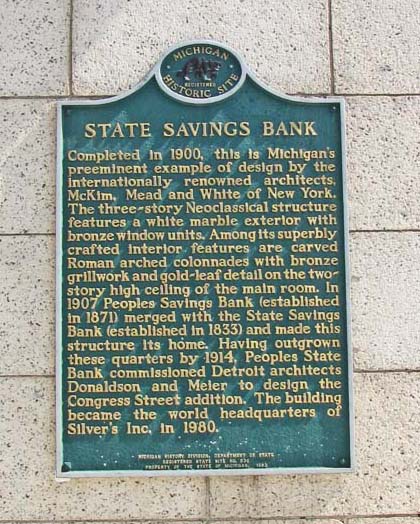 ning to Detroit, John Donaldson established a firm, in 1878, with Henry Brush who, along with George Mason, designed the frequently described Ransom Gillis Home. However, Brush died in 1879. Donaldson then formed a firm with Henry J. Meier. For almost ninety years, this was one of Detroit's most accomplished and productive architectural firms.

Perhaps on the basis of his accomplishments with this State Savings Bank building, John Donaldson obtained the commission to design the first of the three Penobscot Buildings—the 13-story office tower at 131 West Fort that was completed in 1906. This structure is to the immediate left of the State Savings Bank Building.

The State Savings Bank merged with the People's Savings Bank in 1907 to form the People's State Savings Bank. They also needed more space, so in 1913, they turned to John Donaldson and Henry Meier to design the large rear addition along Shelby. That edifice was built on grounds then occupied by St. Paul's Episcopal Church—a building designed by Calvin N. Otis in 1852. That church was taken apart and then reassembled at the corner of East Grand Boulevard and East Lafayette where it is still home to an Episcopalian parish now known at Church of the Messiah.

Along with most other Michigan banks, the People's State Savings Bank failed in 1933. The building was subsequently used by a bank funded in large part by Henry Ford and the Ford Motor Company, Manufacturers' National Bank of Detroit. In 1977, Manufacturer's National moved out of this building and then, in 1992, Manufacturer's merged with Comerica. In 1980, Silvers, an office equipment firm, moved into the State Savings Bank Building. After they moved out the building was used for a variety of purposes and, in 2010, I think the building provides office space for Detroit non-profits.

Architects: Designed by Stanford White of the firm Charles Follen McKim; William Rutherford Mead and Stanford White.
Architectural Style: Classical Revival in the Beaux Arts tradition
Date of Construction: 1900
Superintending Detroit architects for the construction of the building: John C. Donaldson and Henry J. Meier.
Date of Construction of the addition: 1914
Architects for the addition built to the rear of the original structure: John C. Donaldson
Use in 2010: Apparently used by Detroit non-profit groups
State of Michigan Registry of Historic Sites: Listed: January 8, 1981
State of Michigan Historical Marker: Put in place: June 9, 1982
National Register of Historic Places: Listed March 19, 1982
Photograph: Ren Farley; September 30, 2010
Description prepared: October, 2010

Return to Commercial Buildings
Return to City of Detroit Historic Designations