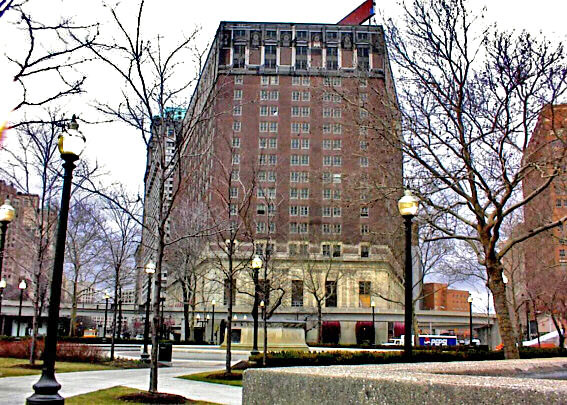 Statler Hotel/Statler-Hilton Hotel/
Detroit-Hilton Hotel
At the corner of Park and Washington on Grand Circus Park in downtown Detroit
This hotel was razed in late 2005 in preparation for the 2006 Super Bowl.
In almost every United States city, most all business and recreation took place in the central business district until the great suburban movement following World War II. Typically, there were one or two major hotels known for their own opulence and for the elegance of their clientele. In the late 19th century, the Russell House served that purpose in Detroit, but in 1907, the ten-story Ponchartrain Hotel, designed by George Mason. opened at the southeast corner of Cadillac Square. That hotel became the standard of excellence, but had a short life span and was demolished just 14 years after it was built.

Ellsworth Statler founded one of the first national chains of hotels. In Detroit, he decided to build a monumental hotel on Grand Circus Park. At that time, Detroit entrepreneurs, led by the Book Brothers, were attempting to make Washington Boulevard between Michigan and Grand Circus Park a posh shopping area to rival Park Avenue in New York. The Statler Hotel you see pictured here, designed by New York architect George Post, would anchor the Grand Circus Park end of that shopping street. The 18-story hotel included 800 rooms, each with its own bath. It quickly set a new standard for excellence.

The Statler Hotel became the Detroit Hilton, and after the suburban movement and the riots of the 1960s, its business plummeted. It was closed in 1975. Mayor Coleman Young convinced the Republicans to hold their 1980 convention in Detroit, the convention that nominated California Governor Reagan. To spruce up the city and make the massive Hilton Hotel look attractive, red awnings were hung on the empty building. They remained there until 2002.

Detroit's renewal efforts at the end of the 20th century stressed the city's emergence as an entertainment, recreational and convention center. However, a major challenge is the dearth of hotel rooms in downtown. To attract large conventions, Detroit will need more downtown hotel rooms. The gambling casinos have built new hotels with many rooms. Two formerly large empty hotels in downtown Detroit have been renovated and now welcome clients—the Book Cadillac, and the Fort Shelby. The Statler-Hilton on Grand Circus Park did not survive and was torn down in preparation for the 2006 Super Bowl.
Architect: George Post
Style: Italian Renaissance with Adamesque influences. That is, in the spirit of the Adams school of architecture, the design of the interior received great emphasis, almost as much as the design of the exterior.
State of Michigan Registry of Historic Sites: P25278
Date of Completion: 1914
Photo: R. Farley; April, 2002
Description updated: March, 2012