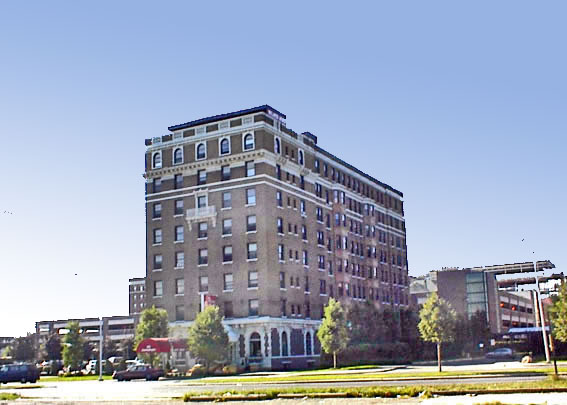 Hotel Stevenson/Milner Arms Apartments
40 Davenport near Orchestra Hall in Detroit
Charles Hugh Stevenson founded the Davenport Realty firm in Detroit. In addition to his business interests, Stevenson was a lawyer and writer who spent time and effort promoting closer ties between the United States and France. In both 1900 and 1909, he participated in international conventions in Paris and was awarded prizes by the French Government for encouraging Franco-American neighborliness.
The Stevenson firm built this large hotel on Davenport between Woodward and Cass. It is an apartment hotel, meaning that rather than providing rooms for travelers, it provided efficiencies and small apartments with cooking facilities for people who intended to reside in Detroit for some time, but probably not permanently. After about 1910, vehicle production escalated in Detroit so many men left the rural Midwest and took the challenging but high paying jobs then open in Detroit's manufacturing plants. Many men came to cities such as Detroit without families or, after working in the city for some time, encouraged their spouses and children to come to the Motor City. In the meantime, these men were ideal clients for residential hotels such as the Stevenson. Men could live in this hotel and take a Woodward Avenue streetcar to the many plants in the city's Milwaukee Junction manufacturing center or to Henry Ford's Highland Park plant.

Since the late 1990s, there are clear sign of increasing prosperity along the Cass Corridor. Employment, presumably, is gradually increase at the Detroit Medical Center, the Henry Ford Hospital and at Wayne State. There is a renovation of old and construction of new residential building along Cass Avenue. Hotel Stevenson may have a prosperous future.
This building was designed by Joseph P. Jogerst. I know little about this architect. He designed two large Detroit theaters in the era of silent black and white pcitures: the 1137 seat Stratford Theator at 4751 West Vernor Highway completed in 1916 and the much smaller 800 seat Buchanan Theater at 4036 Buchanan completed in 1923 but then later known as the Belle Theater.


Architect: Joseph P. Jogerst
Architectural Style: Elements of the Colonial Revival style are evident.
Date of Completion: 1915
Use in 2010: Apartment Hotel
City of Detroit Local Historic District: Not listed
State of Michigan Registry of Historic Sites: Not listed
National Registry of Historic Sites: Listed September 22, 1997
Photo: Ren Farley; August, 2003
Description updated: December 13, 2010

Return to Cass Farm Multiple Property Submission