William B. Stout and Ford Airport
Historical Information Site
20301 Oakwood Drive at the Dearborn Inn in Dearborn
William B. Stout, one of the most creative engineers to work in Detroit, contributed new and different ideas for aircraft, railroad and auto manufacturing. His contributions merit more recognition than they get.
St. Joseph, Michigan was the site of the first powered airplane flight in this nation. Octave Alexandre Chanute, a highly successful and prosperous French engineer, retired to Chicago. In the mid-1890s, he devoted himself and his funds to the development of flying craft. He hired Augustus Herring of St. Joseph to design and build a new style of gliders that they flew in wind currents along the beaches of Lake Michigan as early as 1896. Herring then began experimenting with powered airplanes. Fortunately, he obtained financial backing from New York investors, and by 1898, attached a two-cylinder compressed air engine to a glider he designed. On October 11, 1898, he flew his plane into a 23 mile-per-hour wind at Silver Beach in St. Joseph. Alas, there were no witnesses. Appreciating the historic significance of his tremendous achievement—the first in the United States to fly a powered plane—he invited the press and flew his plane a second time on October 22, 1898. Although reporters described his flight, no one took a picture of the airborne craft. The New York Times, however, reported Herring's St. Joseph flight. Five years later, the Wright Brothers replicated what Herring had done. When challenged about their claim to be the first to fly in this country, the Wright brothers and their defenders apparently stressed the extreme simplicity of the craft Herring flew years before their event at Kitty Hawk. I believe the Wright Brothers also claimed they used a gasoline engine, while the plane that Augustus Herring flew used a compressed air engine. A State of Michigan Historic Marker stands on Silver Beach in St. Joseph to commemorate this first airplane flight.

William Bushnell Stout was born in 1880 and raised near Minneapolis. By his teen years, he was fascinated by the idea of building airplanes. He studied both engineering and journalism at the University of Minnesota. Along the way, he met Octave Chanute and discussed principals of aviation with him. In 1907, Stout took a job as chief engineer at Schurmeir Truck Company in Minneapolis. By 1912, he was the automotive and aviation editor of the Chicago Tribune. In 1914, he became the chief engineer for the Scripps-Booth Auto firm in Detroit. In this job, he designed a cycle car that Scripps-Booth marketed; that is, a small, very lightweight car powered by a motorcycle-sized motor. Early in his career, Stout spent time riding a motorcycle around Europe, so it may have been a small step for him to create a cycle car for Scripps-Booth. In 1916, he became the General Sales Manager for Packard. With the outbreak of World War I, Packard started an aviation division with William Stout as its head. Packard co-operated with William Leland on the development of the Liberty engine that was produced in Detroit and that powered the primitive planes of World War I.

During the War, the military assembled a group of engineers to design planes, since it was assumed that flying craft would revolutionize warfare. Stout remained with this group after the Armistice, and in 1919, designed a revolutionary new plane—known as Stout's Cootie—but military administrators did not think it would fulfill their needs. Stout terminated his employment with the government, moved back to Detroit and founded his own firm to built planes.

Early planes were constructed of wood and canvas in order to minimize weight. Designers saw virtues in an all-metal plane, but found it challenging to build a metal plane light enough for the engines available at that time. By 1923, William Stout—with the backing of Detroit investors—was producing the first commercially-successful all-metal plane. This was known as the Stout Air Sedan.

Henry Ford maintained strong interests in almost all new technologies. Indeed, he presumed that he could revolutionize the railroad industry through the use of electricity. He purchased the Detroit, Toledo and Ironton Railroad to demonstrate how effective his new ideas were, but failed to produce much change in America's conservative rail industry. Indeed, he could not successful apply electric propulsion to his own rail line.

Ford was also interested in aviation, and by 1920 or so, had sent engineers to Europe to investigate the new planes and aviation engines built there. By about 1923, Stout met Henry Ford and proposed that an airport be built in Dearborn. Ford agreed and an airport was laid out on the land that is now the test track for Ford Motor. By this time, Stout's firm—Stout Metal Airplane Company—apparently won contracts to build a few planes that would carry both passengers and freight. Shortly thereafter, Ford purchased Stout's outfit, although Stout remained on the payroll. Using six of Stout's planes, Ford established an airline in 1926 to carry freight from his Dearborn airport to Chicago. This was the nation's first commercial air carrier.

Henry Ford and his firm invested in building planes in the late 1920s. William Stout played a key role in developing the Ford Tri-Motor, which was widely known as The Tin Goose. This became the largest-selling plane in that era. A total of 199 Tri-Motors were built between 1926 and 1932. They carried nine passengers and were powered, not by Ford motors, but rather by Wright or Pratt and Whitney engines. The first coast-to-coast air service began in 1929 using Ford tri-motors. Of course, there were many stops on those trips from the Atlantic to the Pacific. And Franklin Roosevelt was thought to be very innovative when he used a Ford Tri-Motor to get to his campaign sites in 1932. The first time I flew was in the mid-1950s when I boarded a Ford Tri-Motor going from Port Clinton to Put-In-Bay, Ohio. With the onset of the Depression, Ford apparently made the decision not to invest in the development of aviation technology, and by the early 1930s, Ford exited the aviation business. Ford's Dearborn air field closed in 1933.

Stout established his one firm in the early 1930s: Stout Engineering Laboratories, with a plant at the intersection of Scott Street and Telegraphy Road in Dearborn. It was at this time that he decided to get into the automobile business. Just as his all-metal airplane had been a major advancement over previous wooden aircraft, so too he wa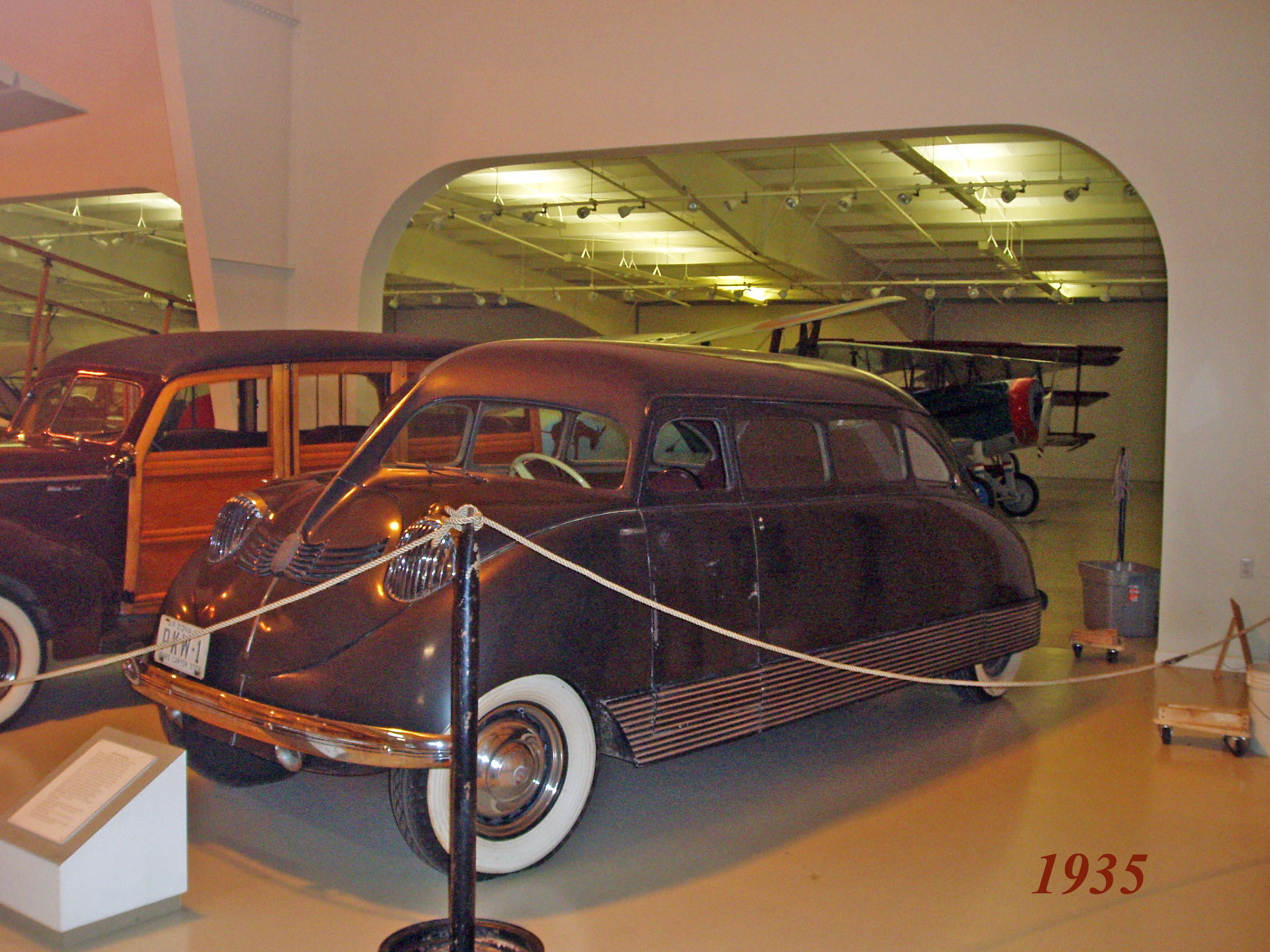 nted to create an automobile that differed from those produced earlier. In 1932, he produced a running prototype for the Stout Scarab, arguably the most innovative car assembled in American. It was the first car to use a unitized body structure. Previously, steel auto bodies had been attached to a frame: wood in the early days, steel later. Stout's first car used an aluminum spaceframe, but at least one later model used a fiberglass body shell. Stout wanted to maximize the interior space for the convenience of the passengers. He made the radical decision to do away with running boards. And then he placed the engine at the rear of the car so that there would be no draft shaft passing through the cabin. Perhaps most remarkably, he capitalized upon his knowledge of aircraft and designed the first aerodynamically-styled car. The body was designed by John Tjarada borrowing from the concept of an aluminum aircraft fuselage. The Stout Scarab may still be the most aerodynamically efficient car ever designed, although the 1935 Chrysler Air Flow model might be in contention for that accolade. The body style was consistent with the Art Deco architecture of that era. The interior decorations were also consistent with the name since they incorporated themes from Egyptian iconography. The back window of the car was a narrow slit-like aperture that stretched from the roof to the rear bumper. This car was the first to use independent suspension and coil springs. Stout did not build engines, rather he installed For's flathead V-8.
Now for the sorry part of this story. Stout's first prototype was produced in 1932. Three years later he turned out his second vehicle. He presumed that could turn out 100 cars at his plant at Scott Street and Telegraph Road. His asking price was $5,000 per car. There could not have been a less favorable time to start a new car company since this was the nadir of the Depression. And his price tag was about three to four times that of the ordinary luxury vehicle sold in that era. Stout turned out seven more Scarabs before halting production. He did not, however, give up easily. He built another prototype in 1945, this one with the world's first fiberglass reinforced plastic body. The next year he assembled another prototype, but he did not locate the very substantial backing he needed to fill the streets with Stout Scarabs. Actually, he had some hopes that the new Kaiser-Frazier auto firm might produce the car he designed but they did not do so.
Stout invented the sliding car seat, designed a self-propelled rail car and a streamliner for the Union Pacific Railroad. Stout died in Phoenix in 1956 at age 76.

Autobiography: So Away I Went (Bobbs-Merrill, 1951)
State of Michigan Registry of Historic Sites: P25008, Listed January 19, 1957
State of Michigan Historical Markers: Erected April 18, 1959. This impressive marker is located in front of the entrance to The Dearborn Inn.
National Register of Historic Sites: Not listed
Picture of Michigan Historical Marker:
Picture of 1935 Stout Scarab: Ren Farley, February 21, 2009. This vehicle is located within the Owls Head Transportation Museum in Owls Head, Maine.
Description updated: February 25, 2009
Return to Commemorative Designations in Wayne County