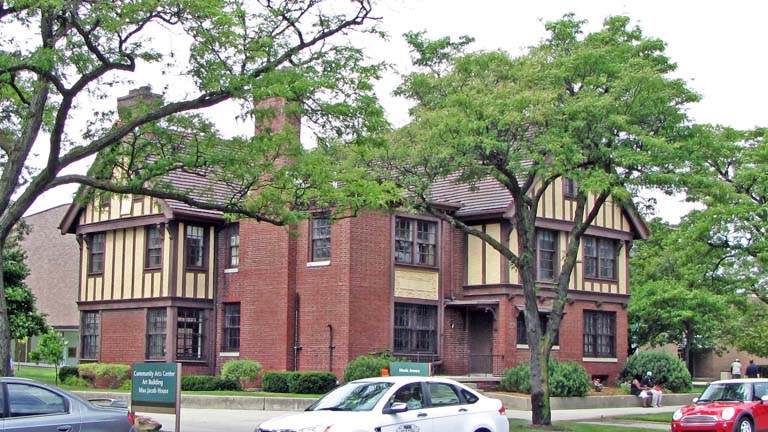 Herman Strasburg House
5415 Cass Avenue between Putnam and Kirby on the campus of Wayne State University

Herman Strasburg, born in Detroit in 1860, attended the city's schools, graduating from high school in 1876. His father, also Herman Strasburg, ran a dancing school. The younger Strasburg entered the family business and eventually managed it.
Strasburg apparently commissioned architect Burrowes to design this home in 1914 but it is not clear that he moved into it when it was completed. The Detroit Symphony Orchestra was founded in 1914 and, very quickly, prosperous Detroit residents contributed monies to establish a distinguished one. By 1916, the funders decided that they wanted to recruit a nationally or internationally famous conductor. Ossip Gabrilowitsch, a Russian who was a friend of Sergei Rachmanioff and Gustav Mahler and a noted performer of the music of Frederick Chopin, accepted an appointment as a visiting conductor in Detroit. He was very successful and the Detroit orchastra and those from several other major cities sought to appoint Gabrilowitsch as their conductor. Apparently, he knew that he was in a bidding war and that he could name his price. He asked that a new hall be built quickly for the symphony that he would lead. The planning for the Detroit Cultural Center called for an orchestra hall that would be architecturallly compatible with the Detroit Public Library and the proposed Detroit Institute of Art. However, there was no prospect that a music venue could be built rapidly enough in the Cultural Center to satisfy the demands of Gabrilowitsch. Having access to great sums, the supporters of the Detroit Symphony asked architect C. Howard Crane to erect a hall that would lead Gabrilowitsch to sign with Detroit. Crane razed a church located at the intersection of Woodward and Mack and used the basement as a foundation for the beautiful hall that is still the home to the orchestra. Crane completed his construction in about eighteen months.
I have heard that Ossip Gabrilowitsch and his famous wife, Clara Clemons, the daughter of Mark Twain, lived in the Strasburg home for some. Perhaps, use of this home for several years was part of the recruitment package. Later, Gabrilowitsch and Clemons lived in an impressive Boston-Edison residence at 611 Boston Boulevard at the intersection of Second. Gabrilowitsch conducted the orchestra until his death in 1936.
The building you see is one of the foremost examples of English Tudor architecture in Detroit. Note the extensive and attractive use of bricks at the lower level, along with the characteristic half-timber trim that architect Burrowes used extensively on the second level. I do not know if Herman Strasburg and his wife, Ida Pinet, built this structure for their residence, their dance school, or both. Apparently, they taught dance here for a number of years at the time when many of Detroit's elite resided in impressive homes in this neighborhood. Fortunately, a few—but only a few—of those homes survive in the Wayne State—Cultural Center neighborhoods.
Architect: Marcus R. Burrowes
Architectural Style: English Tudor
Date of construction: 1915
City of Detroit Local Historic District:
State of Michigan Registry of Historic Sites:
National Register of Historic Places: #86001036 Listed April 29, 1986
Use in 2010: This building now serves as Wayne State's Music Annex
Photograph: Ren Farley, September, 2005
Description updated: November, 2010