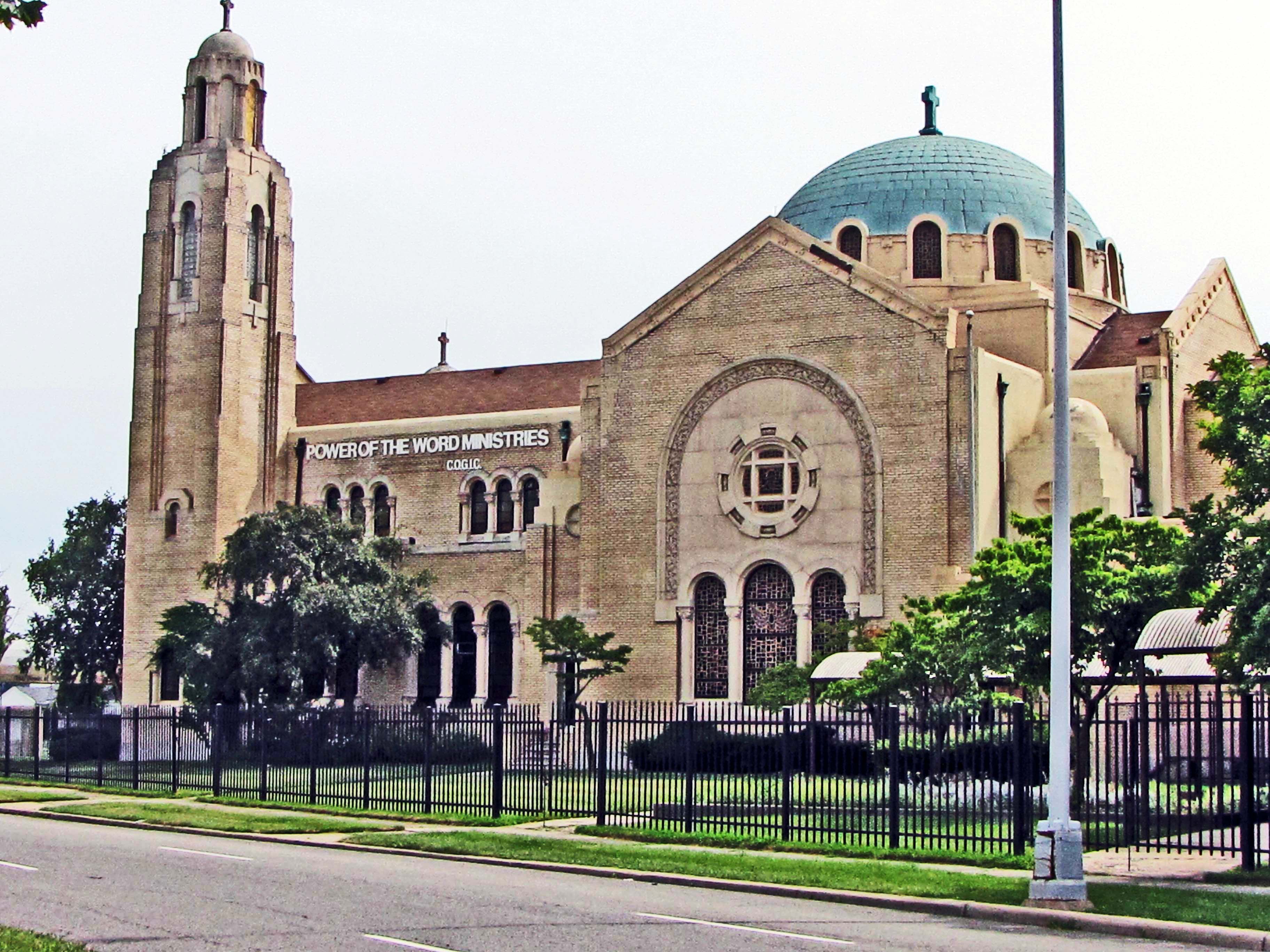 Saints Constantine and Helen Greek Orthodox Church/
Power of the Word Outreach Ministries
First Tabernacle of Detroit, COGIC
4801 Oakman Boulevard, Detroit

This beautiful church is located in a seldom visited and underappreciated section of Detroit.  I have heard that, after he moved into his Fairlane Estate in Dearborn, Henry Ford had Oakman Boulevard constructed so that he could easily travel to his Highland Park plant.  In many blocks in both Dearborn and Detroit, Oakman is lined with attractive and well-kept homes.  Indeed, part of this long boulevard comprises the Oakman Boulevard Historic District.  Both Dearborn and Detroit have erected numerous stop signs so today's drivers cannot use Oakman as a quick way to get from Dearborn to Highland Park.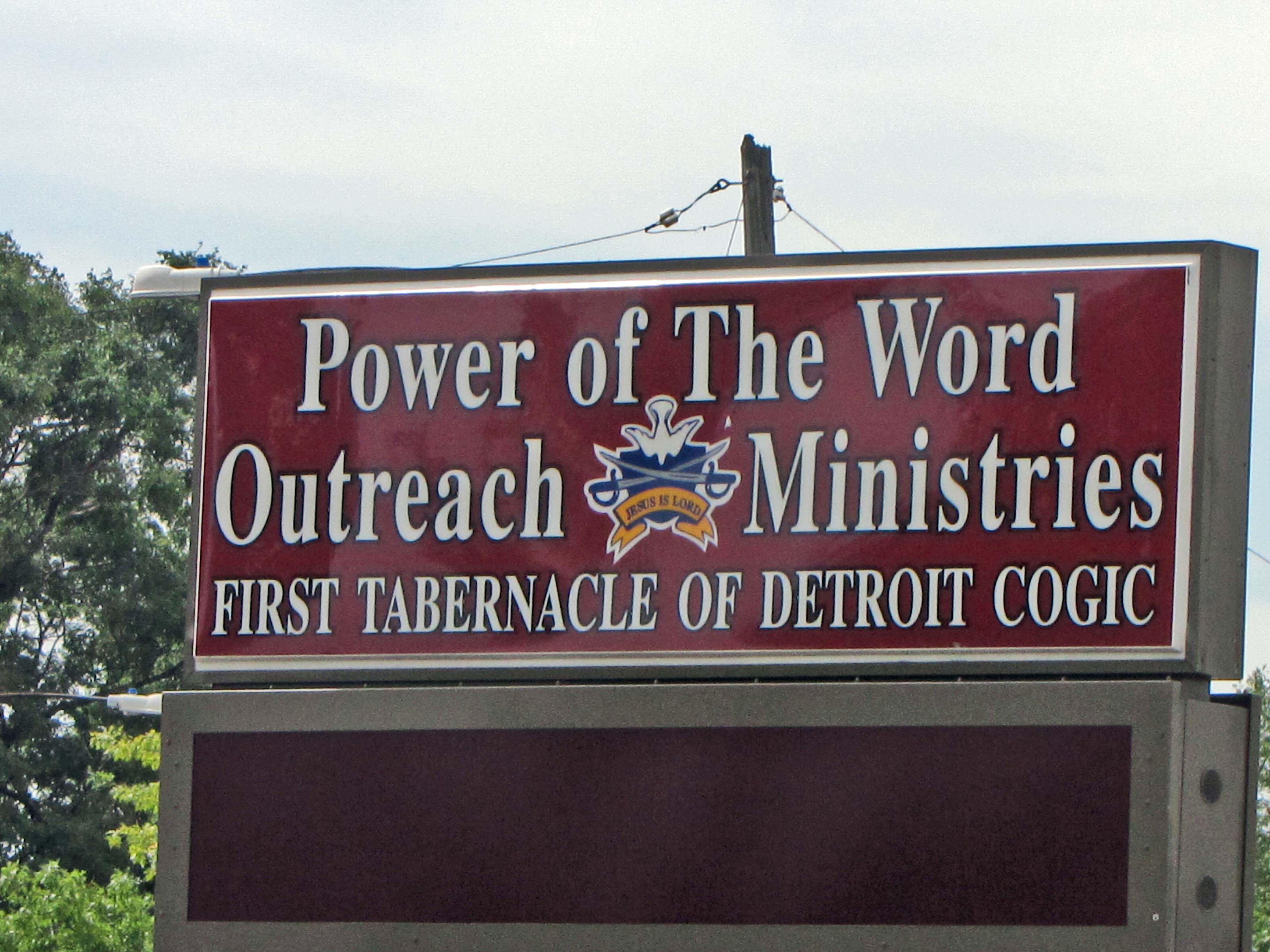 Several churches in the Detroit area bear the names of two saints.  However, I do not know of any other church named for a mother and her son.  Members of Detroit's Greek community apparently organized a Greek school for their children and then established something of a meeting house at 724 Myrtle.  In October of 1930, the elders of this community decided that they should organize a congregation and selected the name Sts. Constantine and Helen.  Apparently, the congregants met in temporary facilities located near Fourteenth and Forest and near Fourteenth and Grand River.  Until I read about the history of this congregation, I was not aware that there was once a Greek community on Detroit's West side in the area along 14th between Myrtle (now Martin Luther King) and Grand River.  By 1938, the congregation developed plans to build a church.  Originally, they purchased land near the intersection of West Chicago and Woodside.  However, World War II prevented most new construction in the United States.  The congregation may have had second thoughts about a church on West Chicago and sold the land they owned there in 1943.  The next year, the congregation purchased this property on Oakman Boulevard.  There were, I infer, challenges in raising money but the cornerstone for the church you see was laid in 1948 and the congregation began using the facility in 1950.  Some years later, the congregation moved to their present location at 36,375 Joy Road in Westland. 

St. Helen was born in Greece around the middle of the Third Century.  She was a commoner but married Constantius Chlorus who helped administer the Grecian area of the Roman Empire.  In 274, she bore her only son, Flavius Valerius Constantinus (Constantine).  By 292, Constantius Chlorus had become Emperor Constantius I, ruler of Greece within the Roman Empire.  At this point, Constantius decided to leave Helen for another woman but Helen retained custody of her son Constantine.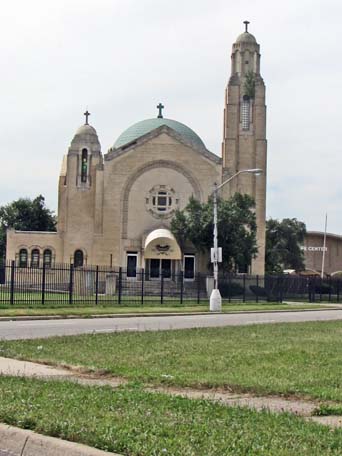 Later, Constantine converted to Christianity.  Helen also converted and became a very active Christian , encouraging the building of numerous churches.  Rather late in her life, she visited Palestine to see the holy sites of Christianity and to encourage the building of Christian churches there.  She also sought to locate the cross used in the crucifixion of Christ.  There are many stories about her efforts to identify that cross and whether or not she was successful.  Indeed, she is sometime identified as St. Helen of the Cross.

Constantine was extensively educated in Greece and then became an officer with the forces of the Holy Roman Empire leading troops throughout the Mediterrean area and as far north as Britain. At this time Diocletian served as Roman Emperor.  Diocletian very strongly persecuted Christians, believing that they might challenge his rule.  One gets the impression that military campaigns and civil wars were numerous in what remained of the Roman Empire in the early part of the fourth century.

Diocletian concluded his term as emperor on May 1, 305.  For a number of years, rivals to succeed him fought with each other.  Constantine was one of those seeking to become the new Roman Emperor.  He and his forces prepared to fight Mexentius and his forces in the Battle of Milvian Bridge that took place on October 28, 312.   Just before the fighting started, Constantine looked to the sky and saw a huge cross with the words, "In hoc signo vinces."  Fortunately, he read Latin and took this as a message that if he became a Christian, he would be successful in his battles with his enemies. This bridge, originally constructed in 206BC, but renovated in 115BC, crosses the Tiber north of Rome.  It still stands and was rebuilt a second time in 1429. Michigan highway engineers might note this since this bridge near Rome has now been standing for 2,221 years.  Constantine won his battle, and in 313, issued an Edict of Toleration seeking to protect the rights of Christians, at least in Milan where he ruled.   Had Constatine lost this battled, it is possible that Christianity would have spread much more slowly in Europe. It is a little unclear exactly when Constantine decided to be baptized as a Christian, but the heavenly sign was very important to him.  By 325, Constantine defeated all of his enemies and firmly ruled the Roman Empire.  He was the first Christian emperor and made certain that the persecutions of Diocletian stopped throughout the entire empire.  However, Christianity was the religion of a minority of Europeans at this time.  Another eight centuries or so would be required before most residents of Europe adopted the Christian faith.  One might argue that only Christ and the Apostle Paul were more important than Constantine in explaining why Europe is the only continent that has a very long history of Christian belief.

I believe that Helen is recognized as a saint in both the Orthodox and Roman churches, but Constantine may only be considered a saint in the Orthodox church. I do not know of any other structures designed by the architect.
Architect: Arthur Greig, Jr.
Date of construction: Land purchased by congregation in 1944, construction began in 1948.  The church was used first in 1950.
Website for Saints Constantine and Helen Greek Orthodox Church: http://www.stcons.org 
Note: This Orthodox congregation is now located in the suburbs.
Use in 2015: Church
City of Detroit Designated Historic District: Not listed
State of Michigan Registry of Historic Sites: Not listed
National Register of Historic Places: Not listed
Photograph:  Ren Farley; July 22, 2010
Description updated: May, 2015

Return to Religious Sites

Return to Homepage