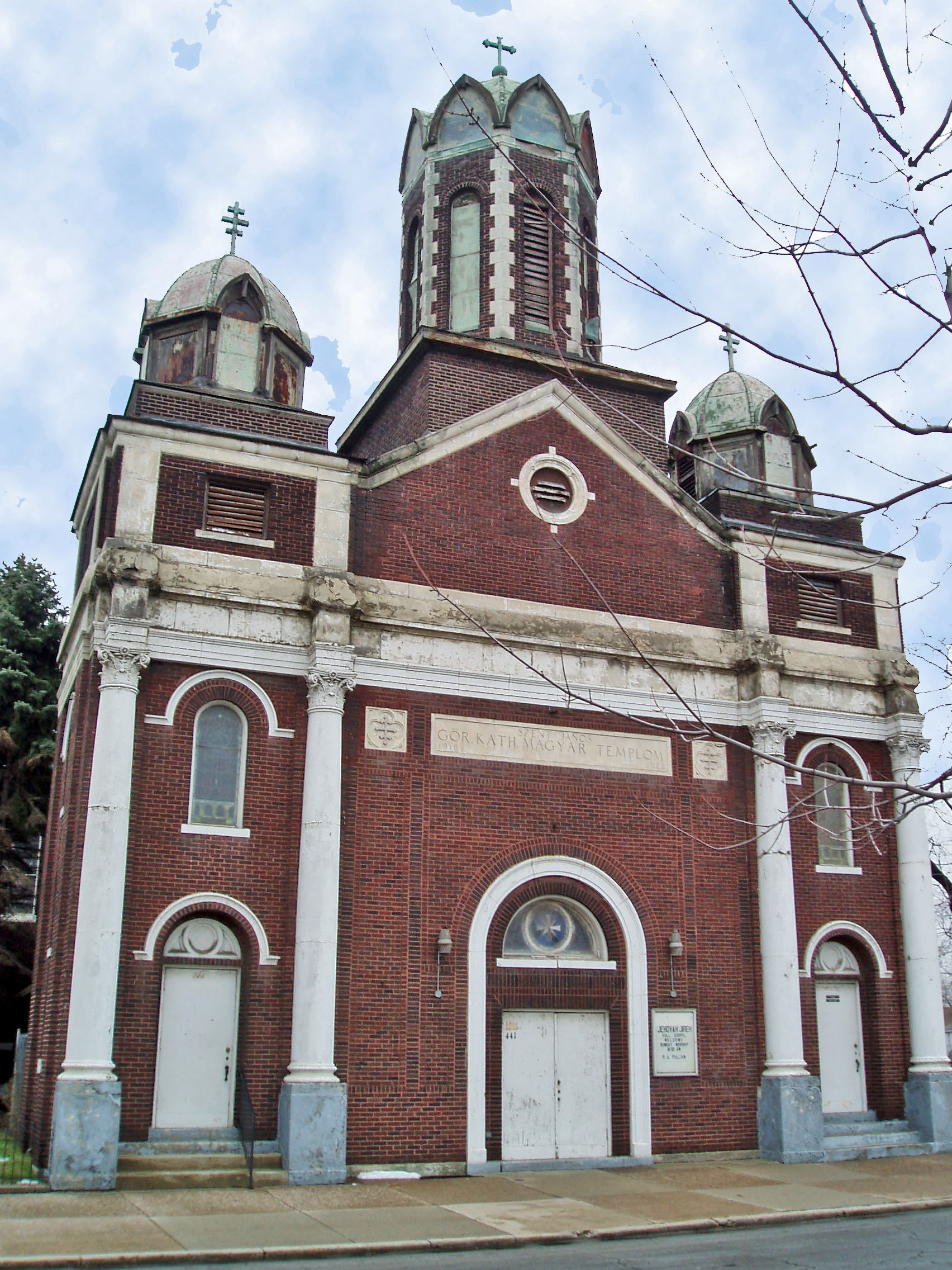 Szent Janus Templom/Saint John's Temple/
Jehovah Jireh Full Gospel Church
441 South Harbaugh Street at South Street in the Delray neighborhood of Southwest Detroit

This area of Detroit was settled by many immigrants from Eastern Europe, especially from Hungry and Romania, in the years before World War I. A smaller number came in that short interval after World War I when the United States welcomed immigrants. There were many industries located in or near this area including the large Cadillac Clark Avenue plant that opened in 1921 and was the major production point for Cadillacs until Hamtramck Assembly opened in 1986.

From the crosses atop this church, you can tell that it was an Orthodox Church, not a Roman Catholic Church. I presume that this was a Hungarian language Byzantine Orthodox Church. The Hungarian Roman Catholic community had the resources to erect the much larger Holy Cross Church, just a couple of blocks to the northeast on South Street, a church that still serves the Hungarian population of greater metropolitan Detroit
.
The population of this area went down rapidly in the years after World War II. The homes were very modest workingmen's structure when they were built and the area was intersected by numerous rail lines and highways used frequently by many trucks. The federal government's housing policies after World War II made it quite easy for the residents of urban neighborhoods such as Delray—even if their incomes were low—to move to the outlying section of Detroit with their newer homes or into the booming suburban ring. I believe that this parish closed in the 1980s. So far as I know, this Orthodox Congregation did not move to a suburban location. At some points in the past, the church may have served as a home for an African-American congregation but there was never a very dense black population in the Delray neighborhood of Detroit. This is a rather unattractive section of Detroit. The Detroit Wastewater Treatment plant dominates the landscape. Just a couple of blocks to the south along Harbaugh Street stands the abandoned but beautiful St. John Cantius building, the most forlorn church in the city.
I worked as an election inspector in Ann Arbor. Several times I have enjoyed working with an Hungarian gentleman who was a member of this congregation. He told me that, in the late 1920s, this congreation paid $25,000 for a new stained glass window. In the late 1990s, the congregation sold the church for the same amount: $25,000.
This church was desinged by Henrik Kohner who also designed Holy Cross for the Roman Catholics. But he did not limit himself to Christian religious building. He designed Congregation B'Nai Moshe on Dexter on the west side as well as one of about two-dozen synagagues built in Detroit after World War II including Yeshivah Beth Yuheda Mogen Abraham, also on Dexter.
In 2015, this church was listeded for sale at a price of $230,000 for the 8,600 square foot church, the rectory and the accompanying parking lots. In 2017, this building was home to the Jehovah Jireh Full Gospel Church. Dr. Rev. Thomas K. Thamodharan, a former Hindu, founded the Jehovah Jireh Full Gospel denomination on February 2, 2003 with the aim of renewing cities a ministry of justice, mercy and discipleship. According to Scripture, Abraham was about to offer his son Isaac as a sacrifice at a location known in English as Mount Moriah. God intervened and provided a ram to be sacrificed in place of Abraham's son. In thanks for this intervention, Abraham gave the name Jehovah Jireh to the Mount Moriah site.
Date of Construction: 1911
Architect: Henrik Kohner
Architectural style: Gothic with numerous stained glass windows
Use in 2017: Jenovah Jireh Full Gospel Church
Website for the denomination: jjfullgospelministries.org/
Facepage for this church: https://www.facebook.com/pages/Jehovah-Jireh-Full-Gospel-Church/414636108726277
City of Detroit Designated Historic District: Not listed
State of Michigan Registry of Historic Sites: Not listed
National Register of Historic Places: Not listed
Photograph: Ren Farley
Description updated: January, 2017