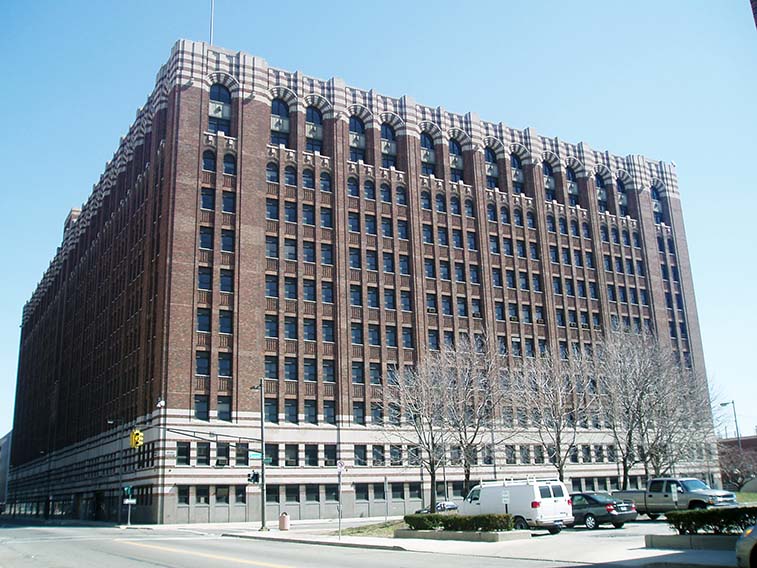 A. Alfred Taubman Center for Design Education
485 West Milwaukee at Second Avenue in Detroit's New Center Area

General Motors prospered in the 1920s as vehicle sales boomed. They filled the vast spaces in their General Motors Building that was originally called the Durant Building. By the mid-1920s, their officials realized that they needed space for research so they commissioned Albert Kahn to design the massive but very attractive building that you see. He designed an eleven-story building, only ten stories above ground, in the Art Deco style using, primarily, red bricks and with the attractive limestone trim that you see. The ornamental brick work, both on the lower floors and at the roof line, distinguish this building. The creativity of Albert Kahn is clearly on display in this neighborhood. You can walk no more than 300 feet from the Argonaut Building and see Kahn's General Motors Building, designed in the classical style and then walk across West Grand Boulevard to enter Kahn's beautiful Art Deco Fisher Tower with its magnificent lobby.
I do not know if General Motors' administrators gave the name Argonaut to this building or if they used the more formal name, General Motors Research Laboratory. Perhaps GM officials in the 1920s remembered the Greek they were once forced to study and recalled the mythology about Jason seeking the Golden Fleece. He searched for that by sailing on the ship, Argo. Perhaps GM leaders expected that their scientists and engineers working in this building would find innovations as valuable to them as the Golden Fleece was to Jason.
I believe that General Motors ceased using this building before they moved their headquarters from the Durant Building in the late 1990s but they retained ownership. For about a decade, the building was not used; then in 2005, a developer announced plans to remodel the building for use as condominiums and apartments. Apparently, that developer, changed plans or was unable to locate requisite financing.
The endowment of the College for Creative Studies, located nearby in Detroit's Cultural Center, prospered in the early years of this century as a result of a generous gift from the estate of Josephine Ford and successful fund raising campaigns. In 2007, General Motors gave the building to the College for Creative Studies and then the college announced a $145 million renovation of the structure to be completed in late 2009. This amount includes, I believe, $10 million in state brownfield tax credits and $11.2 million in state and local tax adjustments. The building will serve several purposes. There will be commercial space, presumably on the ground level, facilities for teaching design and arts courses as well as dormitory rooms for about 250 to 300 students. In addition, there will be a charter middle and high school for Detroit students interested in art and design. Incubator or accelerator space will be available for start-up firms in design and creative industries. Presumably, this will be known as the Argonaut Campus of the College for Creative Studies.
This appears to be an excellent plan for using the beautiful old building. It will provide residences for a moderate number of people, will provide a great facility for education from the middle school through post-graduate level and will offer opportunities for creative people to develop their businesses. And all this will occur within the very attractive Art Deco building that Albert Kahn designed more than eight decades ago This is a fairly important component of the continuing redevelopment of midtown Detroit.
Architect: Albert Kahn
Date of Completion: 1928
Architectural Style: Art Deco
City of Detroit Designated Historic District: Not listed
State of Michigan Registry of Historic Sites: Not listed
National Register of Historic Places: Listed July 22, 2005, #05000713
Photograph: Ren Farley
Description updated: November, 2014
Return to Commercial Buildings