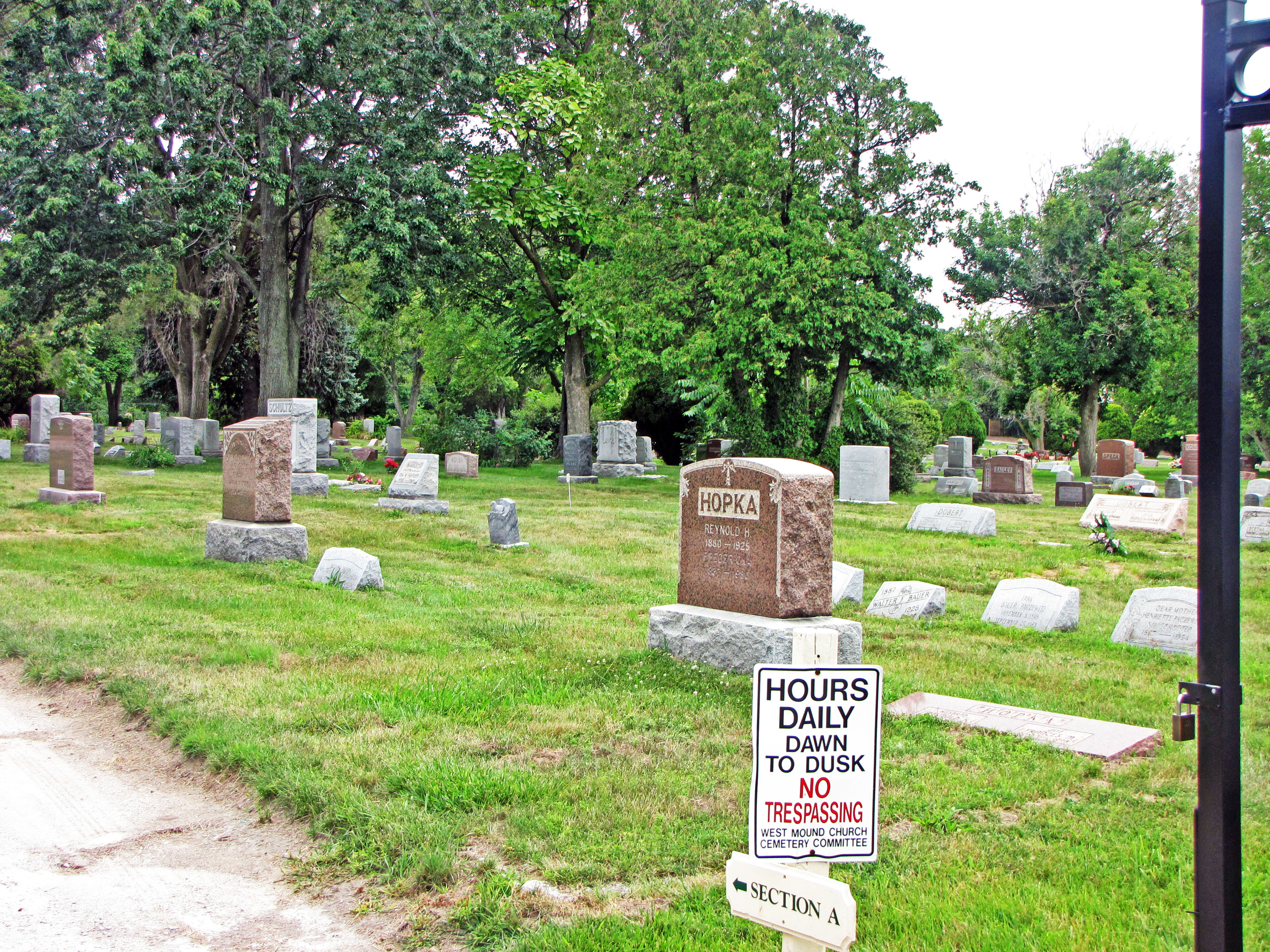 Mound Road Cemetery/Taylor Methodist Episcopal Church
22395 Eureka Road, Taylor
Taylor Township was chartered in 1847 but the population grew slowly and there was no church established until 1882 when the Taylor Methodist Episcopal Church came into existence.  Shortly thereafter, Marlin and Rachael Coan gave land with sufficient space for both a church and a cemetery.  Two years later, that church platted a cemetery.  This is the cemetery that you see pictured here.  In 1923, the name was changed to the West Mount Cemetery.  I believe that the name of the congregation was also changed, at about that time, to West Mound Road Church.  You might think that the name refers to a road but that is not the case.  Apparently, there was a large mound on the grounds of this church's property holdings so that name was selected.  This location is also known as the United Methodist Church Cemetery.  Taylor Methodist Episcopal Church is separately listed on the Michigan Registry of Historic Sites.
I am surprised by the large number of sites and streets in the Detroit area that were established as forts, that are named for military leaders, such as Cass, Gratiot, Dearborn, and Ypsilanti or are names of battles such as Delray.  When Taylor Township was carved out of a larger township, I be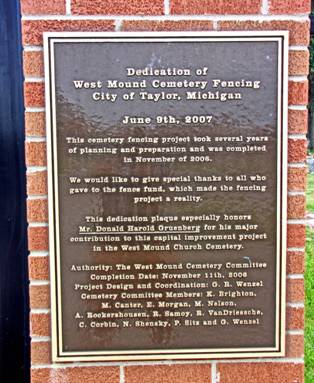 lieve out of Springwells Township; it was named in honor of Zachary Taylor because of his achievement in successfully leading United States forces in the war against Mexico.  Taylor was born in Orange County Virginia on November 24, 1784 but grew up in Louisville where he completed little formal schooling.  As a young man, he joined the Army and remained active for 42 years, including service in the War of 1812, in the Black Hawk War and in the Second Seminole War.  However his peak achievements were in leading United States forces to victory in the 1840s against Mexican-Spanish forces in the Battle of Palo Alto.  This battle took place at a location about five miles from present-day Brownsville, Texas.  General Zachery Taylor made one of the more successful uses of light artillery to defeat the Mexican troop.  Taylor is also credited with a victory in the Battle of Monterey, which took place from about September 21 to 25, 1846.  This was one of the first times the US Army fought in an urban area.  Taylor got a large Mexican force to surrender, but had no way to process and handle thousands of prisoners, so he let them disperse with a promise that they would not immediately return to battle.   For this General's achievements, I assume those who established this township in 1847 selected the name Taylor.  Taylor had never been active in any political party, but the next year, the Whig Party selected him as their candidate for President of the United States with Millard Fillmore chosen as the vice-presidential candidate.  Zachery Taylor won the election. Interestingly, he defeated Lewis Cass of Detroit who had served as Michigan's territorial governor and was the Democratic Party candidate. Presumably, Taylor's military victories in Mexico swayed the electorate.  He was sworn into office on March 5, 1849 and served until July 9 of the following year.   Zachery Taylor celebrated the country's birthday with appropriate festivities on July 4, 1850, but immediately began to suffer stomach pains and died of a digestive tract ailment five days later.  Only two presidents of the country—William Henry Harrison who had served in the Detroit theater during the War of 1812 and James Garfield—held shorter terms that the man whose name is borne by this southern township of Wayne County.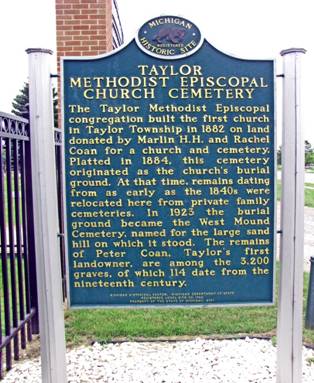 Use in 2012: Cemetery
State of Michigan Registry of Historic Sites: P 25,353 Listed  April 9, 1990
State of Michigan Historical Marker: Put in place: 2001
Photograph:  Ren Farley, 2009
Description prepared: January, 2012
Return to Cemeteries

Return to Homepage