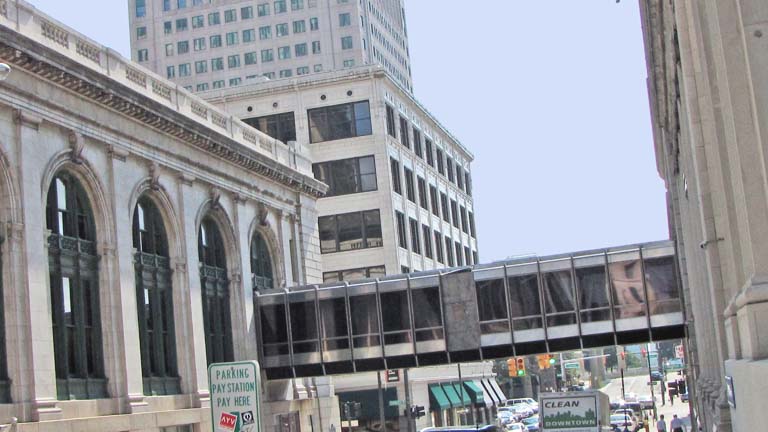 Telegraph Building
542 Shelby in Detroit downtown Financial District

Simon Jones Murphy, born in Maine in 1820, earned a fortune in the lumber industry there.  In the 1860s, he realized that much of the best timber in the Pine Tree State had been cut and that his financial interests might benefit from his migration to another state with tremendous reserves of lumber.   He had mastered the techniques of getting rich from lumber.   In 1866, he moved to Detroit and, for about three decades, he and his partners purchased several hundred thousand acres of Michigan's pine lands.  By the early 1890s, the most desirable pine forests in this state had been cut.  The financial Panic of 1892 also temporarily dampened the profits that might be made in the timber industry.

Perhaps after Michigan's timber industry passed its apogee, Simon Murphy turned his in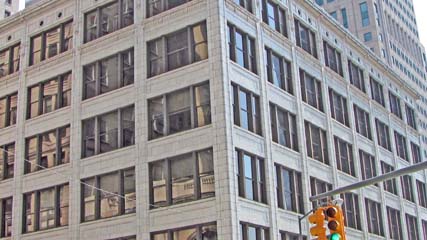 terest from the rural to the urban.  He realized that there was a need for office and manufacturing space in downtown Detroit.  The first building he erected was the Murphy Power Building on West Congress, a building designed to provide electrical and steam power to small manufacturers who would rent space there.  Cigar manufactures were among the first to rent space in that building.  Printers came later.  Alas, Simon Murphy died at age 90 in 1910, just a few months before the Murphy Power Building opened for business.  His son, Charles Murphy, took over Simon Murphy's extensive efforts to profit from downtown Detroit.  Before his death, Simon Murphy had invested in the development of the first of the three Penobscot Buildings that still offer office space to Detroit professionals.  I presume that Simon Murphy had less to do with the development of the Telegraph Building since it did not open until 1913.  Presumably, his son was responsible for this one.

Originally, this building was rented by the Western Union firm, hence the name.  I do not know if it was specially constructed for Western Union.  At a later date, the Telegraph Building was merged with the contiguous Murphy Power Buildings.  The two buildings are now known as the Murphy-Telegraph Building.  Some may not realized that there once were separate Murphy and Telegraph Buildings.

The Telegraph Building was renovated by the 400 Monroe Associates architectural firm, also located in downtown Detroit.  They have been very active in the successful refurbishing of older buildings that were at risk of falling into disrepair or even being torn down.  They renovated the Ferry Seed Building, converted an old building into the Athenaeum Hotel in Greektown and saved the nearby Marquette Building from destruction.  The Telegraph Building is a six story structure West Congress and eight facing Shelby. When the renovation was accomplished, the 400 Monroe Associates firm added white marble and green cast panels to improve the appearance of the street level.   This is another building that is difficult to photograph because of the presence of so many other tall structures on narrow streets.
Architects:  Unknown to me
Date of Completion: 1913
Use in 2011:  Office building
City of Detroit Designated Historic District: Not listed
State of Michigan Registry of Historic Sites: Not listed
National Register of Historic Places:  The Telegraph Building is with the Detroit Financial District National Historic District,
Listed December 24, 2009
Photograph:  Ren Farley; September 14, 2011
Description prepared:  September, 2011
Return to Commercial Buildings

Return to Detroit Financial District

Return to Home Page