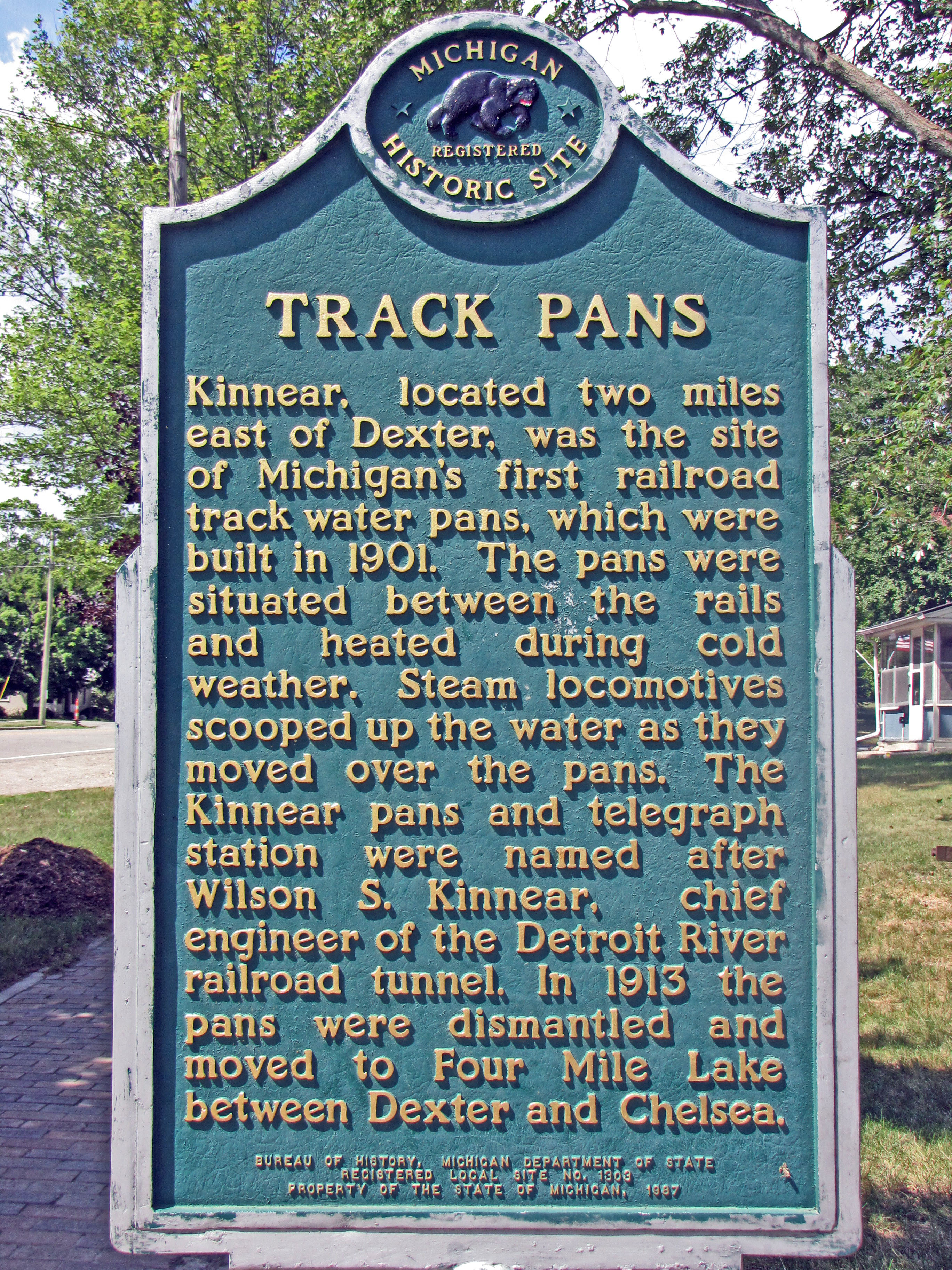 Railroad Track Pans Historical Marker
3487 Broad at the northwest corner of Broad and Third in Dexter
Steam railroad locomotives are one of the great achievements of Nineteenth Century engineering and helped to create a united country by linking all of the nations' hamlets and cities.  However, they presented numerous challenges and when diesel engines became readily available after World War II; steam engines disappeared in just a few years.  One problem was the mechanical complexity of steam engines necessitating many repair shops and requiring numerous highly skilled mechanics along rail lines.  Before a steam engine could pull a ton or freight or a passenger car, it had to pull tons of coal and thousands of gallons of water.  The largest engines in the last generation of steam engines began their runs with a huge tender that contained upwards of 28 tons of coal and 20,000 gallons of water.  That water weighed about 65 tons meaning that the engine was not all that efficient since it had to move its own massive weight before pulling anything that might generate revenue. 
Steam engines had to stop with considerable frequency to replenish their supplies of coal and water.  This added substantially to the time of any trip since the engineer had to carefully spot his tender at a coal shoot and then move to a different spot where the fireman would climb upon the top of the tender and attach a spout from a trackside water tower.
John Ramsbottom, a British engineer, invented a system to prevent having steam engines stop so often for water.  He proposed placing a trough of water between the rails of the track.  When the tender was over this trough, the fireman would drop a scoop from the tender which was vented so that as water rushed in, air escaped.  The first installation was in 1860 by the London and Northwest Railroad on its North Wales Coast line.
I am not sure when track pans were first installed in the United States.  By the 1880s, locomotives were getting larger and more powerful, trains were getting longer and a variety of rail lines were competing with each other to carry freight and passengers between major cities.  Speed became important.  By the turn of the last century, Detroit residents could select the Michigan Central, the Grand Trunk Western or the Pere Marquette for their travel to Chicago.  Later the Pennsylvania Railroad and its subsidiary, the Wabash, joined the competition.  In the mid 1890s, the New York Central installed track pans on their main New York to Chicago line in northern Indiana.  That may have been the first installation in the Midwest.
The Michigan Historical Marker shown here commemorates the first installation of track pans in the Wolverine State.  In 1901, they were installed at a location called Kinnear several miles east of Dexter.  That site was named for the chief engineer responsible for building the Michigan Central Railroad tunnel under the Detroit River, Wilson S. Kinnear.  That tunnel opened on July 26, 1920 and continues in daily use.  In 1913, the track pans at Kinnear were moved to a location nearer Chelsea.  They were one of four sets of track pans on the Michigan Central line from Detroit to Chicago, the others being located Marshall, Lawton and Avery.  When originally installed, trains had to slow to about 40 miles per hours to take on water.  Subsequent engineering improvements changed this and the most powerful locomotives built in the 1920s could scoop water at an 80 mile per hour track speed.  The website listed below shows a Michigan Central train replenishing its tender while traveling 60 miles per hour over the Kinnear pans,
Track pans saved time but they had their downsides.  The roadbed had to be substantially rebuilt to incorporate a long rigid pan right between the two rails.  There was also the challenge of temperature.  A pan of water two miles long, one foot deep and one foot wide tended to freeze rapidly.  Thus the railroads had to build facilities at short intervals to heat the water so that it would not freeze even at below zero temperatures.  There was also a substantial loss of water since every picture I have seen of an engine taking on water from track pans shows a huge spray all over the tracks.  Then there was a major challenge for the fireman.  He had to lower the scoop just after the train started passing over the pan and raise the scoop just before the pan ended.  You can imagine this might be a challenge on a dark night with a blizzard since this had to be done since, at track speed.  A fast moving train would spend only 90 seconds passing over the pan.  Quite a few scoops were destroyed by firemen's mistakes.  It is no wonder that the railroads adopted diesel engines in a flash.  I do not know when track pans on the Michigan Central were removed.  I imagine it was in the early 1950s. 
State of Michigan Registry of Historic Sites
State of Michigan Historical Marker:  Put in place July 20, 1987
Use in 2009: Historical marker.  The Track Pans Historical Marker is posted on one side of a Michigan Historical Marker.  The other side shows the marker for the Michigan Central Railroad Dexter Depot.
Website describing the Kinnear track pans: http://www.aamrc.org/page.php?5
National Register of Historic Sites: Not listed
Photograph: Ren Farley, July, 2009
Description prepared: October, 2009