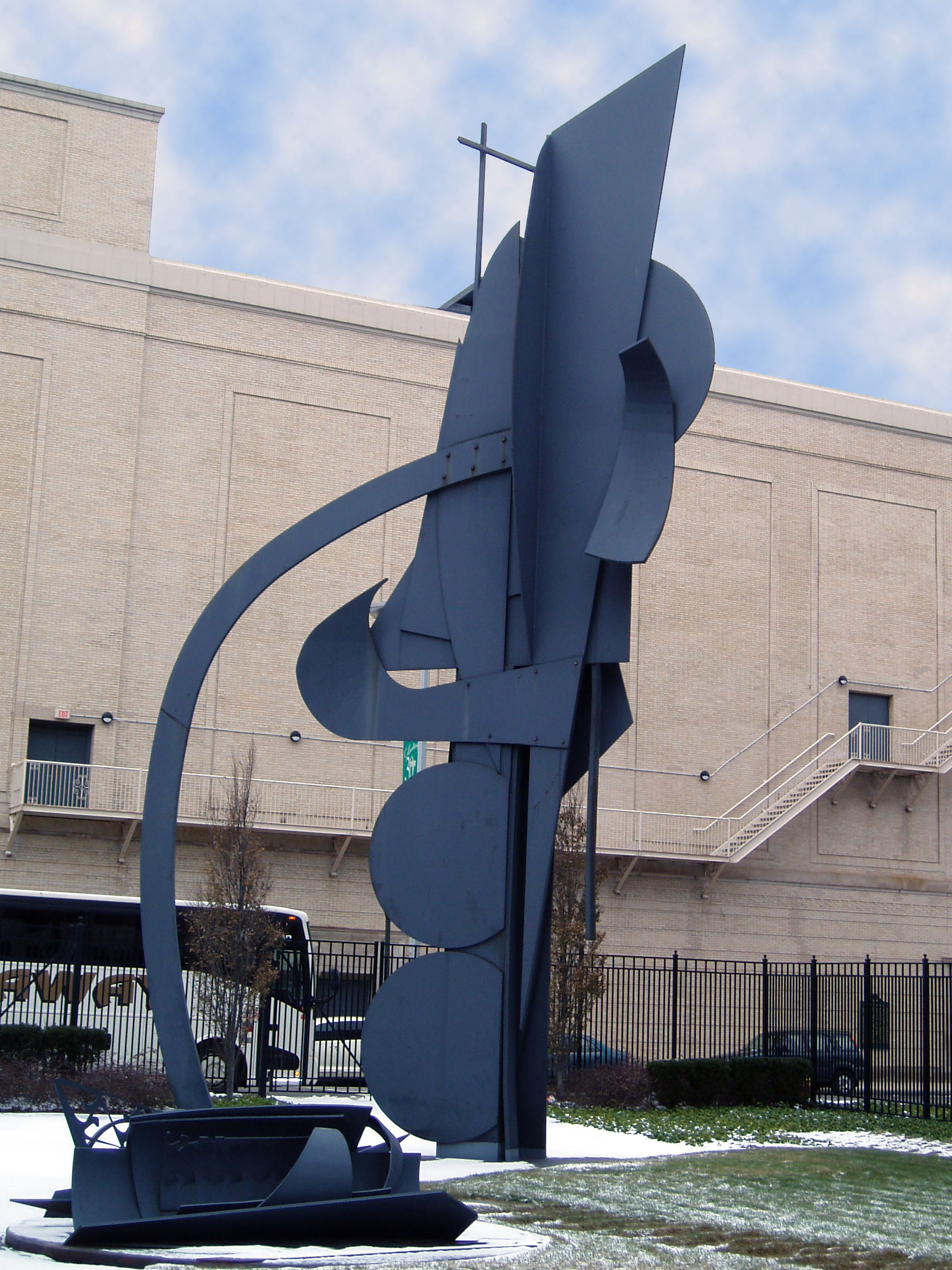 Trilogy Sculpture/Bendix Trilogy Sculpture
Located in the courtyard of the Orchestra Place Building and Visible from
Parsons between Woodward and Cass in Detroit
The picture above is not very helpful. Louise Nevelson designed three components of this massive sculpture. Two of them are large vertical structures; one is very large but low to the ground. You would never know that from the picture shown above.

This is one of the few major sculptures in Detroit accomplished by a woman. The creator is a very well-known artistic figure who was prominent in the New York art scene from the 1930s to the 1970. She was born in Kiev in 1899 with the given name, Leah Berliawsky. Many Jewish families, at that time, were migrating away from Russia and the Ukraine to Western Europe, Canada or the United States. Her father, who was a lumber broker, departed in 1902 for Rockport, Maine. Leah, her siblings and her mother arrived in Maine from Kiev three years later. Her father struggled for some time in Maine, but eventually succeeded in the lumber business and as a real estate broker.

Louise decided to become an artist while in high school, but at age 21, she married the prosperous son of a Boston shipping family, Charles Nevelson. She did not lose her interest in art and by the end of the 1920s she was living in New York studying at the Art Students League. In that era, the Art Students League was a very productive and exciting center and training location for aspiring artists. I infer that she quickly became enmeshed in the New York art scene while producing notable paintings of her own. She collaborated briefly with Diego Rivera when he was painting the murals for Rockefeller Center that were quickly destroyed by the building's owners.

Louise Nevelson experimented with many different types of art. By the 1940s, she began to produce small and highly original sculptures and then, toward the end of the 1960s—when she was approaching age 70—she began to design large metal outdoor sculptures such as the one you see pictured here. Her first such commission was from Princeton University. Within a few years she accepted many commissions to produce outdoor sculptures, most or all of them large abstract done in cor tan steel. A sculpture garden in New York, Louise Nevelson Plaza at the intersection of Maiden Lane and Liberty Street in the Wall Street district, displays several of her works. I believe one of the steel sculptures is 80 feet tall. I infer that many aspiring women artists find Louise Nevelson as something of a model because of her many accomplishments in a male-dominated profession.

The three pieces in this array were commissioned by the Bendix Corporation—an auto parts manufacturer—when the firm moved into their new headquarters building in Southfield in 1978. A few years later, that firm was purchased Allied Signal Automotive Sector. The new owners offered the Nevelson sculpture to the Detroit Symphony. They were moved to their present location in 1998.

These are abstract pieces and, so far as I know, there is no specific explanation about their meaning. Dennis Nawrocki, in his book about sculpture in Detroit, Art in Detroit Public Places, (Detroit: Wayne State University Press, 2008), speculates that they could suggest a family since there are two large erect pieces and one smaller ground level piece. I will try to add much more illustrative pictures of the Nevelson sculptures. We are fortunate to be able to view the works of this significant figure in the history of American art.

Sculptor: Louise Nevelson
Original installation: 1979
Place of original installation: Campus of Bendix Corporation in Southfield
Date of reinstallation at Orchestra Place: 1998
Use in 2011: Public Art
Photograph: Ren Farley; December 5, 2005
Description prepared: November, 2011

Return to Public Art and Sculpture