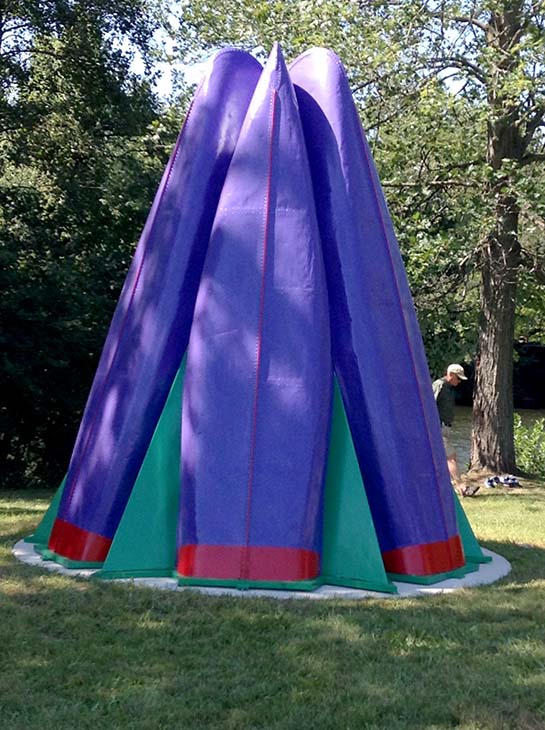 Tulip
Bandemer Park on the banks of the Huron River about 100 yards west of
the Michigan #14 overpass over Barton Drive
Ann Arbor, Washtenaw County

The city of Ann Arbor has been renting canoes to people who wish to paddle along the Huron River since, I believe, fairly early in the last century.  Even the modern lightweight aluminum canoes wear out and need to be replaced.  Someone had the marvelous idea to create sculptures using the antiquated canoes and then place them very close to the Huron so that those who rowed down the river could see an ingenious use of the previous generations' canoes.  This was known as the Canoe Imagine Art project.

The Arts Alliance cooperated with the City of Ann Arbor and the Ann Arbor Public Art Commission to create four major new sculptors for the banks of the Huron River.  This inspiring project was also supported by the Michigan Council for Arts and Cultural Affairs and the often criticized National Endowment for the Arts.

The sculpture shown here is entitled Tulip for obvious reasons.  It was created by Ray Katz who studied art and sculpture in Ypsilanti at Eastern Michigan University and then at the College for Creative Studies in Detroit' Cultural Center.  I believe that his studio is now located in Pontiac, Michigan.

The other sculptures in this canoe series are:
Canoe-vue by Jeff Zische in Broadway Park
Canoe Fan by Victoria Fuller and located in Gallop Park
Turbine by Heater Andrews, Dustin Lafromboise and J. Neil Lawley from Missouri State Western University and Hausman Metal Works and located in Broadway Park just north of the historic Michigan Central depot.
Bandemer Park includes about 36 acres.  It was established by the city of Ann Arbor in 1985.  Much or all of the land in the park was purchased using a gift to the city from Ted and Ann Bandemer.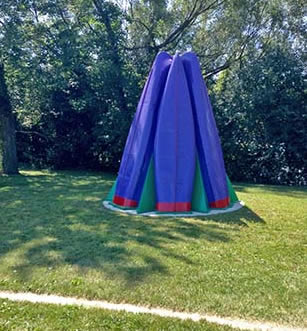 Sculptor: Ray Katz
Date of installation: August, 2015
Website for sculptor: http://raykatzsculptor.com/
Use in 2015: Public Sculpture
Photograph:  Ren Farley; August 2, 2015
Description prepared:  August, 2015

Return to Public Art and Sculpture

Return to Homepage