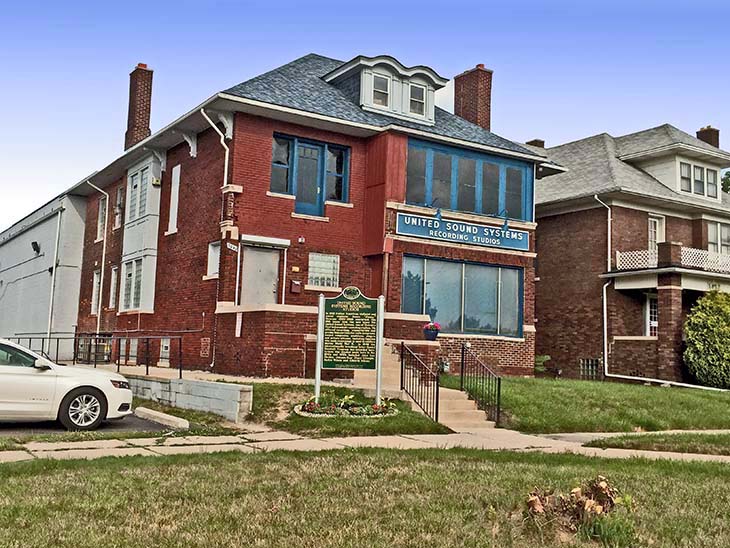 United Sound Systems Recording Studios
5840 Second Avenue, Midtown Detroit
Barry Gordy, John Lee Hooker, the Rolling Stones, Miles Davis, Muddy Waters, Charlie Parker, Dizzy Gillespie, Johnny Ray, Alberta Adams, Marvin Gaye and Aretha Franklin.  What do they have in common?  They all recorded music using the studios and facilities located in this building.  It certainly deserves an historic designation.  In 1959, Barry Gordy recorded his first discs here using the Tamla label.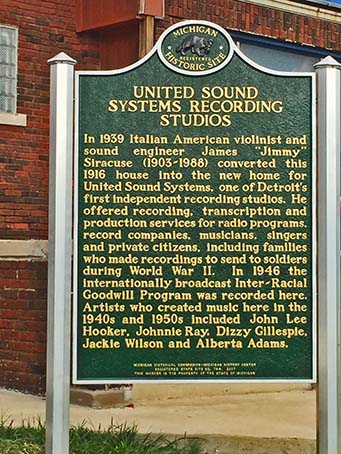 United Sound was founded in the early 1930s by James Siracuse at a location on Cass Avenue.  It became Detroit's first major recording studio.  Apparently, there is some uncertainty about when the firm moved into this location on Second from its previous site on Cass.  The historic marker states 1939 and there is clear evidence that it was no later than 1943.

United Sound Systems, I believe, prospered through the 1990s but then business dropped off and it went out of business in 2004.  About five years later, the Michigan Department of Transportation announced intentions to devote $2.7 billion
to widen the I-94 expressway in Detroit.  Their plan, which called for construction to begin in 2018, required razing of the structure shown on this page.  There were protests, and the city of Detroit Historic Designation Board listed this former residence as an historic location.

After United Sound closed, the business and structure, it was purchased in 2009 by Danielle Scott of Detroit for $20,000.  She and her colleague, Dwayne Richards, invested in a remodeling and renovation of the building.  They reopened it as a recording studio in 2014. Mr. Richards established the Big Hommie label to produce rap music.  However, two years later the federal government accused Mr. Richards of dealing drugs.  They contended that the purchase of the studio was accomplished with ill-gotten money and sought to seize it.  Mr. Richards was listed among the area's most wanted accused felons because of his, alleged, success in marketing and distributing cocaine in metropolitan Detroit.  After three years "on the run" he was peacefully taken into custody after being stopped for driving a vehicle without an appropriate tail light in the Detroit suburbs.  At that time, he was on a list of most wanted criminals because of his apparently very lucrative business.

A non-profit organization, the Detroit Sound Conservancy, seeks to preserve and publicize the city's very rich and complex musical history.  They became actively involved in seeing that this building was not torn down.   Their efforts were successful and, with their assistance, studio space here is still used by Detroit recording artists.  I do not know how the federal government's efforts to take this building were resolved.  There was a major ceremony in the summer of 2017 when the State of Michigan historical marker was installed.
Architect: Unknown to me
Date of Construction: 1916
Website for Detroit Sound Conservancy: http://detroitsoundconservancy.org/
Webpage for United Sound Systems: http://unitedsoundsystemsrecordingstudios.com/

City of Detroit Designated Local Historic District: Listed 2015
State of Michigan Registry of Historic Places: Listed July, 2017
National Register of Historic Sites: Not listed
Photograph:  Ren Farley; July, 2017
Description prepared: November, 2017