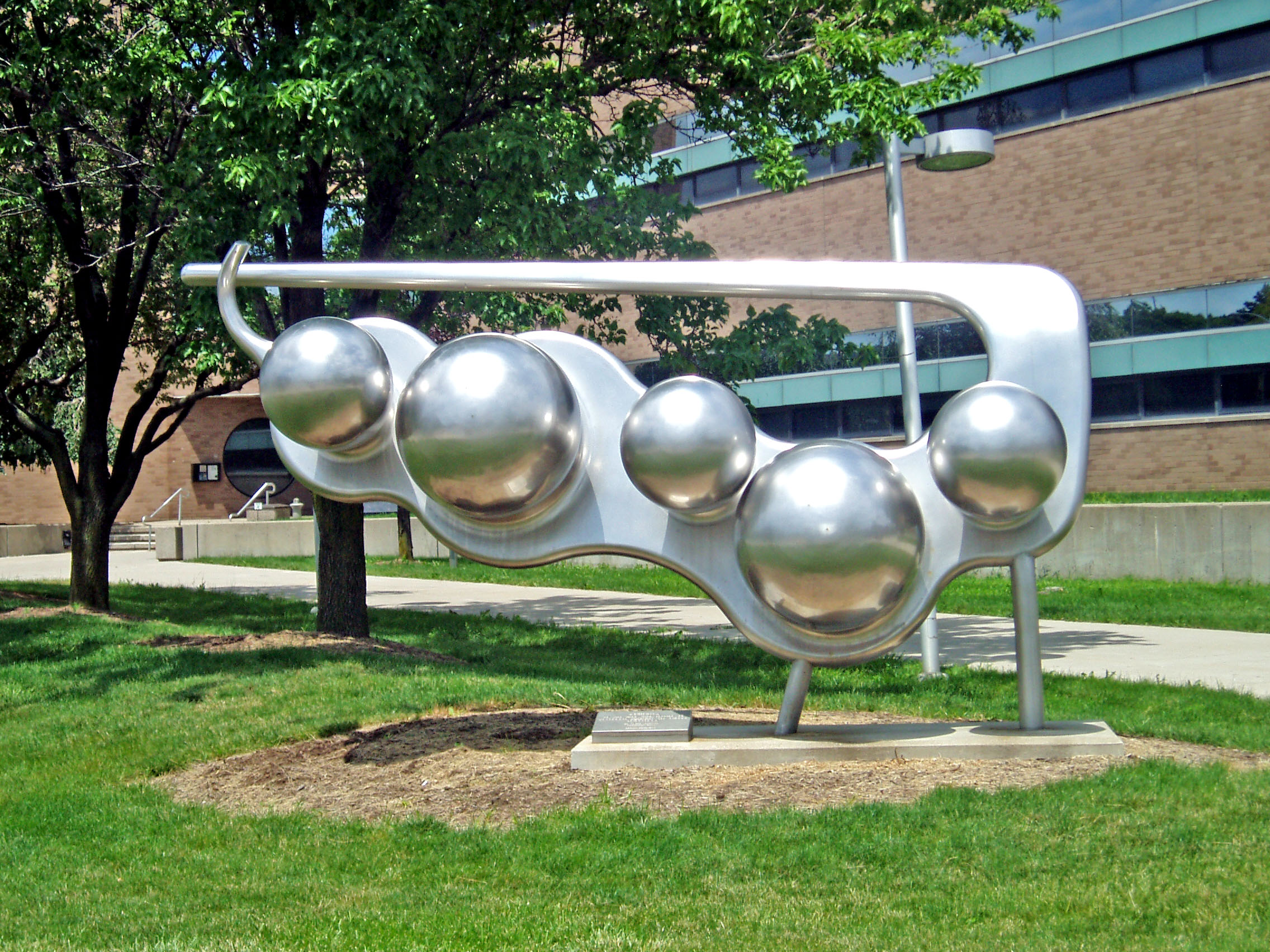 Untitled
Sculpture Honoring Professor Andrzej W. Olbrot
At the intersection of Anthony Wayne Drive and West Warren on
the Wayne State University Campus
Andrzej W. Olbrot, born in Lisow, Poland in 1943, earned bachelor's, graduate and post-graduate degrees from the Technical University of Warsaw. He then joined their engineering faculty in the department of automatic control. In 1988, Professor Olbrot migrated to Detroit and accepted an appointment in the Department of Electrical and Computer Engineering at Wayne State University. He quickly gained a reputation for his innovative work in developing and writing about electrical control systems. He apparently was also highly successful in mentoring advanced graduate students in his field.
On Thursday evening, December 10, 1998, Professor Olbrot was collecting final examination papers from 24 students in his ECE-7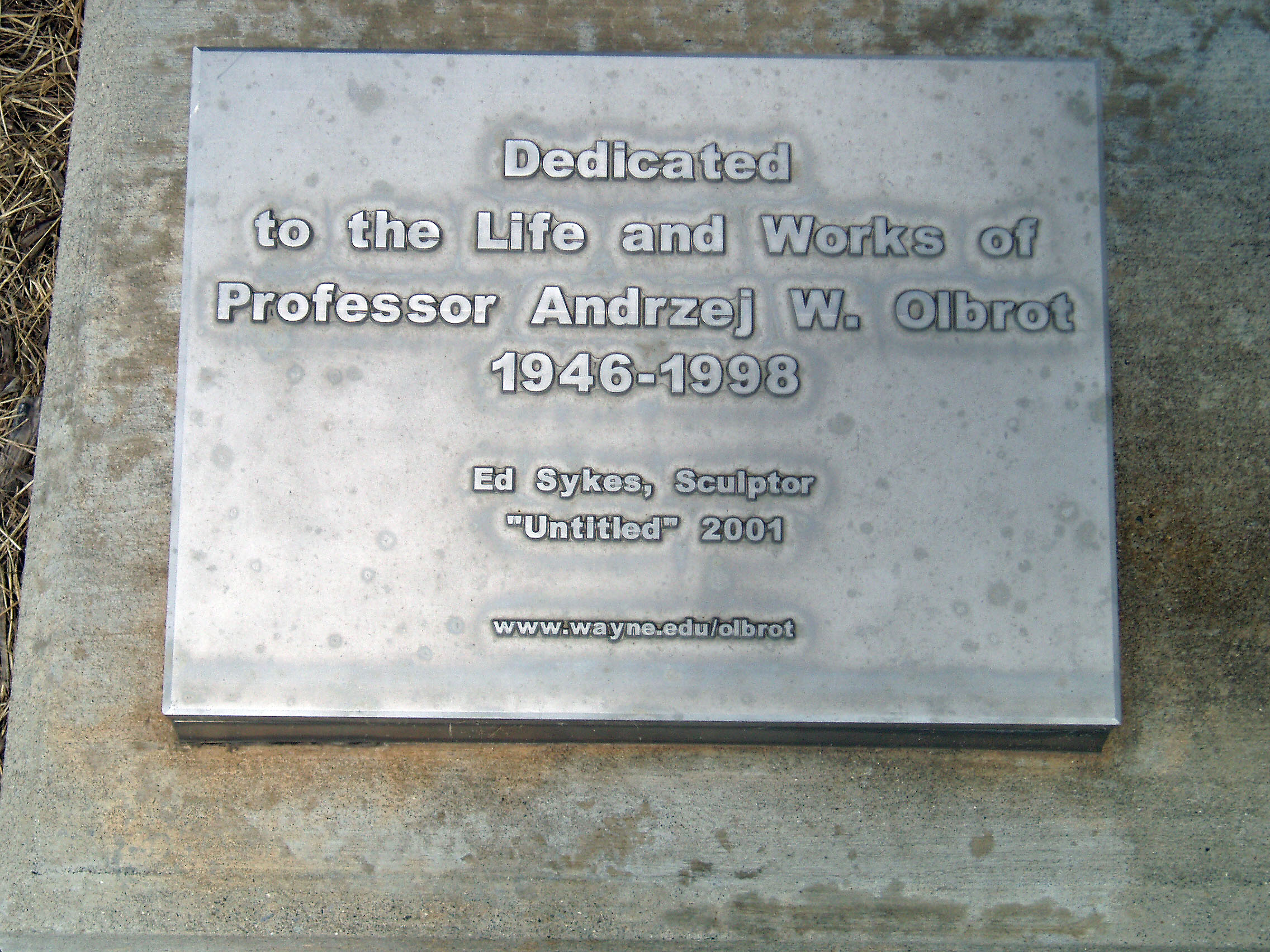 440 course, "Dynamic Systems and Optimal Control", in a classroom in Old Main. A Wayne State graduate student in the Department of Electrical and Computer Engineering, Wlodzimierz Dedecjus, walked into that classroom, pulled out a rifle and shot Professor Olbrot to death. Mr. Dedecjus took time to reload his rifle and then shot Professor Olbrot again. He was careful not to point his gun at or threaten any of the students. He left the classroom. Sometime later that evening, he drove from his apartment in Hamtramck to Ann Arbor. He went to the police station there and turned himself over to the officers, explaining that he had shot Professor Olbrot. They were not expecting him. Dedecjus had failed a major test several days earlier and had enrolled in at least one course taught by Professor Olbrot. He was tried the following year for murder in Detroit. His defense attorney described at length his isolated life style and the great pressures he felt as a 48-year-old graduate student. The jury did not accept that argument and convicted him. Thank goodness, relatively few graduate students attack professors, but it happens frequently enough that there is a small literature about such violence. Perhaps the modal graduate student attacking a professor is an older, socially isolated one who is having trouble earning his doctorate.
Because of Professor Olbrot's popularity, his colleagues at Wayne raised money to honor his accomplishments and to assist graduate students in the Department of Electrical and Computing Engineering. Using funds gathered from Detroit's Polonia, they also commissioned a sculpture, one that was installed close to the building where he had an office. Edward Sykes' design incorporates a series of bulbous spheres that, he believed, suggested creative development. The sculpture is supported by two cylindrical struts. Dennis Alan Nawrocki, in his book, Art in Public Places in Detroit, reports that when this sculpture was installed, it was too shiny to be pleasing so Wayne administrators, against the wishes of the sculptor, sanded it to reduce glare. The sculptor, Ed Sykes, was bron in the Detroit area in 1971, trained at Lawrence Tech in Southfield and now has offices in Detroit and Los Angeles.
This sculpture is very close to the Helios Trail sculpture designed by Bruce White. They are both silvery, provocative modern sculptures linked to the engineering program at Wayne.

Sculptor: Edward Sykes
Date of Installation: 2001
Composition: Stainless steel
Use in 2011: Public Art
Description Updated: August, 2011