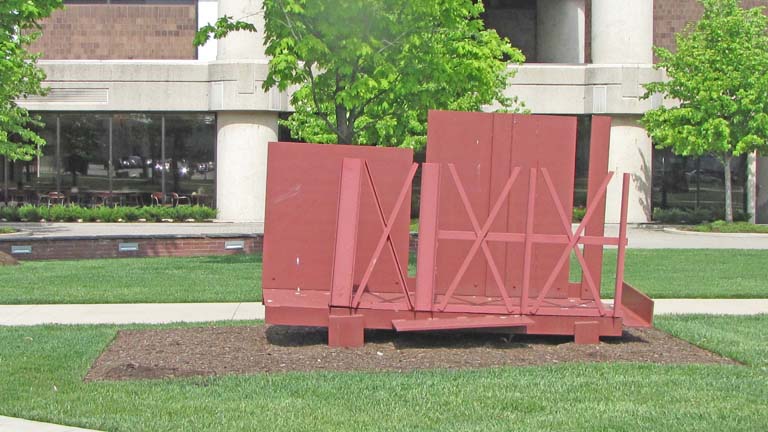 Upfront
Located in the Josephine Ford Sculpture Garden of the College for Creative Studies at East Kirby and John R in Detroit's Cultural Center
Anthony Caro was born in March, 1924 in New Malden, England.  During World War II, he served in the Royal Navy.  After that war, he earned a degree in engineering from Christ College, Cambridge.  He later studied at the Royal Academy Schools in London.

In his earlier years, he was a modernist sculptor.  In the 1960, however, he altered his style and began bolting together or welding collections of metal plates.  That appears to be what your see here in his sculpture in the Josephine Ford Sculpture garden.  He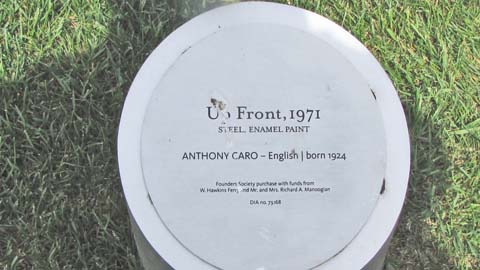 became an instructor at Central Saint Martin's College of Art and Design in London and influenced a generation of younger abstract sculptors as he moved further and further into that style.   He became widely known in England and France for his innovative modernist sculptures.  Similar to Paul McCartney of the Beatles, Anthony Caro was designated a knight by Queen Elizabeth II.

As Anthony Caro reached his older ages, he continued to sculpt.  He was widely known in France and several of his works are on display in Bourbourg in northern France near Dunkirk and Calais.  In that city there is a Thirteenth Century church, Eglise de Saint Jean-Baptiste, that was severely damaged during World War II.  An English pilot flying over the city realized his plane was not airworthy and flew into the church to avoid destroying homes and their occupants.  The choir loft of the church was damaged and the church set afire.   In the early first decade of the Twenty-first century, Anthony Caro was commissioned by the French government to design a very modernist choir or chapel that would fit with the Gothic Thirteenth Century church.  Anthony Caro's Choeur de Lumière was completed in 2008.

The Metropolitan Museum of Art in New York City had a marvelous building at Eight First Street and Fifth Avenue on the East River side of Central Park designed by Calvert Vaux, Jacob Wrey and Richard Morris Hunt with the current building opened in 1902.   If you go to the roof of that edifice—and it may be one of the most impressive art galleries on this planet—you will find a very attractive restaurant overlooking Central Park.  There you are in a city of eight million residents, but at that restaurant, you are overlooking a beautiful and very green urban park designed by Frederick Law Olmstead who also contributed to the design of Detroit's Belle Isle.  In 2010, the Metropolitan Museum asked Anthony Caro to provide an array of his large outdoor sculptures that might be displayed on their roof for the delight of their patrons.  Caro agreed and, during the summer of 2011, several of the sculptures of Anthony Caro grace the roof of the Metropolitan Museum in New York City.  But, if you are unable to travel to Gotham City, you can see an example of Caro's work in the Josephine Ford Sculpture Garden in Detroit Cultural Center.

Caro continues to be a very productive sculptor.  There are, perhaps, a dozen or more of his modern large steel pieces on public display in the United States.  But, so far as I know, the only one in the Detroit area is Upfront, shown above.

Sculptor:  Anthony Caro
Date of Construction:  1971
Materials: Steel
Use in 2011: Public Art
Photograph:  Ren Farley, May 21, 2011
Description prepared:
Return to Josephine Ford Sculpture Garden
Return to Public Art and Sculpture

Return to Home Page