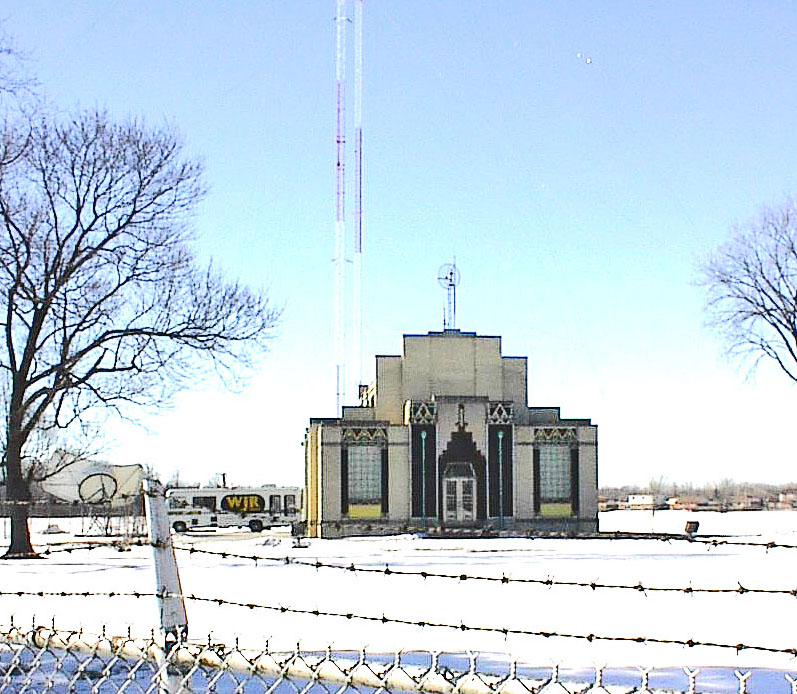 WJR Radio Transmitting Building
Southwest corner of Sibley and Grange Roads in Riverview, Michigan
This is one of the more surprising buildings that you will discover in metropolitan Detroit. It is also one of the most interesting examples of Art Deco design. By the early 1930s, WJR was perhaps Detroit's most powerful radio station. I presume they were able to purchase land for their transmitter in this remote and sparsely populated location for low cost. They then had architect, Cyril Schley, design this structure in the zigzag style. Colorful ceramic tiles were used throughout this stunning building; The doors appear to be in bronze. Notice the very dramatic zigzag arch above those doors. The entire building has a jagged Art Deco silhouette, especially the uneven rooflines. What is so remarkable about this building is that it is in the middle of a large open field. There are no other structures around to distract you. It is as if a beautiful small Art Deco structure was placed in the midst of a huge farm field. As of the early 21st Century, suburban sprawl had not reached this corner of metropolitan Detroit. Alas, there is a very large fence surrounding the structure so you cannot get close to the building. You are forced to appreciate from quite a distance.

WJR played a unique role in the nation's history. The Detroit News and the Detroit Free Press were revivals. In 1920, the Detroit News established radio station WWJ when the industry was new and very few households had receivers. To keep up, the Detroit Free Press established station WCX in 1922. By the mid-1920s, radio was becoming increasingly popular and spreading across the nation. Signal strengths were improving and the cost of radios coming down, making them a common household item. In 1925, the Jewett Radio and Photographic Company of Pontiac purchased WCX from the Detroit Free Press, installed a massive 5,000-watt transmitter and changed the call letters to WJR—W Jewett Radio.

WJR broadcast the triumphant return of Detroit native Charles Lindberg to the United States after his solo flight to Paris. Lindberg apparently had friends at the radio station, and similar to other stations, they needed to fill air time. In the 1920s, stations did not play loops of recorded music, nor were there call-in shows or endless arrays of opinionated talking heads. Lindberg apparently brought an articulate Detroit priest—Charles Coughlin—to the attention of the station's managers and encouraged WJR to broadcast his preaching. Father Coughlin first spoke on WJR on October 3, 1926 and originally targeted children, but soon switched his presentation to adults.

Father Coughlin rapidly gained a local reputation for his speaking and then developed a national audience as CBS, in about 1930, broadcast his show weekly to a national audience of millions. He was the first clergyman to become a popular preacher using the airways. and so he earned the sobriquet Radio Priest. Father Coughlin had been strongly influenced by Pope Leo XIII's 1891 encyclical, "On the Condition of the Working Class." Father Coughlin certainly did not preach on narrow dogmatic Roman Catholic themes. That would have reached few ears. Rather, he preached in favor of social justice using non-sectarian, and at first, non-political themes. Eventually, he became a right wing populist. By the early 1930s, he received as many as 80,000 letters a week from his listeners.

The election of 1932 gave Father Coughlin an opportunity to become a powerful political activist. Wealth and jobs disappeared rapidly after the Depression began in October, 1929. President Hoover and his Republican colleagues appeared unable to get the country out of its most severe economic crisis. They could only offer the hope that the economic situation would greatly improve in the near future, but that never happened. Father Coughlin strongly and frequently spoke in favor of the election of Franklin Roosevelt who, in turn, actively sought the support of the nation's most popular radio personality. After the election, Father Coughlin took personal credit for the election of President Roosevelt. Originally, Father Coughlin strongly supported Roosevelt's policies and declared that "the New Deal is Christ's Deal."

By November, 1934, the situation changed and Father Coughlin ceased to support President Roosevelt and the New Deal. It is possible that Father Coughlin was surprised that the president consulted him infrequently and took little of his advice about policies. Unlike Father Coughlin, President Roosevelt was not a right wing populist. Father Coughlin, at the end of 1934, called for the organization of a National Union of Social Justice. This organization, he believed, would be a populist reformist movement, but one that was similar to a political party; indeed, he expected them to elect a president to boot Franklin Roosevelt out of office in 1936. At some point, Father Coughlin may have considered running for president in 1936, but it is likely that his preferred candidate was the extreme populist, Senator Huey Long from Louisiana. Unfortunately, Huey Long was assassinated in September, 1935. In the 1930s, there were no scientific election polls, so the possibility that Father Coughlin or someone he named might be elected president seemed very reasonable. Apparently, President Roosevelt and his advisor feared that this would happen. By this time, Father Coughlin was receiving 400,000 letters a week from his audience, so he seemed to be extremely popular and influential. Father Coughlin, in 1936, selected North Dakota Senator, William Lemke, as his candidate for president, but his movement was waning and Lemke ended up getting just fewer than one million votes for president in contrast to 27 million for Franklin Roosevelt. Nevertheless, this was probably a high water mark for right wing populists in this nation.

Father Coughlin's political views shifted to the right in the late 1930s, although he was neither a philosopher nor a political scientist, so his ideas were not rooted in any consistent perspective. Increasingly, he was thought to be an anti-Semite, although this was not such a damaging charge at that time. Indeed, he often argued that he was not an anti-Semite. He, along with many others, endorsed the view that Jewish bankers were responsible for some or many of the problems of the Depression. He also believed that Marxism and the Communist government of Russia were the outcome of a Jewish plot. Gradually, he came to give support to the idea that Nazis in Germany and the Fascists in Italy should be lauded since they were an alternative to the Communists in Russia.

By the end of the 1930s and into the early 1940s, President Roosevelt and governmental officials in Washington increasingly viewed Father Coughlin as edging toward treason. To them, his statements suggested that he was a supporter of Adolph Hitler and Bonito Mussolini. Washington officials knew that the United States would likely engage in a European war against the nations and movements that Father Coughlin seemed to endorse. There are various stories about the pressures that the Roosevelt Administration used to get the Catholic hierarchy to silence Father Coughlin. Presumably, Archbishop Gallagher in Detroit had been under pressure from others in the Catholic hierarchy to silence Father Charles Coughlin, but did nothing. After Archbishop Coughlin was replaced, Detroit Archbishop Mooney took his time, but ordered Father Coughlin to cease his radio broadcasts and stop his publications early in 1942.

There is no evidence that Father Coughlin personally benefited from the monies that must have been sent to him throughout the 1930s. After 1931 he had to pay the Columbian Broadcasting System for air time, so much of what he collected from his many contributors may have paid his bills. He did construct the magnificent religious campus known as the Shrine of the Little Flower at Twelve Mile Road and Woodward in Royal Oak. He served as pastor there until his retirement in 1966. Because he was such a central political figure for the crucial years of the Depression and in the era just before World War II, historians sought him out frequently to discern his views. However, he revealed very little about his career during the thirteen years that passed between 1966 and his death in 1979. If Father Coughlin had not moved toward supporting Germany's Adolph Hitler and Italy's Bonito Mussolini in the late 1930s, I suspect he would have been known as key figure in the unsuccessful effort to get a populist reform of the American political system; indeed, to get such a change at a time when it was most needed. However, I think that he is now often thought of as an anti-Semite. Indeed, Father Coughlin, in the late 1930s, apparently believed that the Protocols of the Elders of Zion were accurate and published them in his magazine, Social Justice, just as Henry Ford has published them in his magazine twenty years earlier.

Cyril Edward Schley—the distinguished architect who designed the fascinating building you see—apprenticed with Detroit's leading theater architect, C. Howard Crane, before working on his own. Schley, in 1935, designed the Rio Theater located at 7714 West Vernor in Detroit. I believe this building has been remodeled and may now be a furniture store. Schley designed, in 1942, a strikingly modernistic Art Deco style Telenews Theater at 1540 Woodward in Detroit. This building was also remodeled and lost many of its Art Deco elements. Dozens of new nightclubs, restaurants and bars have opened in downtown Detroit since the opening of Comerica Park, Ford Field and the three casinos. Schley's Telenews Theater Building is now the Blue Room Experience Night Club.

Architect: Cyril Edward Schley
Date of Construction: 1934
Architectural style: Zigzag art deco
State of Michigan Register of Historic Sites: Not listed
National Register of Historic Places: Not listed
Use in 2007: Radio transmitting facility
Photo: Ren Farley; February, 2004
Description prepared: October, 2007

Return to Commerical Buildings