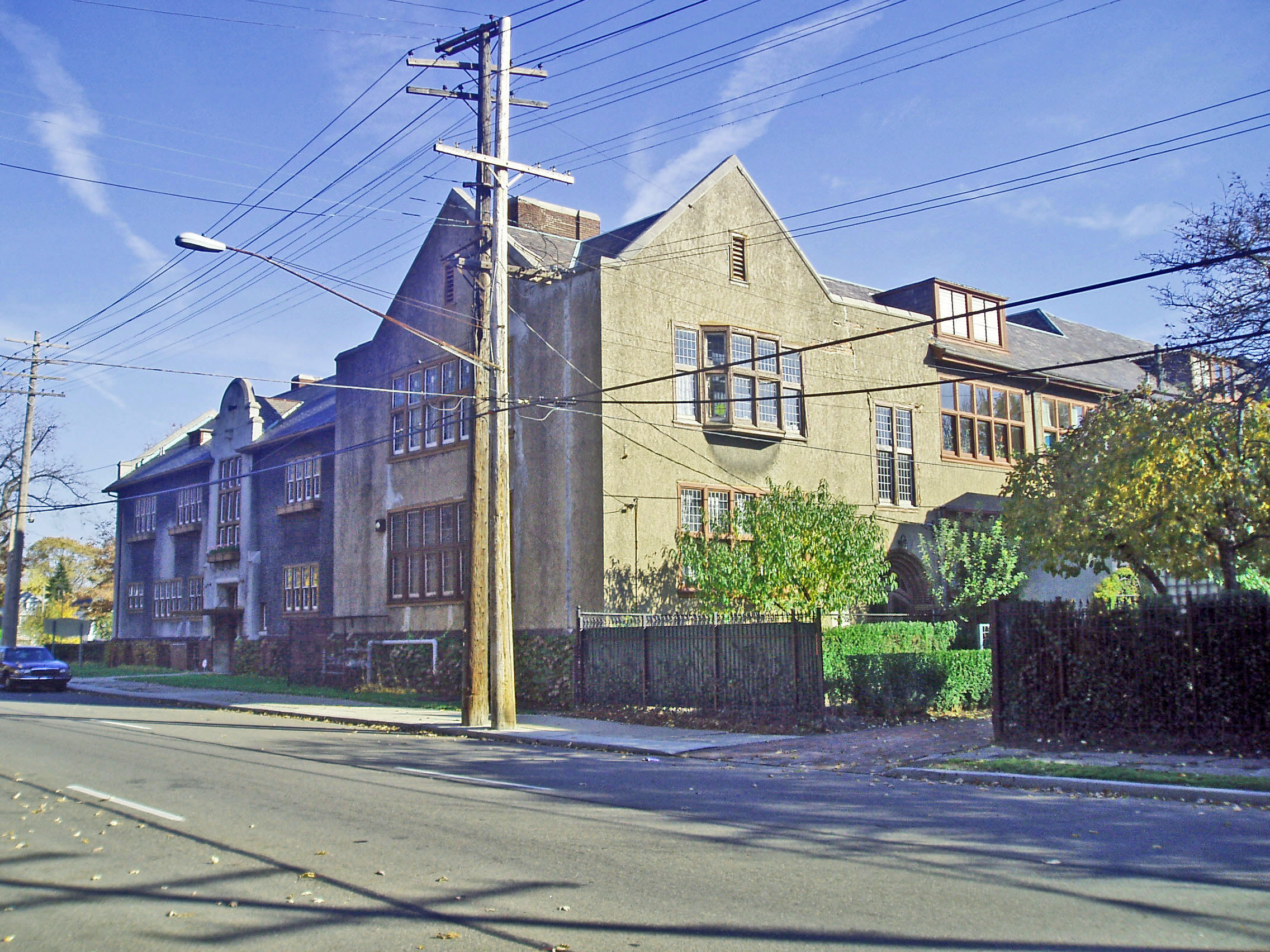 Waldorf School
2555 Burns Street at Charlevoix in Indian Village
The Reverend James D. Leggett moved to the growing city of Detroit in 1878 with hopes to establish a private school for girls, He arrived with six other family members. In addition to being a man of the cloth, he had credentials as a lawyer. He successfully established the Detroit Day and Home School in a residential building near the intersection of Broadway and Grand River on the east side of Detroit's downtown. Just a few years later, in 1883, he was able to erect a three-story building at Cass Avenue and Stimson Place. The Reverend James Leggett's school prospered, and by 1912 or so, they had the resources to commission Albert Kahn to design the graceful and important gray school building pictured above.
The nearby Indian Village neighborhood was developed beginning in the 1890s and, by the first next decade of the next century, many of Detroit's most financially secure families built their homes there. Thus, there was a clientele to be served by a progressive school. In Michigan, as in other states, the nativism and anti-immigrant movements of the post World War I era contended that all children should attend public schools. Non-public schools were assumed to often teach values not fully congruent with the American creed. In the 1920s, Michigan voters were twice asked to adopt legislation that would force elementary and secondary school children to attend public schools. The measures failed and Leggett School continued in operation
The Leggett School used this structure until 1964 when the institution moved to a new building in Grosse Pointe Woods. Leggett School merged, in 1969, with Grosse Point University School to form University Leggett School, the name that is now used for this institution. After Leggett School moved to the suburban ring, a Rudolph Steiner school opened in this building, the Waldorf School. That school continues to operate from this structure.
Architect: Albert Kahn, I believe
Date of Construction: 1915, I think
Use in 2008: The Detroit Waldorf School—a private elementary school using the Rudolf Steiner approach
Website for the Waldorf School: www.detroitwaldorf.com
Website for University Leggett School in Grosse Pointe Woods: nhttp://www.uls.org/podium/default.aspx?t=138778
City of Detroit Designated Historic District: Waldorf School is located within the Indian Village Historic District which is bounded by East Jefferson, Seminole, Mack and Burns. Listed: January 1, 1971
State of Michigan Registry of Historic Places: The Indian Village Historic
District was listed October 29, 1971
National Registry of Historic Places: The Indian Village Historic
District was listed March 24, 1972
Photograph: Ran Farley, November 6, 2008