West Canfield Historic District
West Canfield between Second and Third Avenues and 4301 to 4325
Third Avenue near the Cass Corridor in Detroit
When the French monarch granted rights to land in the Detroit area in the first one-third of the 18th Century, the were in the form of ribbon farms. These were narrow farms that had a short frontage along the Detroit River and then extended for a long distance inland; that is, they resembled ribbons. In the late 18th Century, the Macomb family acquired the farm that contains what is now the Cass Corridor. Lewis Cass was appointed territorial governor after 1805, and in 1818, he purchased the Macomb Farm. This area is still known to some Detroit historians as the Cass Farm area. Lewis Cass, after serving as territorial governor, was appointed Secretary of War by President Andrew Jackson. After that service, he returned to Detroit and prospered, partly because of his land holding. He died in 1866 and three years later, his two daughters divided the farm. One of the daughters, Mary Cass Canfield, named a street for her late husband.

In 1871, prosperous Detroit attorneys, physicians, dentists and architects began building elaborate homes in this area, primarily in the Queen Anne and High Victorian style. This Historic District illustrates very clearly the housing tastes of those Detroit families who became prosperous in the first decade of the city's industrial history. This is, I believe, the only still intact block in Detroit of homes from the 1870s. If you wish to know what kind of upscale housing financially successful Detroit residents built for their families during the Grant and Hayes administrations, please come here.
Canfield was once a narrow street - 100 feet in width. In the early automobile age, the width of the street was doubled and Canfield became a busy thmoroughfare connecting the east and wide sides of town. However, when the Lodge and Chrysler Expressways were built in the late 1950s and 1960s, they did not provide bridges for Canfield so the street became much less important.
This block of Detroit did not survive the city's economic and demographic changes very well, and by the early 1960s, many of the homes were dilapidated. It did not help that the Cass Corridor was emerging into a place where drugs and commercial sex was frequntly sold. The restoration of this block of West Canfield is attributable primarily to one woman, Beulah Coxford. She grew up in Detroit, developed an interest in things historic and worked as an executive secretary and antique dealer. She and her husband were interested in gardening and moved to Grosse Pointe. In 1965, she began to realize the decline in the historic homes on West Canfield and saw an opportunity. In 1965 she purchased the home at 627 West Canfield and began her long campaign to created the historic district we now enjoy. At that time, the City of Detroit had no Historical Designation Board but she pushed and, eventually, one was established. In 1969, the Canfield-West Wayne Preservation Association was organized to foster the restoration of these beautiful homes. In 1970, this became Detroit's first historic district, and in 1971, it was listed on the National Register. Fortunately, Beulah Coxford had connections with many powerful people. The two foot wide street with no median was not so attractive. When the Renaissance Center was being build Nintheenth Century paving blocks on Atwater were removed. Ms. Coxford convinced Henry For II to give the pacing blocks to her. They were stored at Fort Wayne until Ms. Coxford could obtain some federal support from a highway program to install what you see on West Canfield today. Apparently, Ms. Coxford also used her efforts to close several particularly sleezy bars on Second and Third and an alleged brothel. This is a powerful example of how a very dedicated person, with numerous resources and friends can revitalize a section of a large city and resotre to their glory the homes that were so prized in the 1870s and 1880s.
In 1997, the West Canfield Historic District was expanded to include two Victorian commercial buildings and one Queen Anne style residence on West Third.
The list below shows the data of the 15 homes included in the original West Canfield Historic District:
627 Built in 1874 for Colin Fox, a division superintendent of Western Telegraph
628 Built in 1879 for David Page, auperintendent of the Detroit Safe Company
639 Built in 1871 for Detroit Dentist, Dr. Walter Watton
640 Built in 1879 for and designed by famous Detroit architect John Scott
649 Built in 1879 for Detroit dentist, Dr. William H. Kessler
650 Built in 1882 for Michigan lumberman Armon J. Fair
659 A home was built on this plot in 1881 for Reverand William Washburn, pastor of Cass
Avenue Methodist Episcopal Church. It was later razed and replaced by an apartment building.
662 Built in 1881 for George Prentiss, a Michigan lumberman
669 Built in 1885 for Harry B. Parker
674 Apparently built in 1889
677 Built in 1888 for, and by, G, H. Whitaker, a Detroit home builder
691 Built in 1880 for Detroit dentist Dr. Henry Cowie
701-703 This double home was built in 1894. The first occupants were Detroit lawyer, John Ward (701) and Edgar H. Mcgurdy (703), a Detroit wholesaler of crockery
702 Built in 1880 for Dr. Henry A. Cleland, a Detroit physician
The West Canfield website whose url is listed below contains a link to a detailed but unpublished of the West Canfield neighborhood completed in 1969.
Architectural style: Queen Anne and Gothic
Date Completed: 1870s and 1880s.
Description of Beulah Coxford's work in West Canfield:http://www.modeldmedia.com/features/Beulah-Croxford-071415.aspx
Website describing West Canfield Historic District: www.westcanfield.org/
State Historical Register: P4470 and P26167; West Canfield Historic District listed November 6, 1970 and Boundary Increase September 22, 1997
Historical markers, erected Augusted 29, 1990, are at the intersections of Canfield with Second and Third
National Register: Listed May 27, 1971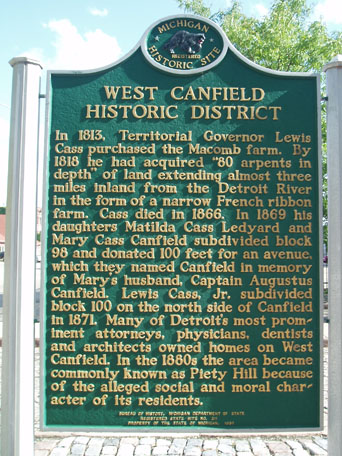 Photographs: Ren Farley
Description updated: January, 2017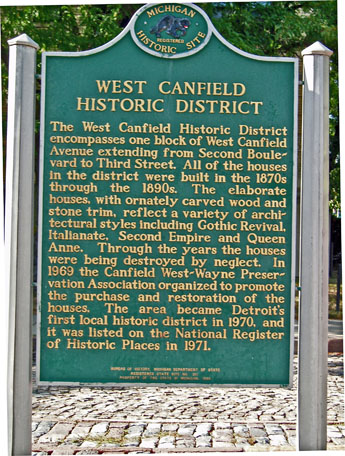 Return to Cass Farm Multiple Property Submission
Return to Federal Register of Historic Districts
Return to City of Detroit Historic Designations
Return to Michigan Registered Historic Districts