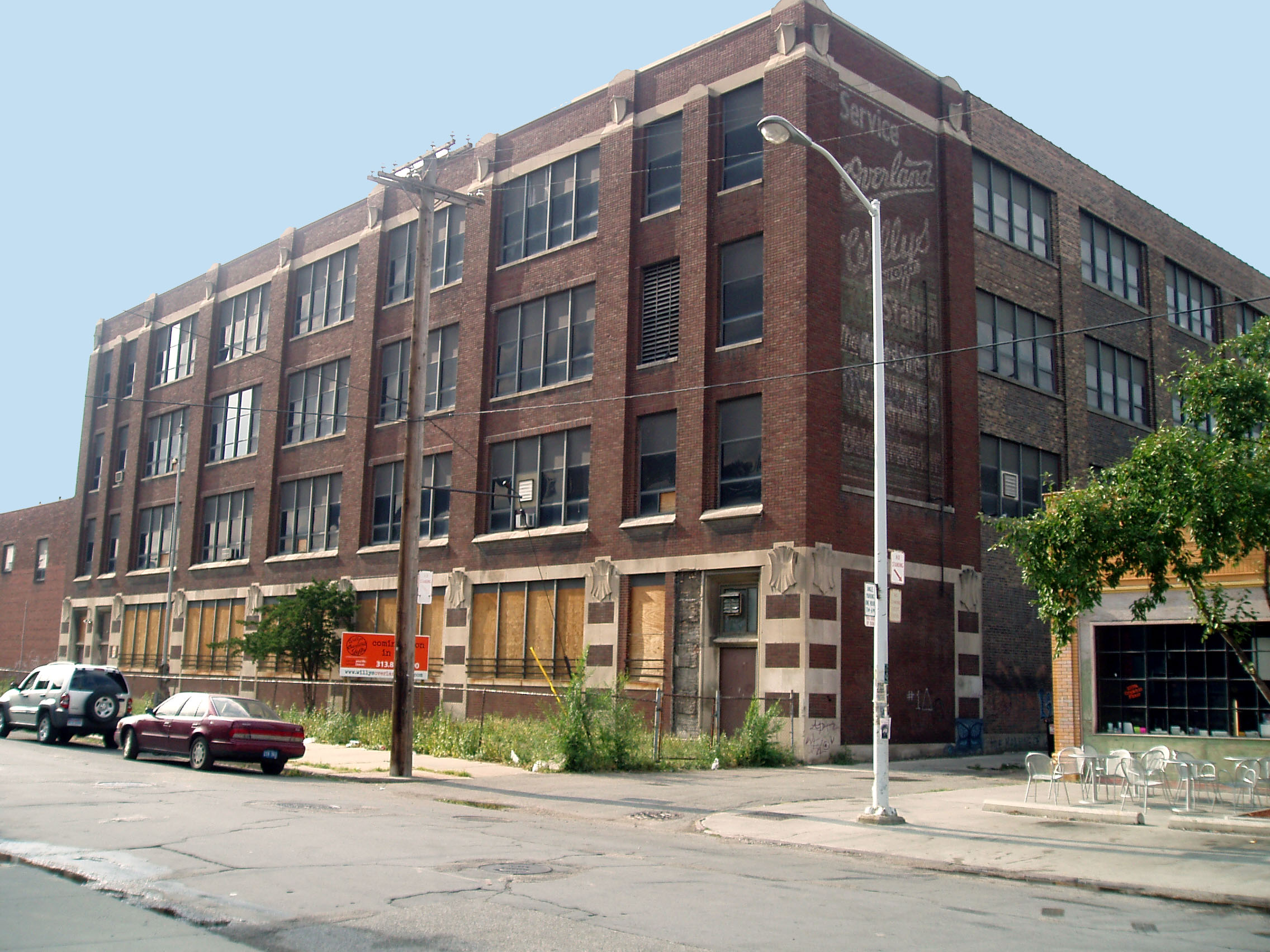 Willys-Overland Building/Willys-Overland Lofts
Located on Willis between Cass and Second in Detroit's Cass Corridor

John North Willys ran a variety of retail businesses in upstate New York in the 1890s. Toward the end of that decade he purchased a successful sporting goods store in Elmira and prospered, benefiting financially from the bicycle craze. Shortly after 1900, George Pierce—a Buffalo bicycle entrepreneur and father of the Pierce Arrow—developed a cycle car. This was a four-wheel, bicycle-like vehicle powered by a small gasoline engine. Willys successfully sold these in Elmira and concluded that there was a fortune to be made in the automobile industry. He began selling cars in Elmira in considerable numbers. He selected an Indianapolis-produced make known as American for his expensive car and then sought to sell a lower-priced car. He decided to sell the Overland, a car that originated in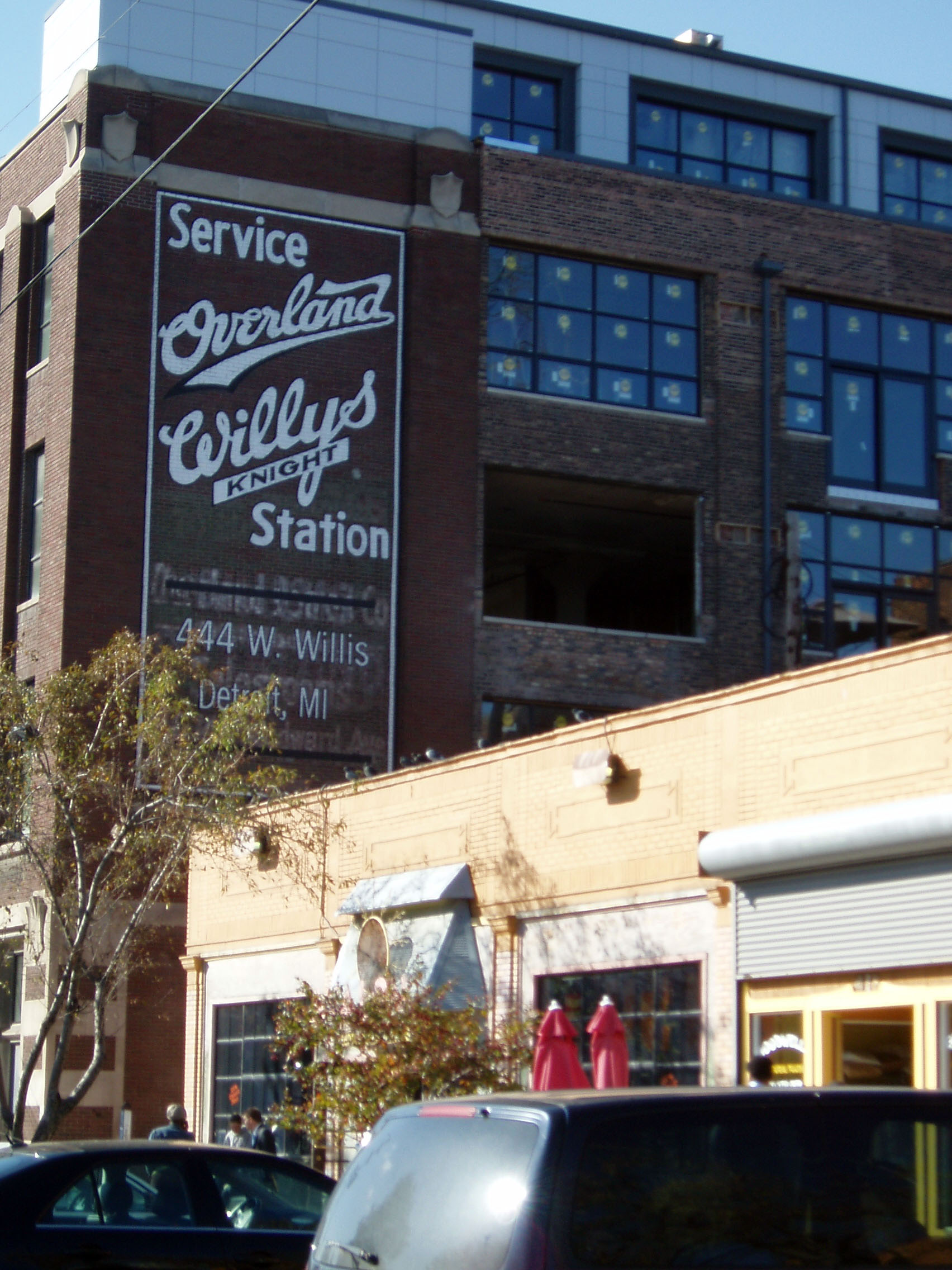 Terre Haute but was, by 1906, manufactured in Indianapolis. Willys and E. B. Campbell—a Pennsylvania businessman—presumed they could make a fortune by purchasing the entire automobile output of the Overland and American firms—both located in Indianapolis—and then selling them to retail dealers across the country. They entered into an arrangement to do so.
The stock market crashed on October 22, 1907. David Parry, the chief investor in Overland, lost his wealth, was unable to pay his employees and promptly closed his automobile factory. Willys had invested a substantial fraction of his own money in the purchase of Overland cars, had orders for a substantial number of them and knew that he would lose his fortune if the firm collapsed. He used his own funds to bail out Overland and, by January, 1908, was running the firm and turning out cars.
Willys was not only an effective promoter and salesman but, apparently, greatly enjoyed the financial aspects of the auto industry. By 1909, he not only produced Overlands in Indianapolis, but also at a plant in Marion, Indiana. Sales rose and he knew he needed a much bigger facility to turn out the cars he was selling. He considered building a new factory in Indianapolis and purchased land, but then learned that Albert Pope had been wiped out in the 1907 market crash. Pope was a highly successful bicycle entrepreneur who got into the automobile business in the 1890s. He experimented with electric, steam and gasoline propulsion and built small numbers of cars at several locations east of the Mississippi. After 1903, he concentrated on producing the gasoline powered Pope-Toledo cars and was so successful that he secured financing to build a large plant in Toledo, Ohio. This plant became available to John Willys for very little money in 1908. Willys quickly purchased the Pope-Toledo factory and shifted production. The rest is history. Willys, Overland, Jeep and a variety of other marques have been built in great numbers on the banks of the Maumee for almost one hundred years.
Willys successfully produced a high-quality car priced slightly above Henry Ford's Model T. By 1912, Willys trailed only Ford in sales and, in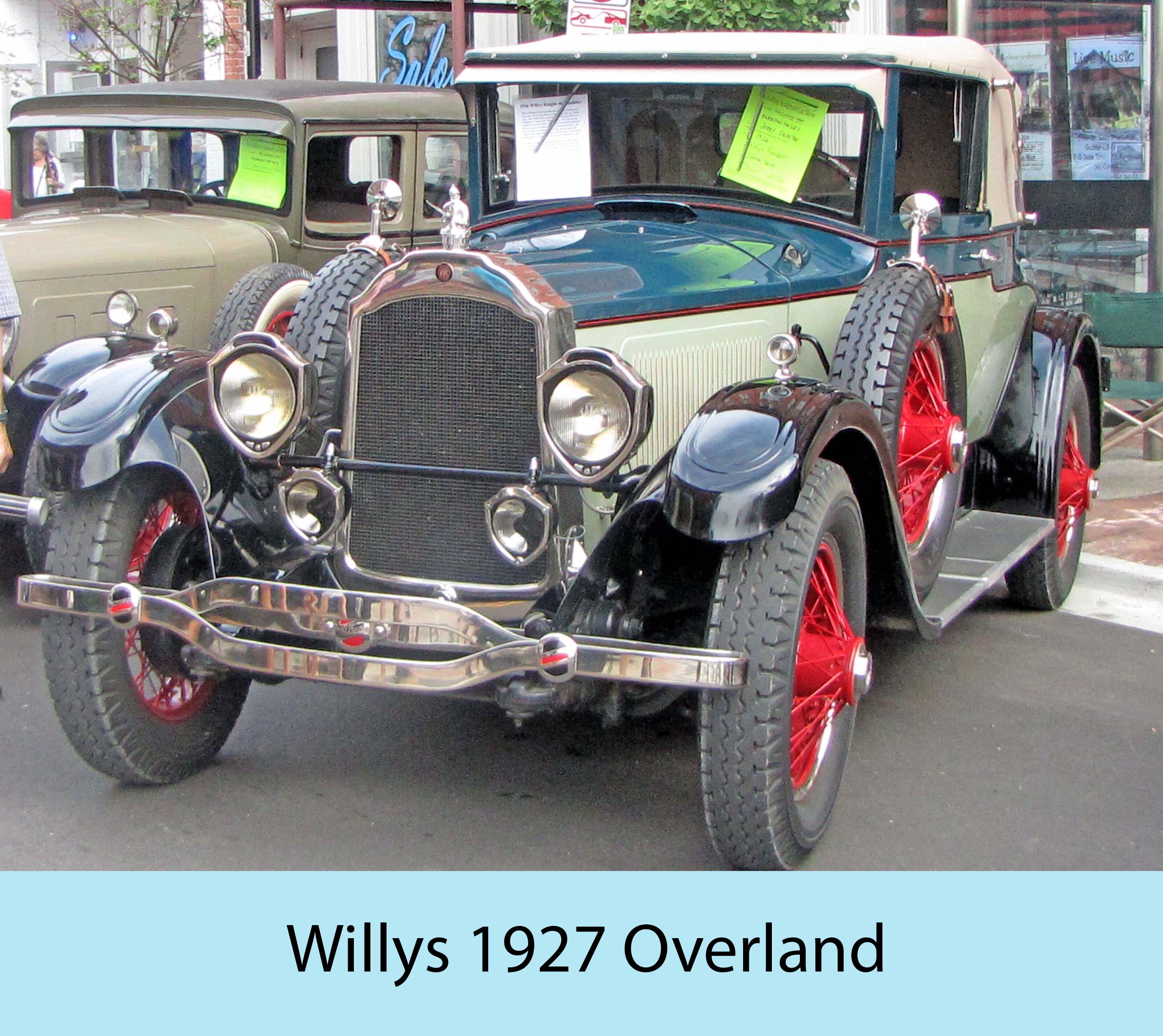 that year, the building you see above was built in Detroit to serve as a sales office. Given its large size, I presume that Willys used the structure as regional repair and parts center. Willys and successor firms occupied this building until about 1953.
Willys expanded his automobile plants in Toledo. By 1914, he had a large campus of factories that exceeded, in size, the Highland Park complex of Henry Ford. Willys also purchased a variety of other auto manufacturers, including Duesenberg, truck firms, as well as many parts suppliers and a farm implement company. By the late teens, he was producing a variety of makes in several locations including Toledo, Elyria and Pontiac. In 1916, Willys produced 143,000 vehicles. During World War I, auto production slowed but Willys-Overland produced aircraft engines, military vehicles and munitions for the government.
Although Willys cars—produced under a variety of names such as Willys-Knight; Willys-Overland, Overland, and Whippet—sold in considerable numbers, his bankers thought the firm was fiscally shaky so they insisted, in 1920, that he surrender control to Walter P. Chrysler who had been previously served as president of GM's Buick subsidiary. Willys went into receivership in 1921 but its financial difficulties were resolved and sales increased reaching 184,000 in 1927. The next year, Willys trailed only Ford and Chevrolet in sales. Chrysler quickly moved on from Willys to start his own automobile company. John Willys regained control of his firm but retired in 1929. The next year President Hoover appointed him ambassador to Poland.
The Depression severely curtailed automobile production and Willys discontinued manufacturing cars in 1933. Subsequently, the bankruptcy court allowed the firm to produce small numbers if and when they had orders. In 1934, the firm built just 6,600 cars. Willys returned to his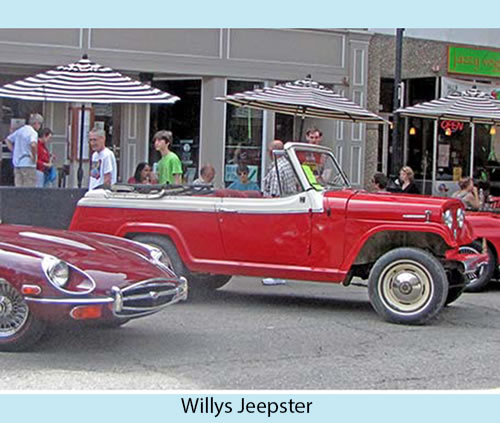 firm in hopes of keeping them in business, but died in 1935. The firm was reorganized once again in 1936 and gathered resources to design several modern, streamlined cars with striking shark noses and alligator grills. These were produced from 1936 to 1941 but in modest numbers since the Depression continued to keep prospective customers impoverished. In 1937, Willys built just 13,000 cars.
The German's successful invasion of France saved the Willys corporation and explains why Toledo today is one of the world's leading centers for vehicle production. The armies of the German National Socialists easily conquered their eastern European neighbors, including Poland, and took over Norway extremely rapidly. British and US leaders and military officials presumed that if the Germans invaded France they would meet their match and get bogged down in a long, costly war. On May 10th, 1940 the German armies marched into France. By June 22, the Germans destroyed much of the French military and controlled that nation. Strategists in the Pentagon were shocked by the German's ability to quickly defeat one of the world's leading military powers. Destroying the French military machine so quickly was unthinkable. They presumed that the Germans either had or soon would take the sturdy Volkswagon and convert it into an all-purpose military vehicle. On June 19, 1940, the Pentagon asked American manufacturers to design a general purpose four-wheel drive vehicle with high road clearance, off-road abilities, a powerful engine, a short 80-inch wheel base and a total weight of 590kg. A prototype had to be delivered to the Pentagon within 50 days for testing. Dodge and GM did not compete because their engineers could not satisfy the weight limit. Willys, Ford and the Bantam Car Company got their prototypes to the Pentagon within the time limit.
While the vehicles looked quite similar, the surprise was the engineering quality of the entry designed by the small and little known Bantam Car Company of Butler, Pennsylvania. In 1921, Britain imposed high taxes on gasoline and then taxed vehicles according to their horsepower. Sir Herbert Austin designed a small car to maximize performance but minimize its owner's taxes. The Austin Seven proved to be a very popular car but a lightweight one: 600 kg. By 1927, Austin was selling this mini-car in many countries. The US was the next market. Austin displayed his attractive but tiny car at the 1930 New York Auto show and soon accepted orders for 52,000 of them. At this time, financial and political leaders assured Americans that the stock market crash of October, 1929 would not slow down the economy. Austin wanted production facilities in the US and sought bids. A group from Butler, Pennsylvania—located between Buffalo, Pittsburgh and Cleveland in the heart of the industrial belt—won. Austin began assembling cars there but the full consequences of the Depression soon became apparent and, by 1934, American Austin was out of business.
Roy Evans purchased what remained of Austin from the bankruptcy and used their facilities for his Bantam Car Company. Capitalizing upon Austin's ideas, his engineers designed an attractive but very small car for the US market: a 75-inch wheelbase and a 600 kg weight, but with a streamlined Art Deco body. The Depression kept sales very low, but 6,000 were produced in 1939. At this time, auto and trucks were designed to travel on roads. However, the Bantam Car Company began experimenting with an all-purpose vehicle that might be used by the Pennsylvania National Guard. Presumably, they built three prototypes of such a vehicle. This experience—and their familiarity with designing light weight, short wheelbase cars—helped them to successfully compete with Willys and Ford for the Pentagon contract.
Pentagon designers insisted that the best features of the three prototypes be merged into one vehicle and, in November, 1940, ordered 1,500 each from Bantam Car, Ford and Willys. In July, 1941—still six months before Pearl Harbor and the US entry into World War II—the Pentagon ordered 15,000 from Willys. By this time, they realized that the small Bantam Car facilities could not keep up with the military's demand for Jeeps. In November, 1940; the Pentagon ordered 16,000 from Ford and then centralized production in Toledo and Dearborn. The Pentagon terminated production at Bantam Car Company facilities after about 2,700 were built. In 1943, that car company sued Willys, contending that Willys falsely claimed to have designed and invented the Jeep. Federal courts sided with Bantam and supported their claim about designing the Jeep, but it was a pyrrhic victory and the firm never again produced motor vehicles.
After World War II, Ford quickly switched its emphasis back to cars, while Willys continued to manufacture Jeeps and trucks, primarily for the military. Gradually, they learned that the favorable experiences American soldiers had with the Jeep meant there was a domestic market they could tap. Using the Jeep chassis and engine, they produced three versions for the public: y
a Jeep truck, a Jeep station wagon and the Willys Jeepster shown in the picture. Willys also tried to reenter the automobile market. B 1951 there were selling a small and bland looking Willys Aero—a car much less stylish than the impressive but unsuccessful line they introduced in 1956. Willys produced relatively few cars between 1929 and 1951, so their dealer network was weak. Jeeps were popular but the Willys automobile line was terminated in 1953. The Korean War—1950 to 1952—boosted Willys' production of military vehicles.
In 1953, the Kaiser company purchased Willys and used the Toledo plants to build engines for their new small car: the Henry J. This was also sold by Sears-Roebuck under the Allstate marque—the final car in a long series of autos that Sears tried to market. Willy's production was also sustained, after 1960, by sales of many vehicles to the US Postal Service. The American Motors Company—a firm descended from the merger of Hudson with Nash-Kelvinator—purchased the Willys facilities and product line-up in 1970. Chrysler, in 1987, purchased the Willys component of AMC greatly strengthening sales of the Jeep line because of the Chrysler dealer network. In 1992, a component of the Jeep line was built in the city of Detroit when Chrysler's new Jefferson Avenue plant began turning out Jeep Cherokees. In 1998 Daimler-Benz purchased Chrysler. Is it ironic that a Stuttgart firm now derives a substantial share of their income and profit from selling a vehicle designed to defeat the Wermacht?
After 1953, the building you see was used by the Davidson Wholesale Dry Good firm, by Federal Department Stores and as a warehouse by the Detroit Public Schools. You do not have to look took closely to see a legible but faded sign on the northeast corner advertising the Willys-Knight and the Overland. Given the tremendous financial difficulties of Willys in the 1930s, I suspect this sign dates from the late 1920s.

Architect: Unknown to me
Date of Construction: 1912
Date of Conversion to lofts: 2005 or 2006?
Website: http://www.willysoverlandlofts.com
Use in 2005: Awaiting conversion into lofts
City of Detroit Local Historic District: Not listed
State of Michigan Registry of Historic Places: Not listed
National Register of Historic Sites: Not listed
Photograph: Ren Farley; September 14, 2005
Return to Industrial Buildings