Woodbridge Neighborhood Historic District
The causal boundaries are Trumbull Avenue, Grand River And West Warren
William Woodbridge was born in Norwich, Connecticut in 1780. A decade later his family moved to the former French military outpost now known as Marietta, Ohio where Woodbridge attended school. He returned to Connecticut to study law but did not, I believe, attend Yale. He returned to the Buckeye state and established a practice. In 1806 he married Julia Trumbull—more about her below. The next year, he was elected to the lower house of the Ohio State legislature and six years later, to the Ohio state senate.
Active in politics, in 1815 Woodbridge was appointed Secretary of the Territory of Michigan by President James Madison, a job he held for 13 years. He also represented M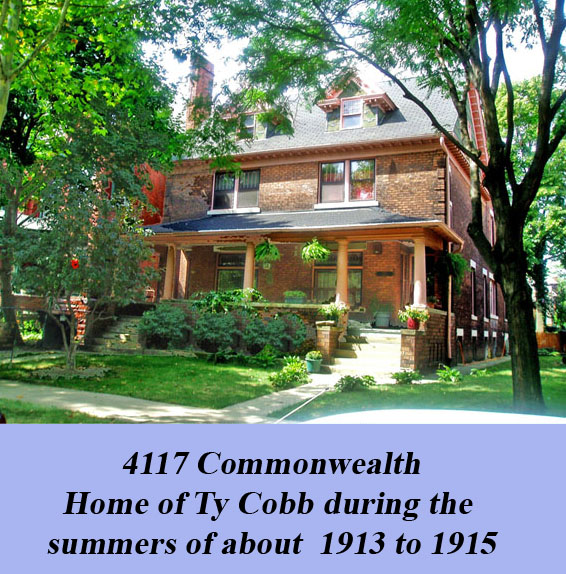 ichigan territory in Congress in 1819 and 1820 and, after finishing his term as the territory's secretary, was appointed to the territorial Supreme Court in 1828. He helped draft the liberal and progressive constitution that was adopted in 1835. Michigan leaders assumed that the ratification of this document admitted the territory to the Union, but Congress held up admission for two years because of conflict about whether Toledo was in Michigan or Ohio. Steven Thomas Mason was the territory's strongest advocate for statehood and the state's first governor. As governor, he favored the development of the state and used the state's borrowing power to fund canals and railroads, but the Panic of 1837 put Michigan in a terrible financial pickle. The state owed much money they could not pay. Mason left Michigan quickly after his second term as governor, only to return 70 years after his death. William Woodbridge, who was the state's leading Whig politician had been serving in the state Senate and was elected to replace Mason. Woodbridge continued Mason's imaginative development programs and the economic circumstances were improved so he was not driven from office. But after only two years in the governor's chair in Detroit, the state legislature appointed him to the United States Senate where he served until 1847.
Woodbridge returned to Detroit, and at age 67, apparently retired from politics. He owned property in the area that is now the Woodbridge Historic District. I do not know if he was a gentleman farmer or if he was speculating in real estate development. In the 1840s, the area was far from the center of commercial activities.
I have read that the first residences constructed in this area in the 1870s were small workingmen's homes, presumably many of them frame. Sometime after 1880, much more elegant and substantial brick homes were built in the Woodbridge area. To be sure, this area did not attract the very large mansions that were being erected on east Jefferson, along Woodward and in Brush Park. Quite a few of the homes in Woodbridge are duplexes and many are on miniscule small lots. Almost all were built before the addition of a garage became standard. Most of the homes were designed by an architect and are in the Queen Anne, the Colonial Revival or the Georgian Revival Style. This is one of the better examples of a late 19th century streetcar suburb located within Detroit. By the mid 1890s, white-collar workers and skilled tradesmen could live in attractive home in Woodbridge and take a streetcar on Trumbull or Grand River to get to work.
The Depression and World War II adversely affected this neighborhood, as well as many other neighborhoods in Detroit. When Detroit became the Arsenal of Democracy, its population exploded and many or most of the homes in Woodbridge were reconfigured so that boarders could be welcomed. Within five years after V-J Day, the exodus of population from Detroit began and Woodbridge was at risk of becoming a troubled, sinking neighborhood. An urban renewal program in 1960 razed about one-fifth of the neighborhood so that a new high school could be constructed.
The story of renewal is a long and complicated one. Indeed, it is an unfinished story since you will find some dilapidated residences here. However, there was an interest in urban renewal and by 1990, some local residents recognized the architectural integrity of the homes and may have realized that there would be some employment gains in nearby areas. One economic change giving impetus to the renewal of Woodbridge is the growth of employment at Henry Ford Hospital, the Detroit Medical Center and Wayne State. Changing demographic patterns—that is, much delayed marriage and lower fertility—probably also played a role, as did the new urban movement that stresses the appeal of living in leafy green pedestrian neighborhoods in great cities such as Detroit
It is challenging to describe the exact boundaries of this historic district. When first listed on the National Register of Historic Sites. I believe that its boundaries were described as Trumbull Street, Calumet Street, Gibson Street, Grand River Avenue, Rosa Parks Boulevard, West Warren Avenue, Wabash Street, Grand Trunk Railroad Tracks, and the Edsel Ford Freeway. The boundaries of the District were increased twice: in 1997, 4304-14 Trumbull Street (private residences) and 3800 Grand River Avenue were added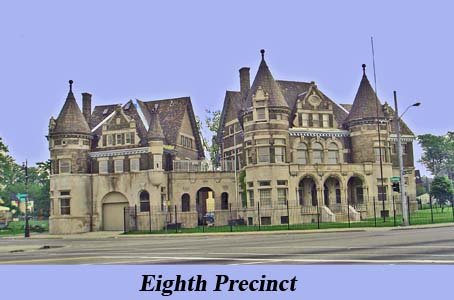 to the district and in 2008 the northeast corner of Trumbull Street and Warren Avenue was added. St. Dominic's Roman Catholic Church is at this location, a church that has been shuttered for several years. There are two buildings within this historic district that are separately listed on the National Register, both of them fantastic chateauesque structures showing the imagination of architects at the end of the Nineteenth Century. These are the Eighth Precinct Police Station at 4150 West Grand River at Rosa Parks Boulevard designed By Louis Kamper and the home of Detroit's most successful and accomplished malt producer: the William Northwood Home at 3985 Trumbull. One of the sites added in 1997 has a strong list to the city's history. In 1909, Dr. Elijah Patterson built a two-story building at 4314 Trumbull to serve as the Patterson Dog and Cat Hospital. His father, Dr. James Patterson, was the first formally trained veterinarian to establish a practice and hospital in Detroit. He did so on Columbia Street in 1844. Patterson Dog and Cat hospital continues to serve the health needs of the city's animals, although it is now located nearby at 3800 Grand River. This is the state's oldest veterinary hospital and one of the oldest retail trade establishments: 165 years of continuous operation.
When you look at a listing of historic districts in the city of Detroit, you will sometimes see a reference to a Woodbridge Farms Historic District. I believe that this is the Woodbridge Historic District with its two additions. If I am mistaken, please let me know. William Woodbridge married into a famous family. Julia's father, John Trumbull, earned a law degree at Yale in 1774 and then practiced in Boston with John Adams. In addition to writing poetry, John Trumbull served as Justice of the Connecticut Supreme Court from 1801 to 1819. In 1825, he moved to Detroit, presumably to be closer to his daughter and son-in-law. Trumbull Street carries the family surname.
City of Detroit Designated Historic District: Not Listed
State of Michigan Registry of Historic Locations: Original listing: P21,792
Addition in 1997: P25,289
National Register of Historic Sites: Listed March 6, 1980 and then expanded in both 1997 and 2008
Use in 2009: Residential Area
Description prepared: February 7, 2009
Return to City of Detroit Historic Designations
Return to Michigan Registered Historic Districts
Return to Federal Register of Historic Districts
Michigan P 25289
National Register of Historic Sites: Listed March 6, 1980