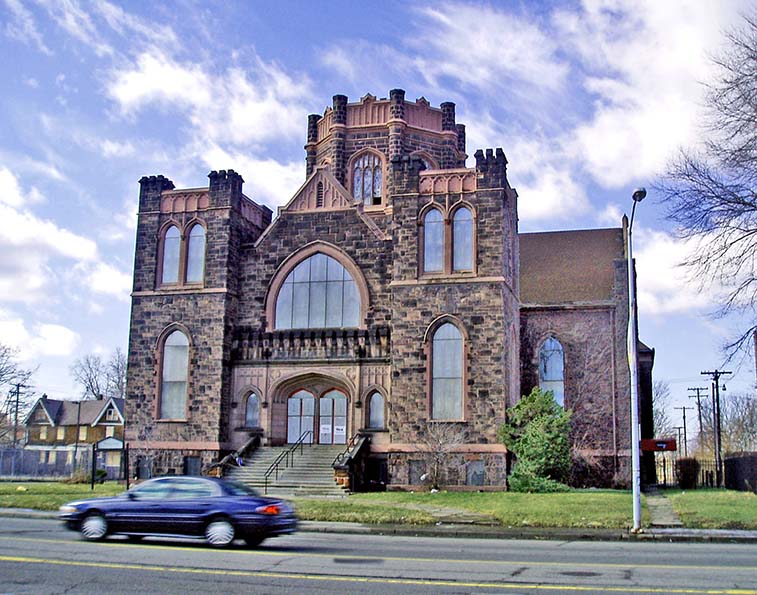 Woodward Avenue Presbyterian Church/
Abyssinia Interdenominational Church
8501 Woodward at West Philadelphia
The first organized Protestant congregation in Michigan was a Presbyterian one. If you read biographies and descriptions of Father Gabriel Richard, you learn that he was an eloquent preacher. Apparently the homilies that he presented to Catholics on Sunday mornings were so appreciated that local Protestants asked him to preach to them on Sunday afternoons. In the first decade of the Nineteenth Century, Detroit was a very small, largely francophone village so the local Protestants had no minister. Father Richard apparently got tired of his dual preaching and realized the Protestants needed their own clergy. He contacted Princeton Theological Seminary and asked them to send a minister to Detroit. The Reverend John Montieth arrived in 1816. He stayed only a few years, but helped to organize a Presbyterian congregation that was officially organized in either 1821 or 1825. Before departing to take an appointment as a school teacher in Pennsylvania, Reverend Montieth briefly served as president of the university that Judge Augustus Woodward and Father Richard were trying to establish in Detroit, the Catholepistimead that eventually became the University of Michigan and opened in Ann Arbor in 1841.
At least two Presbyterian congregations in Detroit built impressive churches long before the emergence of Woodward Avenue Presbyterian: First Presbyterian with their massive church at Woodward and Edmund Place and Trumbull Avenue Presbyterian with their imposing structure at Trumbull and Grand River. Both of those churches were completed in 1889. The church you see pictured above is not as large as the other two Presbyterian houses of worship but has its pleasing and distinctive architectural features.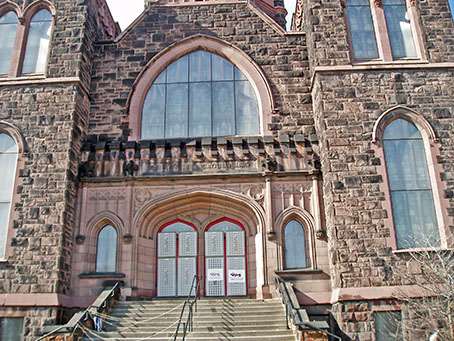 In 1908, the Detroit Presbyterian community realized that there was a rapid growth of a prosperous population along both sides of Woodward north of Grand Boulevard. These are the neighborhoods we now know as Virginia Park, Boston-Edison and Arden Park-East Boston. A Presbyterian church was needed to serve these Detroit residents. Mrs. Tracy McGregor donated valuable land at the corner of Woodward and West Philadelphia for the Woodward Avenue Presbyterian Church. The cornerstone was laid on January 1, 1910 and the church opened on June 23, 1911.
Architect Sidney Badgley designed an English Gothic-style church using rock faced brownstone with extensive gray limestone trim. The typical Gothic church of that era had a roof with gables at the ends and at least one tower in a corner. Badgley did not faithfully adhere to that plan and, instead, designed a lantern-dome-covered auditorium church. The dome was raised somewhat from the structure to admit light, hence the term lantern-dome. From some perspectives, Badgley's towers and dome give this church the appearance of a late medieval castle. At the impressive Woodward front of this church, you see two modest square towers flanking a large carved-stone entrance. This is one of the more massive and eloquent entryways to a church in Detroit. Note that the name of the congregation was carved in the pediment to ensure that there would be no confusion about this church. Along the sides of this church you will find impressive gabled transepts with Gothic arched traceried stained glass windows. I do not know the name of the artist who designed the numerous stained glass windows.
I am quite ignorant about the history of this congregation. Perhaps, you can inform me. In 1993, the Presbyterians sold this Woodward Avenue church to Abyssinia Interdenominational, a congregation that used it for some years, but more recently, moved away.

Architect: Sidney Rose Badgley
Architectural Style: English Gothic
Date of Completion: 1911
Use in 2009: Empty church awaiting redevelopment
City of Detroit Designated Historic District: Not listed
State of Michigan Registry of Historic Sites: P25,291
State of Michigan Historic Marker: None visible
National Register of Historic Places: Listed August 3, 1982.
This church is also included within the Religious Structures of Woodward Avenue Thematic Resource.
Return to Woodward Religious Structures