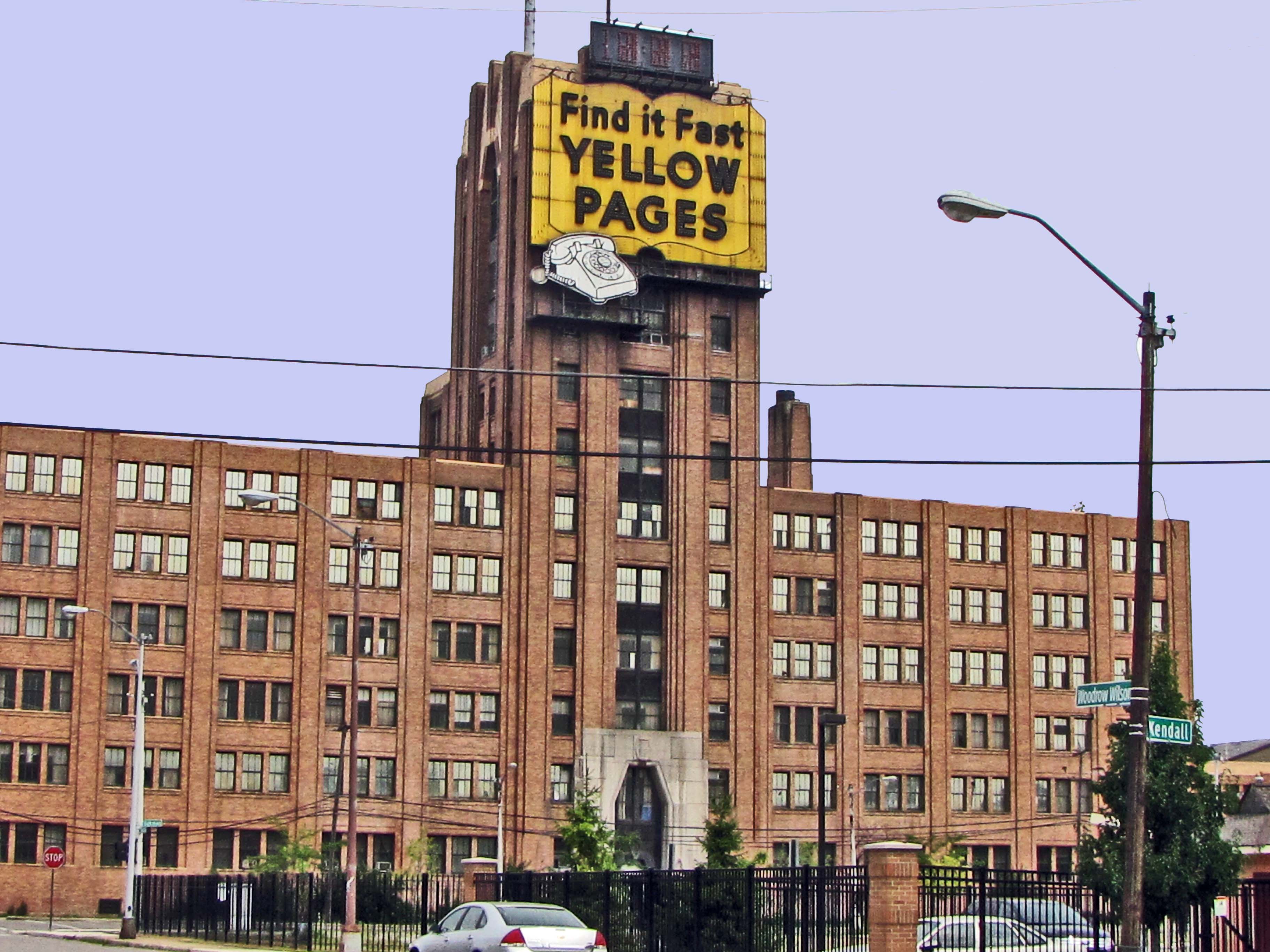 Yellow Pages Building/Michigan Bell and
Western Electric Warehouse/NSO Bell Building
882 Oakman Boulevard
Detroit near the border with Highland Park

When I first wrote this description in August, 2010, this was the Detroit building most recently listed on the National Park Service Register of Historic Sites. Since that time, Minoru Yamasaki's McGreagor Conference Center on the Wayne State Univeristy campus has been listed on the National Register.   The massive building you see pictured above, had the formal name of the Michigan Bell and Western Electric Warehouse.  Some people may identify this as the Oakman Building or the Michigan Bell Building, although that name applies more appropriately to the very large structure across the street from the new Rosa Parks Transit Center in downtown Detroit.

For many decades, American Telephone and Telegraph and its local Bell Telephone subsidiaries provided much of the nation's telephone service, while subsidiary Western Electric manufactured the equipment they needed.  Michigan Bell provi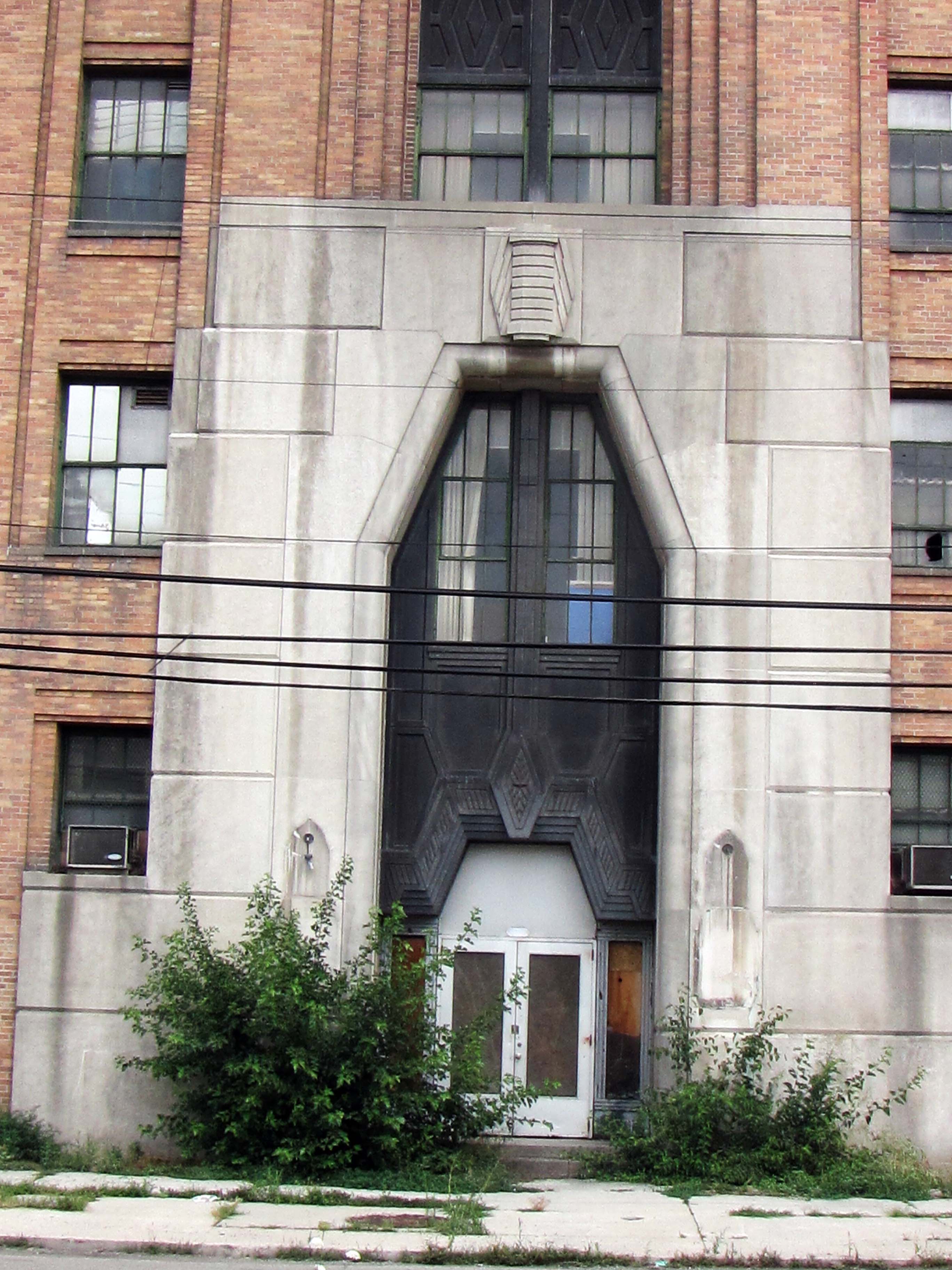 ded service to Detroit and much of Michigan. Very many large and substantial buildings were erected in Detroit and the suburbs to house the numerous facilities that were needed prior to the invention of transistors and other miniature equipment.  A profitable component of the telephone business was the annual printing of Yellow Pages.  Advertisers paid substantial amounts to bring their businesses to the attention of customers in creative ways.  Detroit was the fastest growing large metropolitan area in the nation in the 1920s and became the fourth largest population center by the end of that decade.  Foreseeing additional growth, Western Electric executives commissioned this large Art Deco building in the late 1920s.  It was completed shortly after the Depression began at the end of October, 1929.  From 1930 through 1958, the building was used by Western Electric as a warehouse, a garage and for its Michigan headquarters.  They moved out and then, in 1959, Michigan Bell used the building for assembling and printing the millions of copies of Think Yellow Pages volumes that were distributed throughout metropolitan Detroit. 

The American Telephone and Telegraph monopoly was disassembled by government order effective January 1, 1984 and our present-day telephone system emerged.  I believe that successors to Michigan Bell used this building until 1999.  It then became a vacant but still attractive building available for other uses.

The Neighborhood Service Organization, a non-profit founded in Detroit in 1956, provides services to the impoverished and homeless in this city's neighborhoods.  In 2009, they announced that they would secure title to this building and invest approximately fifty million in a renovation.  Presumably, they will have office space for their activities and rooms for their training programs.  In addition, they announced an intention to convert sections of this large structure into between about 150 and 200 apartments.  They might be available to the homeless or might be rented using Section 8 vouchers.  These financial arrangements involved the approval of $ 7.1 million in brownfield tax credits.  Frankly, I do not know how these tax credits benefit a large non-profit organization.  Later, the Lutheran Child and Family Bureau of Michigan announced that they would seek to build a new residential facility across Oakman Boulevard from the Yellow Pages Building.  The units may be occupied by young adults who were in foster care, but grow too old to remain in that program. In August, 2012, the first residents began living in this renovated structure that is now known as the NSO Bell Building. In 2012, the Neighborhood Service Organization budgeted about 25 milloion dollars to provide social welfare services to Detroit residents. About five-sixth of their budget is obtain from various governmental programs.

Date of Construction: 1930
Architectural style: Art Deco
Architect: Smith, Hinchman and Grylls
Use in 2011: Scheduled to undergo alteration for the Neighborhood Service Organization
Website for Neighborhood Service Organization: http://www.nso-mi.org/index.php
City of Detroit Designated Historic District: Not listed
State of Michigan Registry of Historic Sites: Not listed
National Register of Historic Places: P09001066  Listed December 8, 2009
Photograph:  Ren Farley; July 22, 2010
Description updated: July, 2013 

Return to Commercial Buildings

Return to Homepage