Former Site of Boulevard Park or League Park
Northwest corner of Helen and East Lafayette

Baseball became an organized and professional sport in the decades following the Civil War.  That development depended upon the emergence of a prosperous urban middle class composed of men who had the funds to buy tickets and the time to spend some of their afternoons watching sporting events. Its success also required a local transit system that would allow people from all parts of a city to get to a playing field.   It also depended upon a rail system that could easily transport teams across long distances at reasonable cost. And the popularity of baseball was due in large part to a vibrant press that publicized the city's teams and personalized their players. The idea of organized leagues developed slowly.  Team owners wished to maximize their own profits and minimize their cooperation with other owners about contracting with players, sharing gate receipts and scheduling.  In the early days of baseball, there were many stories of both players and owners disregarding contracts.  There was also disagreement between some owners who liked to both schedule games on Sunday and boost their revenues by selling much beer and whiskey to their patrons and others who, in the Victorian spirit of the late Nineteenth Century, frowned upon Sunday baseball and feared that booming alcohol sa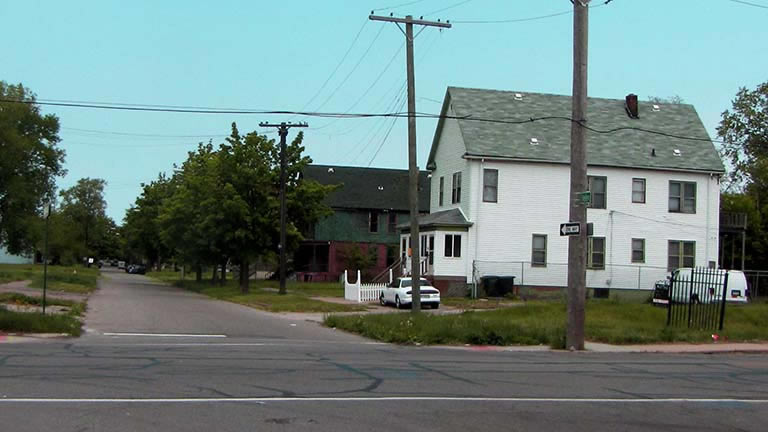 les would discourage a family audience.  Indeed, descriptions of some early baseball games, including the American League Sunday games played at the Springwells Park in the early 1900s, suggest crowds were often rowdy.

The National League of 1876 is seen by most historians as the first organized professional baseball league, a league that included Boston, Chicago, Cincinnati, Hartford, Louisville, New York, Philadelphia and St. Louis.    Detroit Mayor William Thompson was a tremendous civic booster and a prosperous man.  In early 1881, he announced that he and his colleagues had paid $20,000 to purchase the Cincinnati Reds and would move them to Detroit.  The owner of the Cincinnati team was quite disliked by other owners since he believed in whiskey sales at his park and scheduled Sunday games.  Germans were the largest immigrant group in Cincinnati and few of them disapproved of strong drink or shared the Puritans' views of keeping the Sabbath.  Other National League owners viewed the Cincinnati entrepreneur as a shady character and were pleased with the franchise transfer.

Detroit had their first major league baseball team for the 1881 season.  By this time, Recreation Park was a well-established, all-purpose facility located on the land now occupied by Harper Hospital.  The Detroit Wolverines played their first home game on May 2, 1881.  The team continued to play in Detroit but their early seasons were unspectacular.  Indeed, their performance got worse and, in 1884, they had a shabby 28-84 season.  After that season, Frederick K. Stearns purchased the team.  He had played collegiate baseball at the University of Michigan, but the source of his money was the prosperous pharmaceutical firm his father established.  The Stearns Building still stands on East Jefferson and has been successfully converted into condominiums.

For the 1886 season, Stearns purchased four infielders from the Buffalo National League team and, for the first time, Detroit had a highly competitive baseball team, one that finished second in the league.  The 1887 Detroit Wolverines were even more successful, went on to win the league championship and then defeated the St. Louis Browns of the American Association in a series that, in its later incarnation, would became known as the World Series.  The 1888 season was somewhat less successful and Frederick Stearns decided to get out of the baseball business.  He claimed that he was losing money, but the city's sports writers were convinced that wanted to invest his money in something that would produce much greater returns: his expanding pharmaceutical business.  The players' contracts were sold and the Detroit franchise was transferred across Lake Erie to Cleveland.  Just a decade later the Cleveland Spiders set a major league record for futility by winning  just 20 of their 140 games.

Detroit was a city of 200,000 in 1890 so it seemed promising as  site for a professional baseball team.  Several investors got franchises for minor leagues.  The Detroit Wolverines played in the minor league International Association—now known as the International League—winning the championship in both 1889 and 1890.  They played their home games in Recreation Park.  However, Harper Hospital was expanding and they may have taken over the land occupied by that park in the early 1890s.

In 1891, the city had a franchise in the Northwest League but the team went out of business less than one month into the season, presumably for financial reasons.   I believe they played their few home games at a park located in what is presently Gabriel Richard Park on East Jefferson near the MacArthur Bridge.  At that time, that area was beyond the city's limits so they team may not have been constrained by city ordinances prohibiting Sunday sporting events.

A great economic recession began in 1892 and Detroit, as a manufacturing center, suffered serious consequences.  No entrepreneur tried to make living selling tickets to minor league baseball games in Detroit in 1892 or 1893.

Byron Bancroft  Johnson, a lawyer and sports writer from Cincinnati, dreamed of organizing a professional league that would challenge the dominance of the National League.  Ultimately he was successful but he started slowly.  He successfully established a Western League for 1894 that included teams representing Detroit, Grand Rapids, Indianapolis, Kansas City, Milwaukee, Minneapolis, Sioux City and Toledo.  I believe that he recruited George Vanderbeck to own and operate the Detroit franchise.

Vanderbeck, originally from New York, was a baseball entrepreneur who was successful on the West Coast.  His 1892 Los Angeles Angels team dominated the California League and won the pennant by a 14-game margin.  Perhaps Bancroft Johnson recruited Venderbeck to operate a franchise in the league he created.  Vanderbeck set up shop in Detroit in early 1894 and brought with him the Los Angeles Angels manager, Bob Glenalvin, and many players.  He announced to the Detroit press that he was bring the "Cream of the Crop" to represent Detroit in league competition so the 1894 team was nicknamed the Detroit Creams.

Vanderbeck had to find a place for his team to play.  Harper Hospital was expanding and, by 1894, the Recreation Park that had hosted Detroit's National League championship team was  demolished.  Much of what I know about Boulevard Park comes from an essay in the very popular baseball weekly of that era, Sporting Life—the   March 20, 1894  issue.   At that time there were no radio or television or internet reports about baseball so the Sporting Life published a substantial issue every week providing detailed information about baseball and making it possible for Twenty-first Century readers to understand something about late Nineteenth Century baseball.  However, I am not expert on Boulevard Park and my information about exactly where it was located comes from the Sporting Life.  I do not think that any Sanborn map for Detroit identifies this park.  It was a small wooden one that may have lasted for just two years.  I believe it was cited on the East Side block that is now bounded by East Lafayette, Helen Street, Agnes Street and East Grand Boulevard.  Church of the Messiah now stands in this block.

The Sporting Life suggested that Vanderbeck had a difficult time finding a place for his new Detroit team to play.  Land owners apparently wanted a great deal for their property so he threatened to move his team to Fort Wayne or St. Paul even before they played a game in Detroit.  He sought a property that could easily be reached by public transit. Eventually, he found a General Lothrop who agreed to lease property at the corner of Champlain and Boulevard—now Helen and East Lafayette.  The lot Vanderbeck secured was a very small 300 feet by 600 feet.  I infer that other property owners on the block were unwilling to lease to Mr. Vanderbeck.  The Sporting Life describes this small lot as being north of Champlain and west of Boulevard.  Vanderbeck stated that he would build a grandstand 100 feet in length behind home plate with wings on each side 40 feet in length.  He presumed that these would provide 1,500 to 1,800 grandstand seats.  He also intended to erect a set of bleachers 150 in length that would seat 2,200 to 2,500.  The park could be reached by three different electric car lines.  One was the Fort Wayne to Belle Isle line that, I believe, went down Lafayette and one was the line on East Jefferson.  I do not know the end points of the third line.  The car company boasted that they could convey fans from Campus Martius to the new baseball diamond in just 10 minutes.  Mr. Vanderbeck also pointed out that his ball park was very close to Belle Isle.  He presumed that families that traveled to this resort area would find it interesting to return to the mainland in the afternoon to watch his Creams compete against other Western League teams.   The 1894 Detroit team began spring training in New Orleans on March 20, began their exhibition season on March 25 and then gradually traveled by train back to Michigan for their home owner in early May.

The 1894 team drew 60,000  to Boulevard or League Park which was considered satisfactory in light of the continuing recession that drastically cut employment in Detroit.  The team floundered on the diamonds, finishing seventh in the eight team circuit. By 1895, the team was known by the name they still bear—the Tigers.  Vanderbeck was still very dissatisfied with his park, one reason being the many people who watched games without paying by peering over the outfield fences.  He apparently put more and larger boards on his fences but was not happy with his location since many could watch his games from roofs of surrounding buildings—a practice that continues to this day at Wrigley Field in Chicago.  In 1885, the owners of the Detroit Wolverines knew that property owners near their Recreation Park were putting up stands and charging admission.  The Wolverines sued one owner of such property, John Deppert, arguing that he was facilitating the theft of a product.  He owned a barn near Recreation Park, put a grandstand on the roof and then charged fans to see games from that point. The local court in Detroit ruled against the baseball team so they carried their litigation to the state Supreme Court.  On April 22, 1886, the Supreme Court ruled in favor of Mr. Deppert's property rights and threw out the claim of the Wolverines. (61 Mich. 63, 27 N. W. 856; 1886)  Undoubtedly, Vanderbeck knew about this litigation and concluded there was little he could do to prevent nearby property owners from charging admission to watch the team he owned.   The team continued to play poorly in 1895 and, at one point, Vanderbeck fired his manger and installed himself in the dugout.

The city of Detroit maintained a Western Market at the corner of Michigan and Trumbull where hay was sold so that the city's thousands of horses might be fed.  The city's leaders moved the west side hay market to the Eastern Market that still operates near the corner of Russell and Gratiot but hay is no longer sold there.  Thus a large vacant lot became available in 1895.  Vanderbeck leased that lot from one of the Woodbridge descendents who still owned the property and built another wooden park. At this time historical preservationists protested the removal of great oak trees from the property at Michigan and Trumbull.  Chief Pontiac was much more of a national hero in the late Nineteenth Century than at present.  He was seen as an ardent anti-British leader who helped to start the endeavor that George Washington and the Revolutionaries accomplished, that is, throwing off the yoke of English oppression.  During the siege of Detroit in the summer of 1763, Chief Pontiac apparently met with his fellow Indian leaders under the oak trees at Michigan and Trumbull to plot strategy.  Those historic preservationists of the early 1890s were no more successful than the large number who sought to preserve component of the baseball parks that welcomed fans from 1896 to 1999 at this location.

The new field was ready for the 1896 campaign and was named Bennett Field in honor of Charlie Bennett, a popular catcher who played stellar baseball for the Detroit Wolverine National League teams of the 1880s.  Bennett Field served as home for the Tigers for 16 seasons until the new Navin Field opened on the same location April 18, 1912.

Ban Johnson intended to turn his Western League into a major league that would rival the well-established National League.  In 1899, he effectively shifted franchises to larger and larger locations.  By 1900, he changed the name to the American League and, within a few years, many baseball fans assumed his league was the equal of the National League.  I infer that Ban Johnson was a very dominating league president who was included to tell team owners what they must do.  Perhaps he had frequently run-ins with George Vanderbeck.  In any event, Vanderbeck, in March of 1900, sold the team for $12,000 to James Burns, one of several owners of the Tigers in the years before William Yawkey's money—derived form Michigan's lumber industry—and Frank Navin's organizational and financial skills produced a highly successful baseball franchise that operated at the corner of Michigan and Trumbull until September, 1999.  I have no idea whether or not Vanderback pursued his career as a baseball entrepreneur after he left Detroit in 1902 or so.  He deserves acknowledgements and accolades for the role he played in making sure the Detroit is represented in the major professional baseball. 
Architect:  I doubt that an architect was employed to design the park.
Construction material: Wood
Date of Completion: May, 1894
Date of removal: Shortly after 1896, I presume
Use today:  A brick factory, presumably from the first generation of auto plants
stands on the grounds today.
City of Detroit Designated Historic District: Not listed
State of Michigan Registry of Historic Sites: Not listed
National Register of History Places: Not listed
Picture: Ren Farley; November 20, 2010
Description updated: May, 2013
Return to Sports, Parks and Recreation