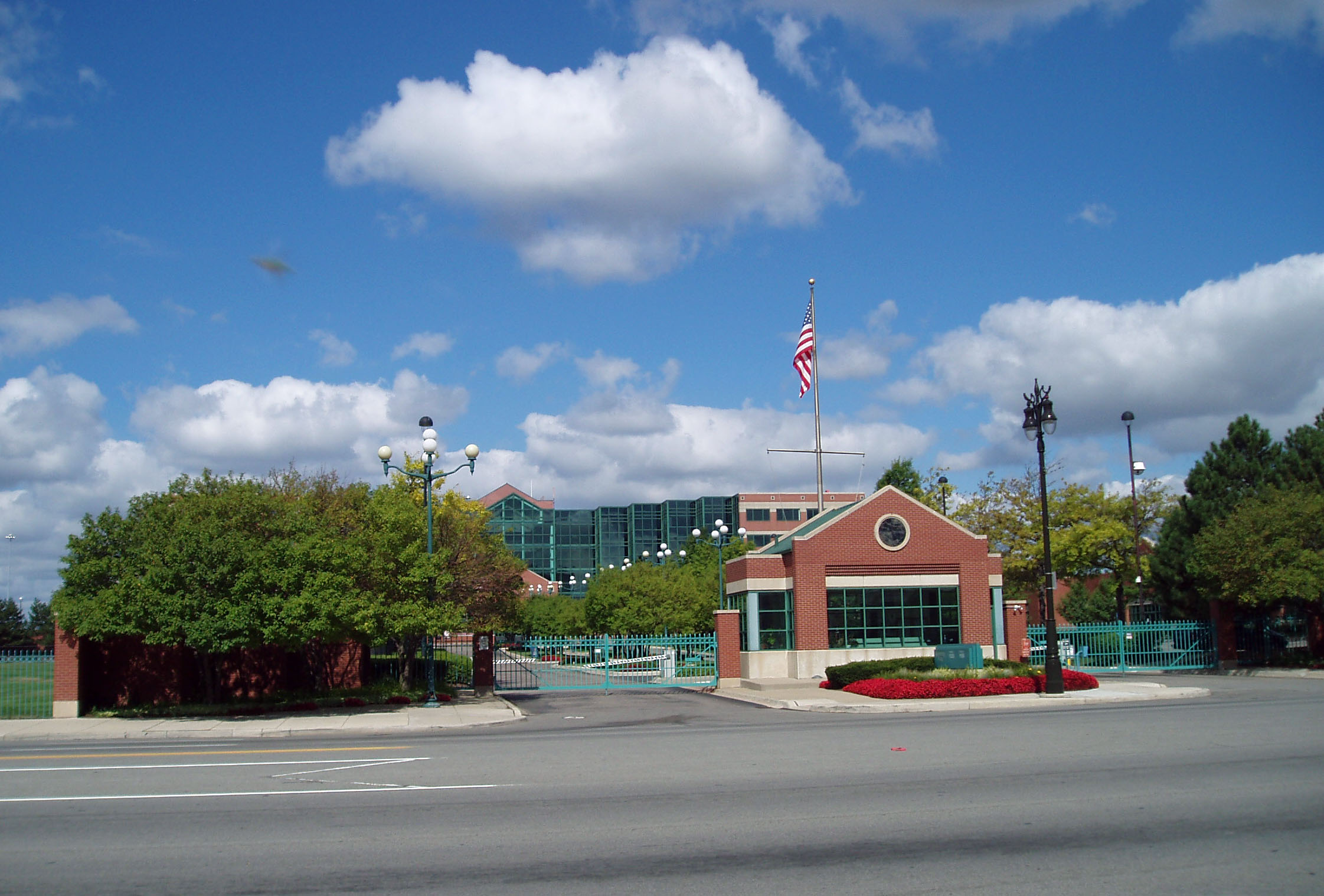 Brewery Park
1155 Brewery Park Boulevard near Gratiot between
Ford Field and the Eastern Market

German immigrant, Bernhardt Stroh, began brewing beer in Detroit in 1850. He established a brewery on Catherine Street. The first brewers in most American cities, typically run by Germans, were small outfits that served a local ethnic clientele in a particular neighborhood. Stroh's, however, sought to grow and by the end of the Nineteenth Century may have been the largest brewer in the city.

Stroh's built a brewery near the corner of Gratiot and Russell where Brewery Park now stands. By the time of World War I, Stroh's had a huge campus here with a brewery, large storage facilities, a warehouse and extensive l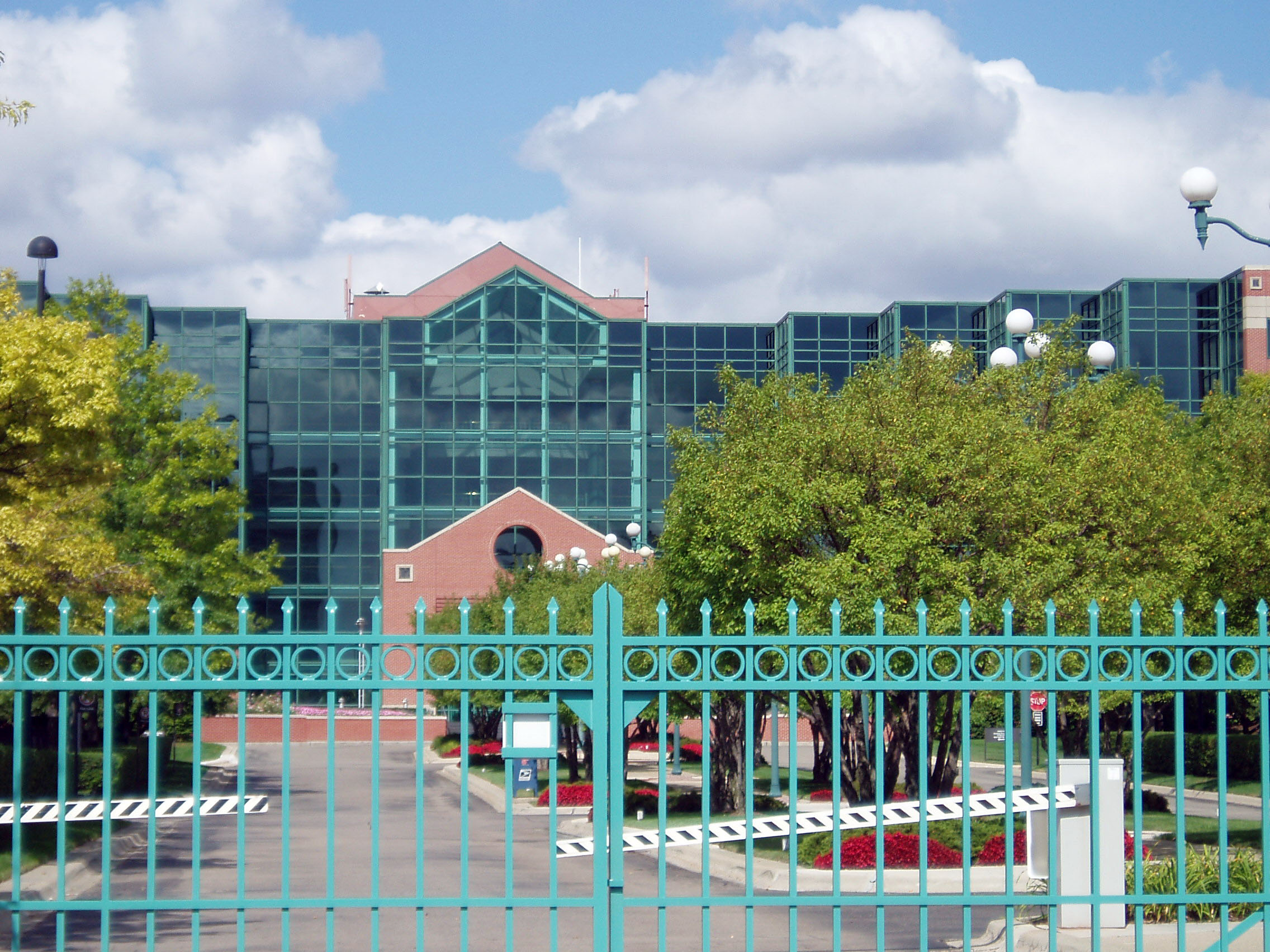 oading docks. But the future was cloudy. The fundamentalist American-born Protestants had cultural values that differed from those of late Nineteenth Century European immigrants who came to the United States in tremendous numbers. Many of those immigrants were Catholics or Jewish and their cultural values did not deprecate the use of alcohol. Many of the American Protestants believed that the use of alcohol was immoral and contributed strongly to family breakdown, crime and poverty. After decades of bitter fighting about the right of the government to outlaw alcohol, Congress, in December 1917, passed an amendment to the Constitution that prohibited the manufacture, sale or transport of alcohol products. Billy Sunday, who spent eight years in the National League playing in the outfield for the Cubs and the Pirates in the 1880s, had become a leading spokesperson for the "dry" movement. He came to Detroit and spent two months in Michigan campaigning for prohibition. Thanks, in part, to his strong efforts, Michigan's legislature became the first in the nation to approve the Eighteenth (prohibition) Amendment to the Constitution that sought to end alcohol consumption in the nation. By January 16, 1919, 36 state legislatures had approved the amendment and, as of January 17, 1920 no alcohol could legally be made or consumed in the United States.

The Stroh's Brewery remained in business during the Prohibition era making soft drinks, birch beer, malt beverages, ice cream and near beer; that is, beer with an alcohol content of less than one-half of one percent which was deemed not to violate the Eighteenth amendment. The federal government did not have a local police force to enforce prohibition, and in cities such as Detroit, local officials had no incentive to enforce prohibition since they and the voters were alcohol consumers. Detroit became the nation's leading center for the illegal importing of liquor from Canada. Technically, Canada was also a "dry" county but prohibition regulations were even tougher to enforce there than in the United States.

By the early 1930s, Prohibition was viewed by many as a noble experiment, but one that failed. President Roosevelt won in a landslide in 1932 and many of his backers strongly supported getting rid of prohibition. Within three days of taking office, President Roosevelt signed the Cullen-Harrison law that legalized the production and consumption of beer with up to 3.2 percent alcohol content as of April 7, 1933. Congress also passed the Twenty-first Amendment repealing the Eighteenth Amendment. By December 5, 1933, 36 state legislatures approved the new amendment and the nation went back to being "wet."

Stroh's resumed brewing beer in 1933. Detroit residents—and those in many other cities—gleefully celebrated the return of legal alcohol. Numerous other former brewers and new brewers also sought to slack the thirst of Detroit residents and, by 1940, there were 15 brewers operating in the city. There must have been a great demand for beer during World War II as the city's population soared above two million but brewers faced great challenging finding the workers, the ingredients and the facilities they needed. The government very strongly steered manufacturing activities and labor into defense industries. Brewers did not rank high when it came to government allocations of resources. By the end of World War II, there may have been only 5 brewers left in Detroit: Stroh's, E. & B, Gobels, Pfeiffer, and Schmidt's. Stroh's was the largest but faced competition. E. & B. took over Schmidt's in 1952 and then that firm merged with Pfeiffer in 1962. Stroh's took over Gobels in 1964 leaving Detroit with just two brewers in the 1960s: Stroh's and Pfeiffer's. Pfeiffer's was out of business by 1966 even thought they had a modern brewery—one that still stands—on Beaufait.

A huge change was occurring in the beer industry. Traditionally, brewers served local areas—a city, its neighborhoods and its suburban ring. Along came national television. Sports programs were among the most popular and were the perfect place to advertise beer. Gradually, a few large brewers came to dominate national television and they thereby, put local brewers out of business across the nation. Stroh's management saw what was happened and tried to broaden their market penetration to include much of the upper Midwest. By the late 1970s, they were among the top 15 brewers in the nation with sales in 17 states. The Stroh family continued to manage this brewery. But they faced a challenge. Either they would grow to become one of the top five brewers in the nation or the dominant national firms such as Anheuser Busch or Millers would drive them out of business. Stroh's management decided to compete for a top national ranking. In the early 1980s, they decided to buy Schlitz, a large but troubled Milwaukee firm with substantial national sales. Schlitz, however, had been very slow to get into the production of light beer and had a history of bitter labor strife in Milwaukee with long strikes that compromised their ability to deliver beer to consumers. Stroh's management borrowed huge amounts of money and eventually purchased troubled Schlitz. This turned out to be a bad decision. The federal government held up the purchase for some time fearing the development of monopolies in beer production but eventually approved it. Stroh's management, however, soon found the firm in great debt that it could hardly repay. They were short of funds to advertise their beers. In fact, they were so short of funds they decided to sell off assets.

Facing financial problems, Stroh's management, in 1985, closed the large brewery at Gratiot and Russell and Detroit found itself without a home town brewer. Needing funds, Stroh's established a real estate subsidy that decided to capitalize upon the value of the land the brewery once occupied. This was the origin of the very attractive Brewery Park office complex that you see pictured here. The huge brewery campus was razed and replaced by the attractive red-brick office buildings that you see here. Some may have doubted the need for additional office space on the east side of downtown Detroit, but the Stroh's Real Estate subsidiary proved that a new large office facility could attractive renters.

Stroh's real estate firm also successfully renovated and developed the Parke Davis campus on the riverfront. As a brewer, Stroh's survived until 1999 when its meager resources were sold to the Milwaukee Brewers Pabst and Millers. I believe that there have been several attempts to obtain the rights to the Stroh's name and apply it to a beer. So far as I know, those efforts have not been successful. As times goes on, fewer and fewer residents of Detroit remember the flavor of Stroh's beer or the central role that this firm once played in the Motor City.

I do not know if there is a happy ending to this story of beer in Motown. By the 1990s, there was a new and affluent population of young people who grew tired of the standard, mass produced, but bland, beers that were advertised on television at every sports event. Craft brewing eventually found a niche. By 2012, I believe there were four craft brewers in Detroit that were turning out beer in volumes that may have rivaled what Berhnardt Stroh produced in the years when James Buchanan resided in the White House. These included the Atwater Block Brewery at 237 Joseph Campau near the Detroit River; the Detroit Beer Company in the Hartz Building at 1529 Broadway near Grand Circus Park and two locations in the revived Cass Corridor: Motor City Brewing Works at 470 West Canfield and the Traffic Jam and Snug restaurant at 511 West Canfield. And, by 2010, Anheuser Busch, the St. Louis firm that helped to drive many local brewers in the United States into bankruptcy, had been taken over by an even larger international firm from Belgium, Imbev.


Architect: Gensler Associates
Date of construction: 1995
Architectural Style: Modern glass faced office buildings
Definitive book about history of brewing in Detroit: Peter H. Blum, Brewed in Detroit: Breweries and Beers Since 1830. Detroit, Wayne State University Press, 1999.
City of Detroit Designated Historic District: Not Listed
State of Michigan Registry of Historic Places: Not Listed
National Register of Historic Sites: Not Listed
Use in 2008: Office Building
Photograph: Ren Farley, September 6, 2008
Description prepared: January, 2012


Return to Commercial Buildings