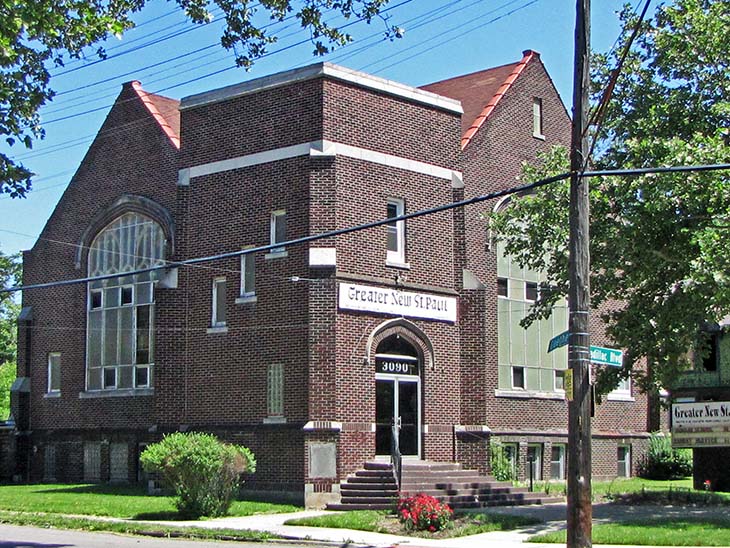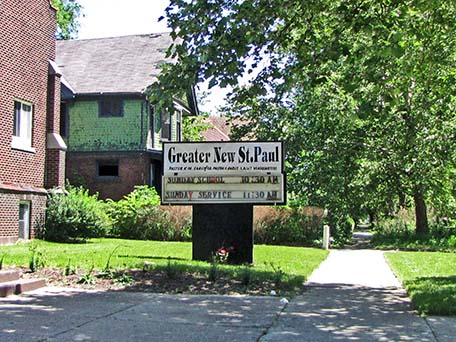 Cadillac Boulevard Presbyterian Church/
Second Ebenezer Baptist Church/
Greater New St. Paul Church/
Faith Temple Apostolic Church
3090 Cadillac in the East Village of Detroit


The city of Detroit grew rapidly in the early decades of the last century as the population went from 286,000 in 1910 to 994,000 in 1920.  Middle-class homes were built in many neighborhoods, including this one.  That is, by that time, Indian Village was a well-established neighborhood for the financially successful.  Some less expensive homes were built on either side in the West Village and East Village areas.  Generally, homes in the East Village were more modest than those in the West Village or Indian Village.  East Village had the advantage of being close to the then-emerging corridor of vehicle plants along Connor.  A resident of East Village could also reading take the Jefferson Avenue trolley to downtown. 

Wherever the residential population was increasing, congregations built new churches—some modest but almost all of them impressive and quite substantial.  I know almost nothing about the Presbyterian community in this area but they had the resources to commission architect Joseph Mills to design the structure you see pictured here.  

After World War II, the white population of Detroit declined rapidly.  Because of the architectural significance of its housing stock, Indian Village did not suffer as much as others from the exodus that reduced the city's Caucasian population from ____  in 1950 to ____  in 2010.  And, after about 1995, successful efforts were made to market the West Village area as a desirable residential site.  That did not happen in the East Village.  I do not know when Cadillac Boulevard Presbyterian closed but I think it was in 1963.  That is, records for this church from 1949 to 1963 are in the Bentley Library on the University of Michigan campus in Ann Arbor.  Several African American congregations have called this church theirs since the Presbyterians moved away.

East Village is just to the east of Indian Village and is bounded by East Jefferson on the south, Cadillac Boulevard on the east, Mack on the north and Fischer on the West.  Many of the abandoned lots in East Village are now planted with the trees that will become the Hantz Forest.  East Village is different from East English Village which is located about two miles northwest of East Village.

Joseph Mills was a productive Detroit architect around the turn of the Twentieth Century.  Benjamin Gravel's Facebook site, Historic Detroit Architecture,  https://www.facebook.com/groups/412764338844049/, provides a great deal of information about the city's structures.  Perhaps the largest building that Mills designed was the Lafer Brothers Building at 1323 Broadway in 1915.  However, Mills designed at least seven elegant homes that, in the early Twenty-first Century, grace the city's attractive historic districts.  This includes 674 West Canfield (1889) in the West Canfield district, 1466 Seminole (1913) in Indian Village; 914 West Willis (1893) in the  Willis-Selden district and four homes along Avery (1894 to 1902) in the Woodbridge Village district.
Architect:  Joseph Mills and Son
Date of Construction:  1916
Use in 2017:  Church
City of Detroit Designated Historic District: Not listed
State of Michigan Registry of Historic Sites: Not listed
National Register of Historic Places: Not listed
Photograph:  June 14, 2014
Description prepared: March, 2017
Return to Religious Structures

Return to Homepage
Architect:  Joseph Mills and Son
Date of Construction:  1916
Use in 2014:  Church
City of Detroit Designated Historic District: Not listed
State of Michigan Registry of Historic Sites: Not listed
National Register of Historic Places: Not listed
Photograph:  June 14, 2014
Return to Religious Sites

Return to Homepage