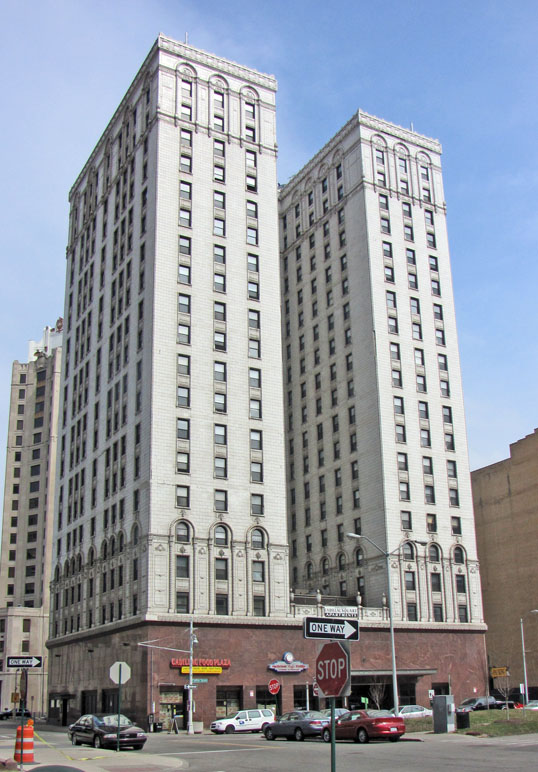 Cadillac Square Apartments/Barlum Hotel
111 Cadillac Square in Downtown Detroit

In three major areas of downtown Detroit, old Nineteenth-century low-rise buildings were razed in the 1920s and replaced by modern high-rise buildings. This decade was, of course, the apogee for population and economic growth in the city of Detroit, thanks to the booming vehicle industry.  The Book Brothers sought to turn Washington Boulevard into a shopping area that would rival New York's Madison Avenue.  Their Book-Cadillac Hotel has been renovated and the Book Building and Book Tower are scheduled for redevelopment, although the Statler Hilton Hotel that once anchored the Grand Circus Park terminus of Washington Boulevard has been torn down. 

At approximately the same time, a number of promoters attempted to develop Detroit's Park Avenue west from Grand Circus Park toward Myrtle, later renamed Martin Luther King.  Most of those building survive, but not all of them have been renovated for current use.

The third downtown area was the northwest side of Cadillac Square developed, in the 1920, largely by John Barlum and his fellow investors.  The building you see was designed by architects H. W. Bonah and W. C. Chaffee and opened in February, 1927.  It is a twenty-story building and features Venetian décor in its elegant lobby.  It offered 612 rooms, each with a private lavatory including a bathtub and a shower.  That does not sound unusual today, but eighty-some years ago, only the newest and most upscale downtown hotels provided such amenities to their guests.

John J. Barlum, a Detroit real estate developer, was born in the city in April, 1866 and educated in the public schools.  For this hotel, he obtained financial assistance from his collaborators, including his brother, Lewis P. Barlum; his other brother, John P. Barlum, and former Detroit mayor, William Thompson.  In the 1920s, the future of Detroit seemed exceptionally bright and few, if any, foresaw the October, 1929 stock market crash that impoverished Detroit for more than a decade.  Less than a month after the opening of the Barlum Hotel, the founders began construction of the adjoining Barlum Tower, now known as the Cadillac Tower and home to many city offices.  That building was designed to offer office space for the many attorneys whose business took them frequently to the nearby Wayne County Court House.  In addition, these investors shortly thereafter began construction of the Lawyers Building on Cadillac Square, another edifice designed for attorneys.

Alas, the Barlum Hotel was not always a profit center for its owners.  In its early years, it occupied an attractive and profitable niche in Detroit's hospitality industry.  At that time, hundreds of vaudevillians traveled a circuit throughout the Midwest, while numerous ecadycists and comics traveled a similar burlesque circuit in the center of the country.  Many of these visitors chose the Barlum Hotel when their work took them to the Motor City.  In addition, more than a half-dozen legitimate theaters operated in Detroit and their traveling companies of actors and actresses frequently spend their Detroit evenings at the elegant Barlum.

Unfortunately for John Barlum and his fellow investors, the Depression ended their profitable skein.  People needing entertainment during the Depression knew that movies were less costly than vaudeville, burlesque or the legitimate theater.  Barlum lost this hotel during the Depression and at least two subsequent firms tried to make a success of this large well-located building.  They failed, and in 1941, the city of Detroit took over this property for non-payment of property taxes.  The city sold it about a year later to Henry C. Keywell.  After World War II, he invested in the property and renamed it the Henrose Hotel in honor of himself and his wife.  However, this hotel went broke in 1963. A group of investors from Washington took over the property and renamed it The Embassy but they went broke in less than a year as the demand for hotel rooms in downtown Detroit plummeted.  In 1966, a Boston group of investors took control of the hotel, converted it to low-cost efficiency apartments and renamed it One Eleven Cadillac Square.  They were not very successful and the hotel passed into the hands of other investors.

The currents owners, P. and B. Investments, with offices in the New Center, area manage a number of apartments in downtown Detroit and the New Center area.  There are many signs of renovation and redevelopment in Detroit's central core, including the stadia, the casinos, and the Greektown entertainment neighborhood.  If employment increases in downtown and at the Detroit Medical Center and Ford Hospital, the demand for apartment in downtown Detroit may rise and, for the first time since the late 1920s, this building may become a profit center for its investors.
Architects: H. W. Bonah and W. C. Chaffee
Date of Construction: 1927
Architectural style:  Chicago style skyscraper with major light well and Venetian touches
Use in 2010: Apartment building
Website: http://www.newcadillacsquare.com/
Photograph:  Ren Farley; March 20, 2010
Description prepared: April, 2010

Return to Multi-Family Housing

Return to Hotels

Return to Homepage