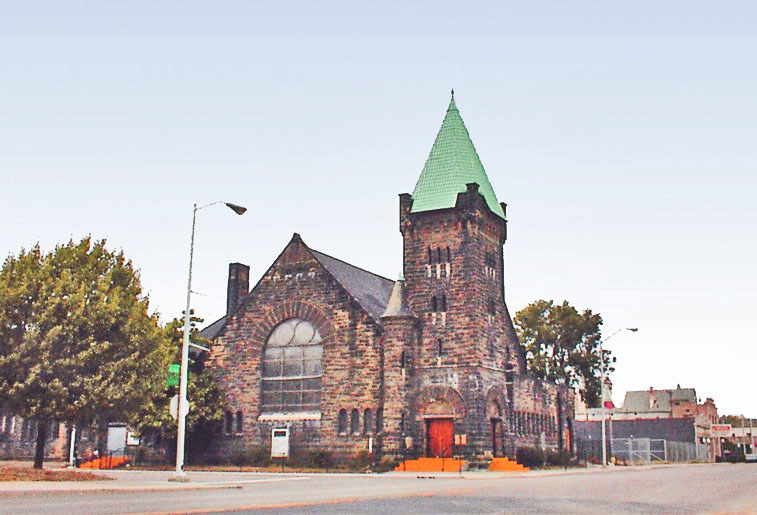 Cass Avenue Methodist Episcopal Church
Cass Community United Methodist Church
3901 Cass Avenue at Selden in Detroit's Cass Corridor

Detroit, capitalizing on its strategic location near the Great Lakes and its closeness to pine forests, became a n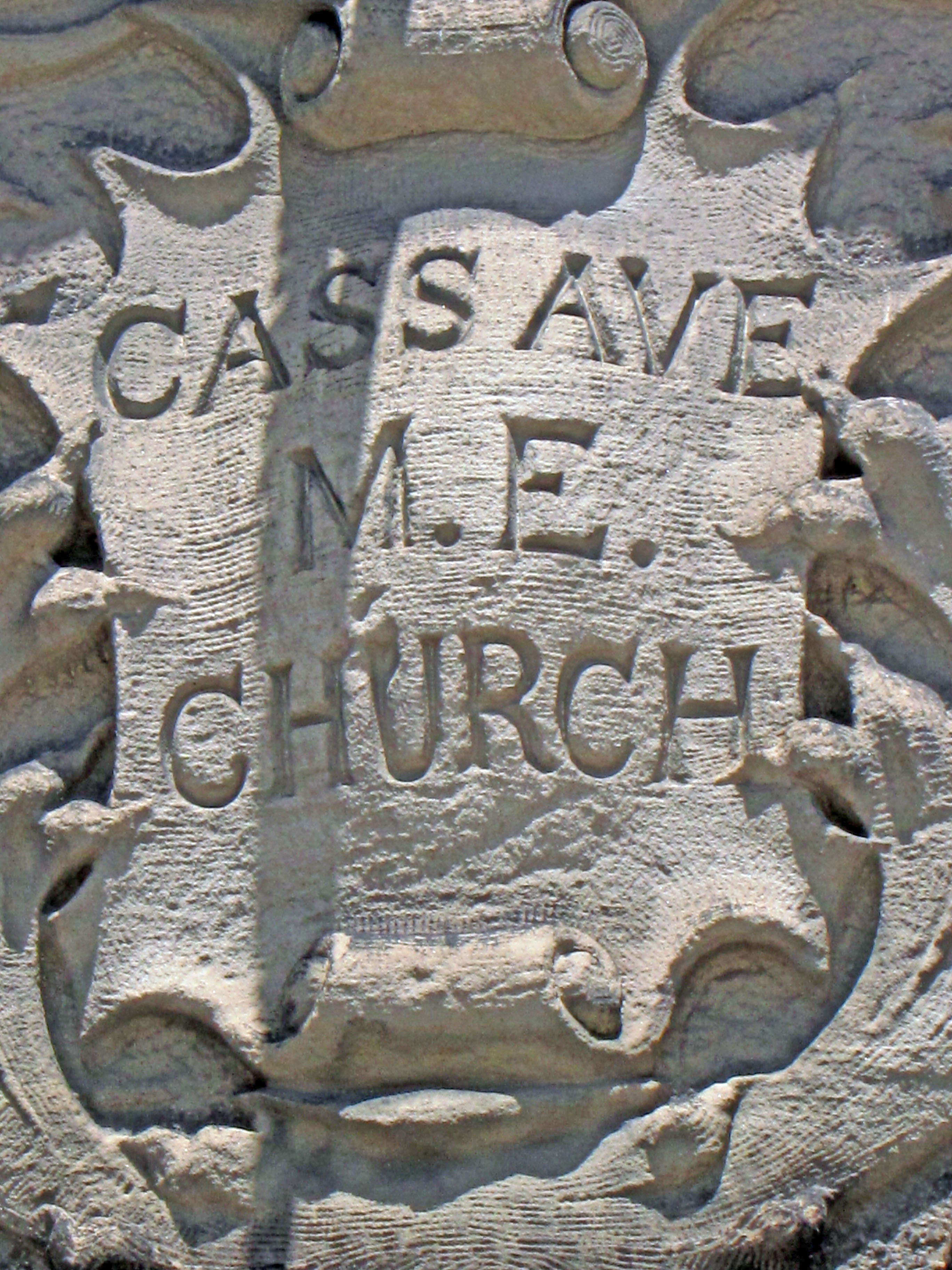 ational industrial metropolis in the last three decades of the 19th Century. A large number of entrepreneurs became prosperous and employed many individuals who became financially secure. Many of them built large homes along Cass and Woodward or on the intersecting streets. For the most part, Anglo-Saxon Protestants comprised and dominated Detroit's elite.
Many of the city's Methodists attended Central Methodist at Grand Circus Park in the decades shortly after the Civil War. But the former Cass Farms area that lined Cass Avenue attracted upscale residents in the 1870s and early 1880s. It became clear to many that another Methodist church was needed in this booming area of Detroit. David Preston, a prosperous Detroit Methodist purchased land for this church at the corner of Selden and Cass about 1880 from Crossier Davidson, a grandson of Michigan Territorial Governor and Secretary of War Lewis Cass. This Methodist congregation was formed in 1880. At first they commissioned Detroit architects George Mason and Zacharias Rice to built as chapel. Intending to erect a large church, they directed that the chapel be constructed quite far from the corner of Selden and Cass. Mason and Rice designed a Victorian Tudor style chapel with a steep roof and ornamental chimineys. This was completed in 1883.
The demographic and economic projects of this faith community were correct and, by 1890, they commissioned Detroit architects William Malcolmson and William Higginbotham to design the church that you see. This was the first time these two very productive architect collaborated on a design. Apparently they were impressed by the success of Henry Hobson Richardson's design for Boston's Trinity Church. This is a Greek Cross style church that was erected so as to incorporate the chapel that Mason and Rice had designed a decade earlier. This church was built with rock faced buff colored stone with extensive trim in Ionia limestone. However, as the church aged over the next century and a quarter, the pollution of the city turned the exterior to black.
There are several outstanding features of this church. At the corner of Selden and Cass is an 86 foot tower topped with pointed triangles. Attached to that massive tower, is a small conical stair tower attractively topped with a witch hat. Originally, this church's roof was covered with green slate. I have never seen a picture of this church taken in the early 1890s. It must have been exceptionally appealing: buff colored stone with a green roof. The slate roof must have been replaced decades ago. There are also two very large rose windows. These were designed by Malcolmson and Higginbotham but exected by Tiffany Studios in New York. It includes one of the largest organs installed in a Michigan church in the Nineteenth Century - an instrument with 34 ranks of pipes built in the 1890s in Westfield, Massachusetts by the well-known Johnson and Sons firm.
This must have been a very prosperous congregation in the 1890s. However, the popularity of the Cass Corridor as a residential area for the city's financial elite declined quite quickly after World War I. Indian Village, the Grosse Pointes and Boston-Edison were the residential areas of choice for those who could afford architect designed residences. In addition, the area around Cass Avenue Methodist Episcopal became increasingly commercial and residential. Beteween 1918 and the start of the Depression, the congregation lost more than half of its membership. The elders considered closing the church but, after self-study, decided to continue to operate. The leans years of the Depression led church to defer maintenance and, in 1941, city inspector found the church building you see unfit for use. For a time, the congregation met in nearby Thyomas Jefferson School but, in 1942, the building you see was sufficient repaired to satisfy Detroit's inspectors.
In the 1890s, the influence of Henry Hobson Richardson was strong when it came to designing churches in central Detroit. If you would like to talk a walking tour to see the results of his influence, you could begin with the 1893 Cass Community United Church of Mason and Rice and then walk over to Woodward's Piety Row where you will find another church that Mason and Rice designed: First Presbyterian at 2930 Woodward (1891). Then you might walk away from downtown on Woodward where you will see First Congregational at Forest and Woodward, designed by John Lyman Faxon and completed in 1891 and then through Detroit's Cultural Center to Our Lady of the Rosary Catholic Church designed by Malcolmson and Higginbotham and completed in 1896. Several extremely attractive photographs of this impressive church are included in the book about Detroit's Historic Places of Worship noted below.
This congregation began as Cass Avenue Methodist Episcopal Church but is now Cass Community United Methodist Church. I do not know when that change occurred.

Architects for the 1881 chapel: George D. Mason and Zachariah Rice
Architects for the church: William Higginbotham and William Malcomson
Style: Romanesque revival with influences from Henry Hobson Richardson
Date of completion: 1892
For additional information, see: Marla O. Collum, Barbara E. Krueger and Dorothy Kostuch, Detroit's Historic Places of Worship, Detroit: Wayne State Universtiy Press, 2012.
Use in 2013: Community Church
City of Detroit Designated Historic District: Listed
State Historical Register: Number: P4520, Listed March 28,1985
State of Michigan Historical Marker: This is on the Cass Avenue side of the church.
National Register: Listed December 10, 1982
Photograph: Ren Farley
Description updated: February, 2013
Return to Cass Farms Multiple Property Submission