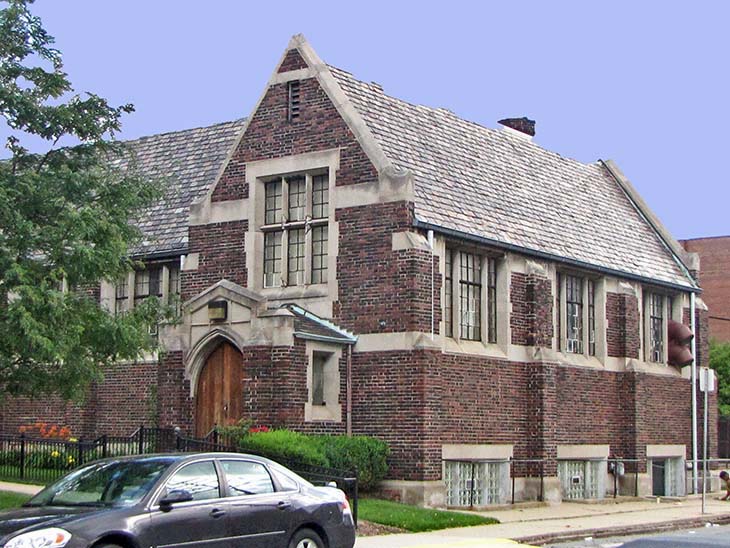 Christ Church
960 East Jefferson near downtown Detroit

Montgomery C. Meigs was, arguably, the most accomplished military architect in the nation's history. Most importantly, his efforts during the Civil War greatly hastened the emancipation of those in bondage and the eventual victory of the Union armies. Meigs—the son of a University of Pennsylvania trained physician—was born in Augusta, Georgia in 1815, but his family moved to Philadelphia. He studied at the University of Pennsylvania but completed his education at West Point, graduating fifth in his class in 1836 with a specialization in architecture. For the next 25 years, he built forts, aquaducts, a variety of other structures and improvements to make rivers navigatable for the federal government. He played a key role in the building of the Capitol, solving the problem of how to design and place the cast iron dome we recognize as a symbol of the country. He also commissioned the State of Freedom statue that stands atop the dome.

Meigs' most significant contribution occurred during the Civil War. After he completed the design and building of the nation's capital, Meigs got into a major disagreement with his boss, Secretary of War Floyd. The conflict intensified and Floyd exiled Meigs to the remote Dry Tortugas islands in the Caribbean where he was to build a fort. Floyd, however, got fired as Secretary of War before the inauguration of President Lincoln in March, 1861. Meigs—whose accomplishments were already acclaimed—returned to Washington to complete work on the capitol and an aquaduct that brought fresh water to that city from Great Falls, Virginia. Lincoln recognized competent individuals so Montgomery Meigs was appointed Quartermaster General of the Army in May, 1861 and served for 21 years.

In many ways, the Civil War was much more like a Twentieth-Century war than were previous conflicts such as the Revolutionary War or the War of 1812. Logistics were extremely important, and for the first time, railroads played an important role in determining which side would win or lost a battle. Manufactured goods played a larger role than in previous wars. Meigs quickly understood that the Civil War would be won by the side that could most effectively assembled munitions and food and then distribute them and troops to the appropriate locations most efficiently. He did that with great success. Furthermore, at this time there was assumed to be a great deal of incompetence or corruption as the government in Washington spent millions on supplies.

Reading about President Lincoln in the Civil War, you realize that he spent a lot o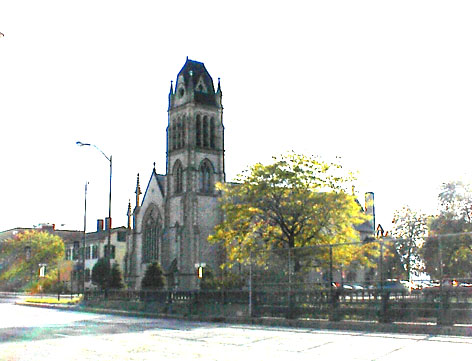 f time hearing from entrepreneurs who sought lucrative contracts to supply the military. General Meigs had a reputation for his honest administration of government funds. He quickly became one of President Lincoln's senior military advisors. In the later years of the war, well-supplied Union troops faced poorly-supplied and poorly-fed Confederates. Montgomery Meigs deserves credit for the efficient logistics that led to a victory of the North. A biographic sketch of Meigs in the Washington Post called him the nation's most accomplished bureaucrat. Who would guess that a former Detroit resident working for the government could win that accolade?

Meigs great Michigan accomplishment is Fort Wayne. Washington administrators feared that English troops might be sent to Canada to put down possible rebellions of the Francophons in Quebec and the independence-minded English speakers in Ontario. Once they did that, Washington patriotic officials feared that those English troops might attempt to recolonize the United States through an invasion at Detroit. The United States and England were also disputing, at this time, two other issues. And, in both cases, a few militants were calling for war. These issues included whether the northern boundary of Maine should be the Penobscot or the St. Croix River and whether the boundary in the Northwest should be 54 degrees 40 minutes or some more southern latitude. To protect this county, Congress commissioned Meigs to build the best example of a late medieval fort constructed in America. I thought that large and impressive fort was the only structure Meigs designed in Detroit until I read the 2012 book—Detroit's Historic Places of Worship. (Cited below)

In the 1840s, St. Paul's was the Episcopalian Church in Detroit. That parish survives and now serves as the cathedral parish for the diocese of Michigan with its marvelous Ralph Adam Cram church as Woodward and Warren. In 1845, Charles Trowbridge whose Greek revival home at 1380 East Jefferson is the oldest residence standing in Detroit, presumed that an Episcopalian parish was needed to serve the growing population living along East Jefferson, an upscale residential area being developed by Francis Palms. Trowbridge had come to Detroit prior to 1820 with an appointment as a deputy federal marshal but then went into business and politics. The Christ Church parish developed slowly. Trowbridge commissioned Montgomery Meigs to build a wooden church that sat 300 parishioners. I presume this was completed in the late 1840s.

By 1860, the Episcopalian faithful had grown in numbers and the Meigs church was far too small. Gordon Lloyd won a commission to design the Gothic Revival church that you see pictured here. He began by tearing down the wooden church Meigs designed and built a small limestone chapel that was dedicated in January, 1861. Then construction started on the larger church which was completed in 1862 and dedicated in 1863. It is in the Latin cross style with a large seven lancet stained glass window in the side that faces East Jefferson. You see a very substantial four-stage tower with turrets toward the top. Lloyd designed a place for a clock in this tower just as he did for the tower of the Central Methodist church on Grand Circus Park that he designed shortly after Christ Church. Central Methodist installed a clock when the tower was built but Christ Church has yet to install a clock in the tower of their structure. The authors of Detroit's Historic Places of Worship point out that the belfry of this tower is home to the oldest array of bells in the city.

This church was renovated in 1903 with the installation of space for a choir and the construction of a baptistery. Not all of Motor City's marvelous art is housed at the Detroit Institute of Art. In fact, a minority of the city's art may be located there. Detroit's many elegant churches contain much of the city's art. As an example, one of the impressive stained glass windows in Christ Church—produced by Tiffany—depicts St. Elizabeth of Hungary. Born in Hungary in 1207, she was the daughter of King Andrew II. At age 14, she entered an arranged marriage with Ludwig the son of Herman I who was king of Thuringia—a large area that is now in the center of Germany. In 1226, a flood devastated Thuringia and was followed by famine and pestilence. Ludwig, at the time, was away on a business trip to Italy. Elizabeth immediately stepped in and began distributing alms to the needed. She went on to construct a hospital, and apparently, sold many of the royal family's goods to generate revenue for relief of those who survived the flood, famine and pests. She is a significant figure in the western Christian Church for the way she symbolized the corporal works of mercy. Alas, she did not enjoy a happy life. Just one year after the flood, Ludwig died while leading Christian forces in the Crusades. She herself died at age 24.

Gordon Lloyd, who was born in England in 1832, received his training in architecture there. He came to Detroit in 1858 and quickly gained prestigious commissions including this church and Central Methodist on Grand Circus Park. If you walk to see Christ Church, it is worth lengthening the stroll to see another Gordon Lloyd building on East Jefferson, Dowling Hall that served as the home of the University of Detroit for many years and now houses their law school. Gordon Lloyd won commissions to design quite a large number of churches, primarily for Protestant denominations, throughout Michigan and Ohio in the later decades of the Nineteenth Century. One of my favorite accomplishments of Gordon Lloyd is the small St. James Episcopal Church that he designed for Grosse Ile where he had his summer home.

Christ Church is the second oldest Episcopalian parish in the city of Detroit and the oldest Protestant church in the state to be located at its original site. Next to Christ Church on East Jefferson stand the Solomon Sibley home that was used, from time to time, as the parish house. The oldest Episcopalian parish in the city is St. Paul's that was founded in 1812. I am not certain about the date of the founding of Christ Church parish.

Architect: Gordon W. Lloyd
Date of Completion: 1863
Use in 2014: Active parish
Website for Christ Church: http://www.christcd.org/
For more information about the church, see: Marla O. Collum, Barbara E. Kreuger and Dorothy Kostuch, Detroit's Historic Places of Worship (Detroit: Wayne State University Press, 2012)
For biographic information about Montgomery Meigs, see: http://articles.washingtonpost.com/2011-07-01/lifestyle/35266867_1_civil-war-soldiers-world-power
For a list of some of Gordon W. Lloyd's commissions, see: http://en.wikipedia.org/wiki/Gordon_W._Lloyd
City of Detroit Designated Historic District: Not listed
State of Michigan Registry of Historic Places: P25,049 Listed November 6, 1970
National Register of Historic Sites: Listed November 11, 1971
Photograph: Ren Farley
Description updated: February, 2014