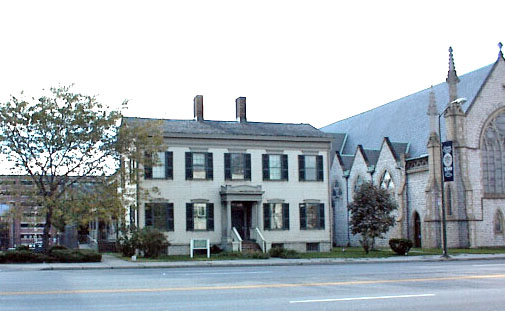 Judge Solomon Sibley House
976 East Jefferson next to Christ Church in Downtown Detroit

This is an excellent example of a Greek Revival-style urban home dating from the pre-Civil War years. Solomon Sibley was born in Massachusetts in 1769, and then earned a law degree from the College of Rhode Island in 1794. He moved to Marietta, Ohio in 1794 to practice law and then, three years later and less than a year after the United States. military replaced the Union Jack with the Stars and Stripes, Solomon Sibley moved to Detroit. He was one of the first trained lawyers in the small village. In 1799, he began serving in the territorial legislature that then met in Detroit. In 1806, he became mayor of the village of Detroit. From 1815 to 1824, he held the presidential appointment as United States. district attorney for the Michigan territory and, from 1820 to 1823, he was the territory's representative to Congress. From 1824 to 1827, he served on the territorial Supreme Court.
In 1845 Judge Sibley apparently began to plan or build the home you see pictured here. Unfortunatley, Judge Sibley died in 1846. Shortly thereafter, his widow, Sarah Sproat Sibley, had this clapboard, side-gabled Greek Revival-style home completed for herself and her two daughters. Notice that there are five bays along Jefferson Avenue with an attractive portico entrance that supports a pedimented emblature. The architects and builders of that era were clearly able to produce a very attractive home, using the Greek influences that President Jefferson had recommended for this nation. When you think about styles of architecture, it is impressive to realize the strong desire of many architects in the early 19th century to reflect the brilliance of Hellenic designers in their work, whether it was a marvelous public building such as the capitol in Washington or the home for a prosperous widow in the remote and small village of Detroit.
Christ Church adjoins this property. One of its major founders was Christopher Trowbridge who had married one of Judge Sibley's daughters. During World War I, while the house was still owned by Judge Sibley's descendents, the home was used by the French War Relief organization. After that war, the home was used as a settlement house providing assistance to poor people in the area. I believe that Judge Sibley's descendents sold the residence about 1925. During World War II, the home was used by the British War Relief Society. In 1946, it became the rectory for Christ Church
The Sibley House Fund was established in 2012 as a non-profit organization with the purpose of refurbishing and preserving this historic resicence.
Architect: Unknown
Architectural Style: Greek Revival
Date of Completion: 1848
Website: http://sibleyhousedetroit.com/
Michigan Registry of Historic Sites: P25245, Listed: February 19, 1958
National Registry of Historic Sites: Listed: April 16, 1971
Use in 2002: Rectory for Christ Church
Photo: Ren Farley, October, 2002
Description updated: February, 2014