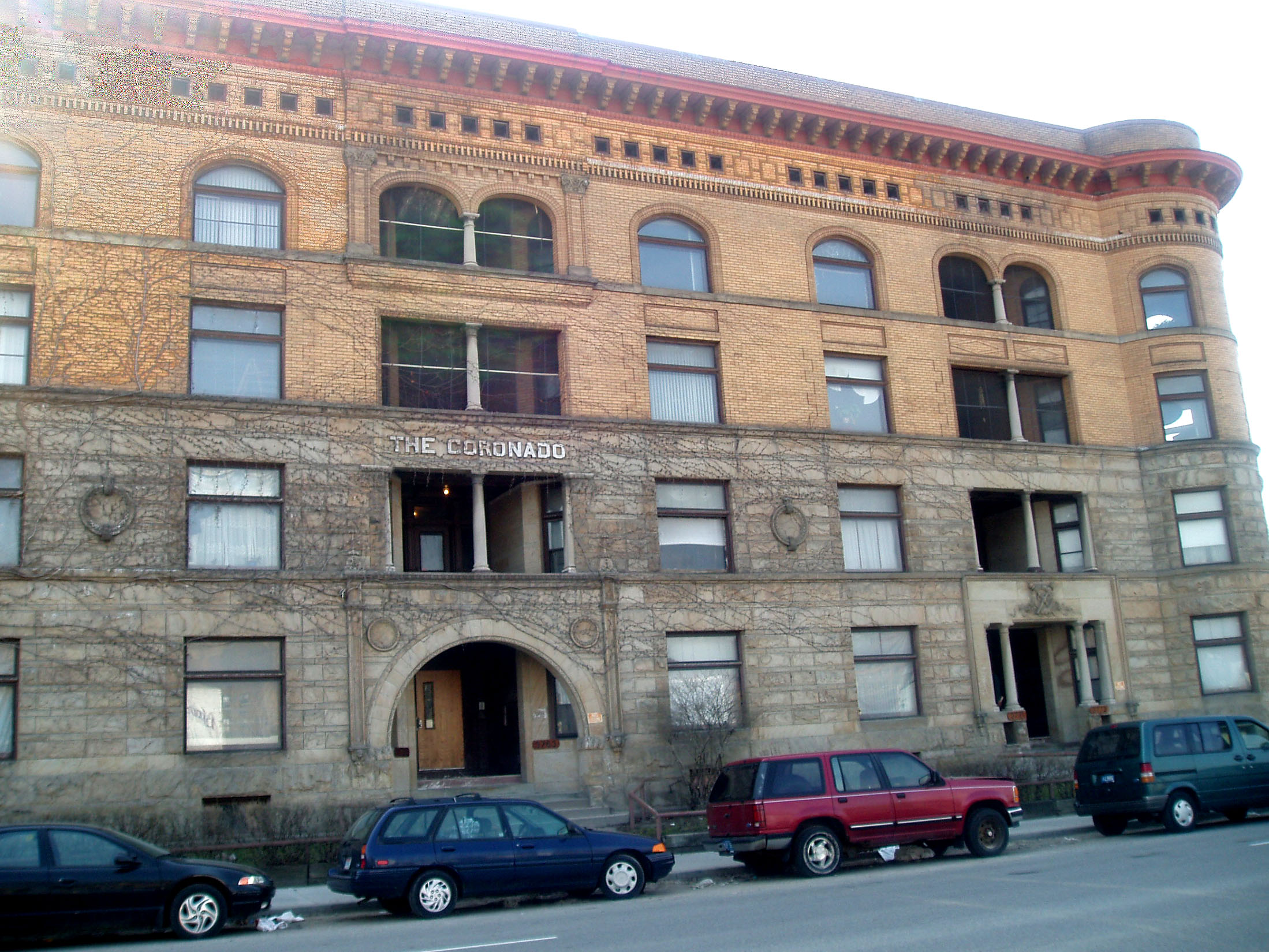 Coronado Apartments
3551-3573 Second

As wealth was amassed in American cities in the Nineteenth Century, the prosperous elite sought to build or buy their own homes. When land was in great supply, as in Detroit, detached single family dwellings were built, such as those you find in the West Canfield or East Ferry Historic District or in Brush Park. In cities where land was dear, very substantial and multi-story single family row homes were built similar to those you find in Philadelphia, New York or Boston.
When did it become fashionable for the prosperous to live in apartments rather than their own homes? There is no specific date, but by the end of the 19th Century some attractive apartment buildings were being constructed for the rich. And then, in the post-World War I era, there was modest boom in the building of apartment hotels—apartments, but in a building that offered food services, maid service and maintenance. After World War II, changes in tax law and financing sped the development of condos—today's option for people who want the advantages of both home ownership and an apartment.
The Coronado is historically significant since it is among the first apartment buildings designed in Detroit for the silk stocking market. Developer George Nutt and the architectural firm, Mortimer Smith and Son, put up this building in 1894 as the city became a dominating industrial center. There is a high basement that rises above ground level topped by four stories and an attic. The exterior uses red and yellow brick along with rusticated sandstone. If you look at this building from the Selden Street side, you with see a rather flat side, but one that is offset by an attractive turret at the corner of Selden and Second and bay windows at the south end, windows designed to admit light to each apartment.
The Second Street side displays lovely arches, a gracious entryway and numerous balconies. This side is clearly divided. The basement, first and second floors are covered with brown sandstone, while the third and fourth floors and attic are sheathed in attractive yellow brick. Toward the roofline, you see a brick frieze that helps to frame a monumental cornice.
The Coronado remained an attractive address into the 1930s when the Depression devastated Detroit. Similar to many of the city's classic Victorian homes, the Coronado was subdivided into many small apartments to generate revenue. In 1982, new owners began restoring the Coronado to its original splendor. If there is continued growth of jobs and population in downtown Detroit and in the Woodward corridor, the Coronado may once again become a prestigious address.
Builder and Designer: George D. Nutt
Date of Construction: 1894
Architectural Style: Romanesque
Date of Remodeling:
Use in 2005: Apartment Building
City of Detroit Local Historic District: Not Listed
State of Michigan Registry of Historic Sites: Listed October 2, 1980
National Register of Historic Sites: #82002897; Listed April 22, 1982
Photograph: Ren Farley; April 6, 2005
Return to Apartments, Condos and Housing Developments