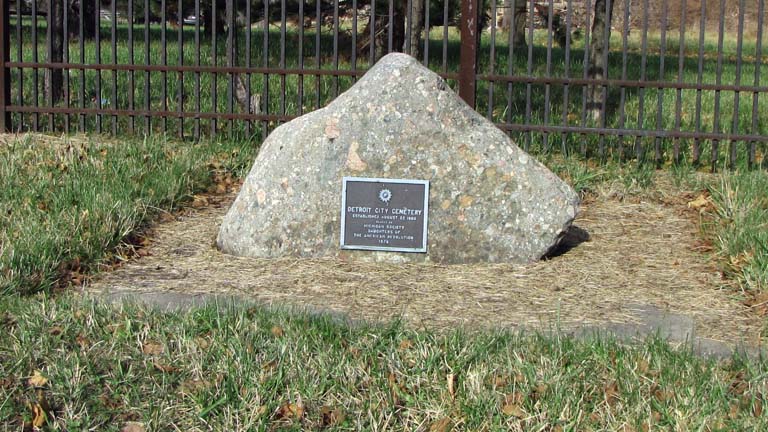 Detroit City Cemetery Commemorative Marker
At the corner of Gunston Street and Hern Street near Connor
on Detroit's Far East Side
I have read several different reports about the Detroit City Cemetery.  I infer that little is known about this burial ground.  Apparently, an area on or near Russell Street west of Gratiot was used for burials in the pre-Civil War era.  It may have been known as the Russell Street Cemetery.  Perhaps, the last decedents were placed in the ground there about 1860.  At this time, this cemetery was established so it was located in a rather remote, almost rural area.  That changed.  As Detroit's population increased, homes and shops were built to the west of Gratiot and, in the 1870s; the Eastern Market began to develop.  Some of the present buildings near the Eastern Market date from this area.

As construction in this area accelerated, a decision was made to move about 4,500 bodies from this cemetery to another remote rural location, this one near the present intersection of Gunston and Hern.  This was accomplished between 1880 and 1882.  After those bodies were moved, they were apparently forgotten.  In the 1950s, when construction projects were initiated on Detroit's Far East side, excavators and contractors frequently came across headstones, cemetery artifacts and human remains.  At some point, it became evident that a large number of bodies from the Russell Street Cemetery—presumably also known as the Detroit City Cemetery—had been moved to this area on the east side.   A decision was made to commemorate the cemetery with the modest rock and plaque that you see pictured above.

I believe there is a book that lists the names of those interred in the cemetery once located near Russell Street:  Detroit City Cemetery Records: 1854-1861 by Mary Loo Duncan.  I do not know the publisher or the date of publication.
City of Detroit Designated Historic District: Not listed
State of Michigan Registry of Historic Sites:  P25, 060 Listed January 27, 1983
National Register of Historic Places: Not listed
Photograph:  Ren Farley; November 17, 2012
Description prepared: May, 2013
Return to Cemeteries

Return to Homepage