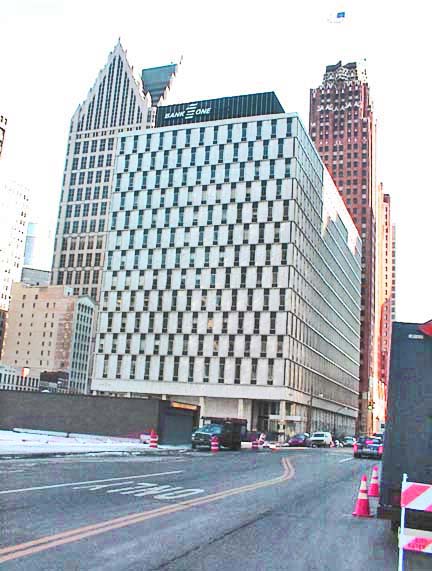 Detroit Financial District
Bounded, roughly, by Woodward Avenue on the East, Lafayette Boulevard on the North,
East Jefferson on the South and Washington Boulevard on the West
You might think that the nation's banking system changed little over the years.  However, it has changed greatly and this has implications for banks' decisions about their buildings.  For much of the nation's history, branch banking was prohibited or hardly permitted, meaning that every bank had to stand alone.  Furthermore, there were few, if any, federal programs insuring your deposits.  If bank owners were to attract deposits, they might wish to construct beautiful building that would send the message the deposits were secure.  For long parts of our history, banks were only commercial banks only, meaning that they obtained deposits from individuals and businesses and then loaned money to the identical clients. Commercial banks were strictly prohibited from investment banking and from offering financial services such as marketing stocks or bonds as well as from issuing credit cards.  Finally, until Fannie Mae was established in 1938, banks pretty much held onto the mortgages they wrote.  There was no systematic way for them to bundle their mortgages and commercial loans for sale to third parties or speculators.  All of those expectations about what a bank was and what it could do for its customers may help explain why Detroit has a marvelous collection of financial buildings in this small but extremely interesting historic district.  Many of the bank buildings date from 1900 to 1929, when Detroit was the most rapidly growing major city in the country in demographic and economic terms.

While there are numerous important large buildings in this area, Detroit's financial enterprise took two strong hits in the last century. Detroit is less of a financial center than you might expect given its population size and economic vitality. The government established a Federal Reserve System in 1913.  Twelve cities were selected to become homes to Federal Reserve Banks.  This was assumed, at the time, to be a highly-esteemed civic honor, so politicians exerted tremendous influence to have their cities selected to become Federal Research cities.  Thirty-seven cities, including Detroit, sought the honor of hosting a Federal Reserve Bank.  In traditional government fashion, those who established the Federal Reserve System sent out a committee to visit the applicant cities, a committee that amassed five thousand pages of reports and information.  Because of its commercial dominance of the Midwest, Chicago was an obvious choice for a Federal Reserve Bank.  But what other Midwestern metropolises would win that tremendous accolade?  Detroit was certainly a strong candidate, but after much deliberation, the founders of the Federal Reserve System selected Cleveland, St. Louis, Minneapolis and Kansas City to serve as home base for Federal Reserve banks in the Midwest.  There is still controversy about the decisions that influenced the selection of Federal Reserve cities.  I think there is consensus that at least five of the locations were selected for political reasons.  Cleveland's mayor—Newton Baker—had strong connections with the Wilson Administration and served as Secretary of War during World War I.  Detroit and Michigan, apparently, did not have sufficient clout with Congress and the Wilson Administration to win Federal Research Board designation.   Detroit lost out to four smaller Midwestern metropolises—two of them in largely rural Missouri.  As a kind of second-place blue ribbon, Detroit was selected to house the only branch of the Chicago Federal Reserve Bank.

During the Depression decade, steel and auto manufacturing centers were among the hardest hit.  Indeed, the auto industry may have been devastated even more than the steel industry. Auto production in 1932 was only one-quarter of what it had been three years earlier. Beginning in 1929, hundreds of banks entered bankruptcy every year, meaning that their depositors lost access to their monies.  When rumors developed about a bank's possible insolvency, depositors would rush to remove their deposits, hastening the bank's failure. The rate of bank failure seemed to steadily escalate and, while President Hoover and Congress recognized the extreme problem and discussed possible solutions, they did not enact an effective program for propping up bankrupt banks or for reimbursing depositors who lost their savings.  In early 1933, just one week before Franklin Roosevelt was sworn into office, Governor Comstock temporarily closed all banks in Michigan.  Michigan was the first state to shutter all of its banks.  Several other states followed the Michigan strategy and then President Roosevelt quickly imposed a national bank closing after he was sworn into office in March, 1933.  In many cases—but certainly not all—banks reopened and depositors were able to withdraw at least a fraction of their deposits.  Nevertheless, many of Michigan's largest banks closed in March, 1933 and went into bankruptcy never to reopen.  The Guardian Building erected   by the Guardian Trust Company is, very appropriately, a National Historic Landmark.  The bank, however, was unable to resume business after Governor Comstock's bank holiday.

The oldest building in this historic district is State Savings Bank (1900), a beautiful work designed by Sanford White of McCoy, Mead and White.  Other early buildings include the original Penobscot Building (1906) on West Fort, a structure that may be the city's oldest surviving skyscraper.  There are two buildings by the original and most acclaimed designer of skyscrapers: famous Chicago architect Daniel Burnham's Dime Savings Bank Building (1914) and the Ford Building (1908), both on Griswold.  Albert Kahn's first skyscraper, the Vinton Building (1917) on Woodward is included in this historic district along with his most impressive and ponderous bank structure:  the First National Bank Building fronting onto Campus Martius.

Listed below are the buildings included in this historic district, along with several more recent financial buildings that are geographically included in the area, but are not formerly listed since they are less than five decades in age. The following buildings are components of the Financial Historic District in Detroit:

Woodward Avenue 

Griswold Avenue
          
Shelby
| | |
| --- | --- |
| 542 | Telegraph Building (Architect: Unknown to me; Completed 1913) |
| 555 | Merrill Lynch Building (Architect: Unknown to me; Completed: 1960) |
| 607 | United States Mortgage Bond Building (Architect: Henry S. Angell; Completed: 1924) |
| 625 | Detroit Fire and Marine Insurance Company Building (Architect: Unknown to me; Completed: 1912) |

West Fort Street

West Congress

 West Larned

West Lafayette
Relevant Financial Buildings Not Included in the Historic District because of Their Recent Construction

Woodward at
Larned

Comerica Bank Building (Architect: Philip Johnson and John Burgee; Completed:  1992)
501 Woodward
Detroit Federal Savings and Loan Building

(Architect: Ted Rosvoy Associates; Completed: 1971)
This district includes a total of 36 building many of them already listed on the State of Michigan or the National Registry of Historic Places including, the Penobscot Building, the Guardian Building, the Detroit Free Press Building and the Vinton Building. Detroit became the nation's fourth largest city in the 1920s and continued to hold that rank until the 1950s when Los Angeles surpassed Detroit in population. Detroit, however, did not rank as high when it came to financial rank. To be sure, the industries of Detroit in the late 19th century helped to create substantial banks in the city. When the Federal Reserve System was established in 1913, Chicago was an obvious choice for a Federal Reserve Bank in the Midwest. But Cleveland, Minneapolis and St Louis, not Detroit, were selected as the other Midwestern homes for Federal Reserve banks. Thus, those cities developed financial infrastructures exceeding what developed in Detroit. Detroit has a branch Federal Reserve bank reporting to Chicago.

I have read observations that Detroit banks were, in the first decade of the last century, reluctant to lend to the nascent vehicle industry so they did not fully benefit from the boom in that industry. In 1933, most all Michigan banks failed. Indeed, Michigan closed its banks in the Depression before President Roosevelt shuttered all the nation's banks. The failure of so many banks in Michigan probably also played a role in the development of the financial sector in Detroit. One might speculate that even in 2010, Detroit is not the financial center that one might expect given its population size and manufacturing importance.

The area that is now the Detroit Financial Historic District contains some very impressive financial and office buildings representing the epitome of architectural design in the years from about 1908 through 1929. There are few post-Depression buildings in this district. The federal historic designation will be of assistance in the redevelopment and renovation of this east side of downtown Detroit since owners may claim tax credits for refurbishing their buildings.

City of Detroit Designated Historic District: Not listed
State of Michigan Registry of Historic Sites: Not listed
National Register of Historic Places: #09001067 Listed: December 24, 2009
Description updated: November, 2010
Return to Commercial Buildings
Return to Federal Register of Historic Places