The riverfront location where Antoine Laumet de la Mothe, Sieur de Cadillac disembarked on July 24, 1701 to found Detroit was built up in the 1800s with an unattractive jumble of functional low-rise buildings serving as stores with residences or offices at the upper levels. For decades, planners in Detroit presumed that the city should have an appealing waterfront with memorable architecturally significant buildings. In the 1890s, Mayor Hazen Pingree proposed that the city establish a civic park at the foot of Woodward but no resources were available to carry out his idea. In the 1920s, the Michigan Association of Architects agreed with Mayor Pingree's idea and commissioned Eiliel Saarinen—who was then working on the design of the Cranbrook campus—to sketch a plan. He proposed a large grassy area facing the Detroit River and Canada but nothing came of his ideas.

There were no resources for urban development neither in the Depression decade nor in the World War II years. By the late 1940s, plans emerged for a Civic Center on the waterfront at the intersection of Jefferson and Woodward. One of the first modern buildings to be erected there was the Veterans Memorial Building followed, shortly thereafter, by the now-razed Ford Auditorium, then the building now known as the Coleman Young City County Building and, later, the recently renovated Cobo Arena. One component of the planning called for a large riverfront plaza; now known as Hart Plaza in honor of Michigan senator Philip A. Hart who served in Washington from 1959 to 1976. He is best known, perhaps, for his sponsorship—along with Congressman Emmanuel Celler—of the 1965 immigration law that terminated the national origins quota system.

The Smith, Hinchman and Grylls architectural firm played a key role in designing the Hart Plaza but Isamu Noguchi contributed many ideas including the Plyon sculpture that stands near the intersection of Woodward and Jefferson and the Horace Dodge and Sons fountain shown here.

This largely plain and rather gray concrete plaza was viewed as disappointing by many since it seemed rather cool or even cold. It reminded some visitors of a large uneven paved parking lot rather than a comfortable welcoming waterfront park offering great views of the Windsor and Detroit skylines. One suggestion for added warmth was to place a fountain at a central point.

Horace Elgin Dodge was born in Niles, Michigan in May, 1864. His brother, John Francis Dodge, was born there in 1864. Their father ran a machine shop and foundry, presumably supplying the roundhouse and numerous repair shops of the Michigan Central in Niles with parts and tools. In 1886, the family moved to Detroit and the Dodge brothers went to work as boiler makers. As adults, John and Horace worked together very closely.

In 1894, they accepted jobs with the Dominion Typograph Company in Windsor. Horace, who was the brother more skilled as a machinist, invented and obtained a patent for a dirt-free ball bearing. In the 1890s, a bicycle craze spread rapidly across the nation and many firms began assembling a wide variety of cycles. The Dodge brothers cooperated with other investors to establish a bicycle firm, perhaps utilizing the invention of Horace Dodge. The firm was a financial success and, in 1900, the Dodge brothers established their own machine shop in Detroit, an auspicious decision since the vehicle industry was about to boom. By 1902, the Dodges were manufacturing transmissions for the vehicles assembled by Ransom E. Olds, the first entrepreneur to produce cars in quantity.

Henry Ford, similar to the other automobile manufacturers in Detroit in the early 1900s, found it challenging to raise capital. This meant that he did not have funds to establish all the workshops and factories needed to produce parts for his cars. Rather, Ford bought almost all component parts and assembled cars from parts produced by others. By 1903, the Dodge Brothers were making most or almost all of the engines Ford needed for his cars. Lacking funds to pay the Dodges, Ford gave them shares of equity in his firm. From 1903 to 1913, the Dodges were the main or largest provider of parts for Ford. This period includes the development of the Model T and its rapid movement up the sales rank to become the nation's most popular vehicle.

Henry Ford had a falling out with many of his colleagues and collaborators. I do not know the details of how the Dodge brothers split from Ford. However, by 1913, the Dodge brothers developed plans to establish their own vehicle firm and terminate their relationship as a supplier to Ford. By this time, the Model T was selling well so Ford could—and did—buy out his suppliers or established his own factories to manufacture parts. The Dodges, I believe, continued to supply Ford with some parts at least until they opened their own plant on Conant in 1917. Fortunately for them, they won a large contact to build trucks for the military during World War I. Their vehicle proved very reliable so their cars came to be highly esteemed as durable medium priced vehicles. Henry Ford, in 1919, bought out the Dodge Brothers' holdings in his firm for what would be between $300 and $400 million in 2015 dollars.

A pneumonia epidemic spread across the United States in 1918 killing as many as 500 to 675 thousand Americans Both John and Horace Dodge fell ill to influenza and pneumonia in 1920 although I do not know if their fatal ailments were directly linked to the 1918 pandemic. John died at age 55 in January, 1920 and his brother, who suffered other ailments, died about eleven months later at age 52. In 1925, John's widow, Matilda, and Horace's widow, Anna, sold the Dodge Brothers vehicle firm to a New York investment banking firm for the equivalent of about $1.4 billion 2015 dollars. The Dodge widows ranked among the richest women in the nation at that time. When Walter P. Chrysler assembled the Chrysler Corporation in the late 1920s, the Dodge firm was a key component along with other Detroit car firms, including Chalmers and Maxwell.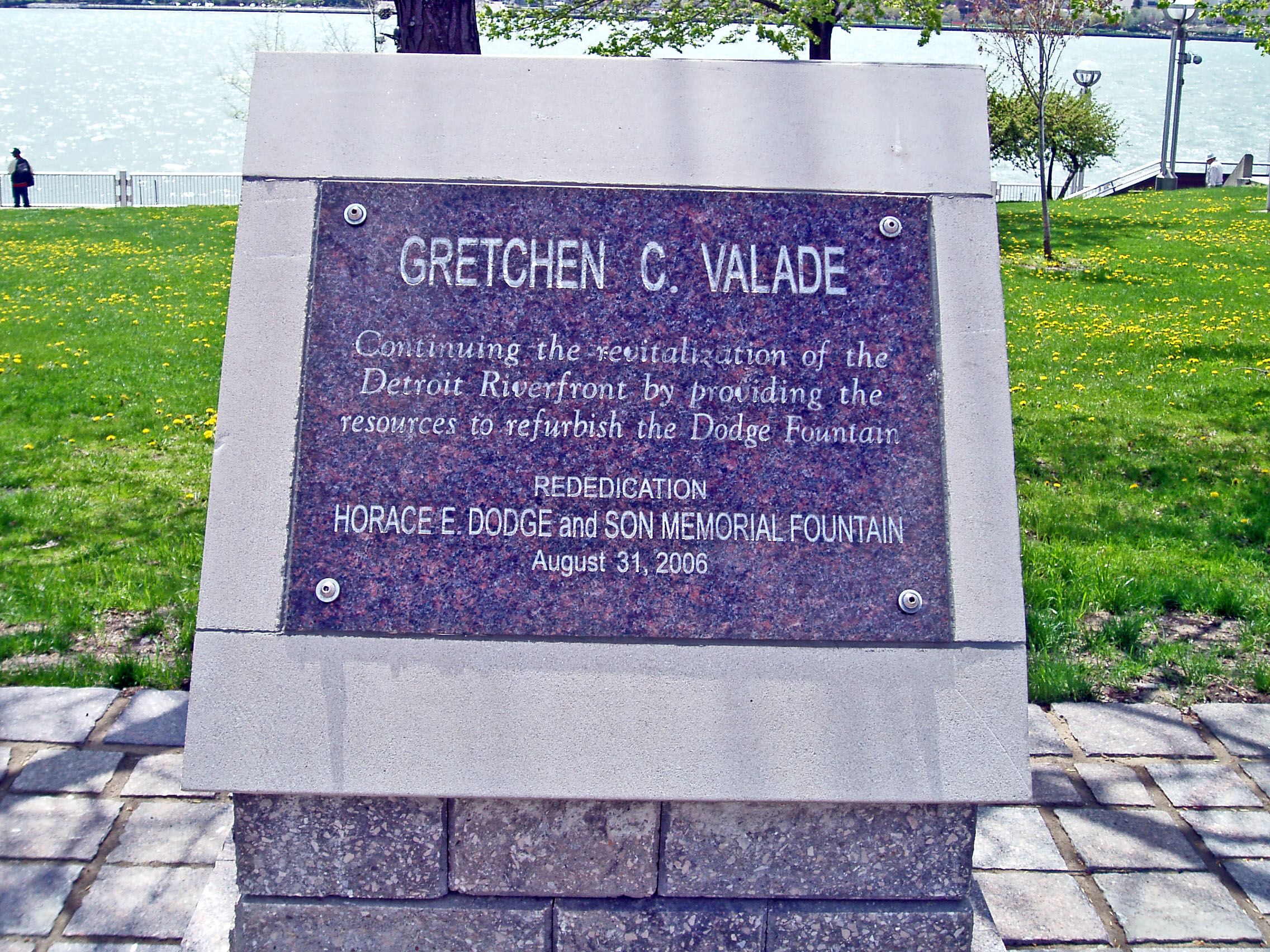 Mayor Jerome Cavanaugh in the 1960s and the editorofthe Detroit News, Martin Hayden, approached Anna Thompson Dodge in that decade and asked if she would contribute a fountain to help make Hart Plaza a "warmer" and more attractive site. She agreed to fund the fountain pictured here to honor her deceased husband and sons. Isamu Noguchi designed the fountain. Mrs. Dodge died in 1970 at age 103 and contributed at least one million for this structure. Mrs. Dodge left anestate estimated at in excess of $600 million 2015 dollars and so, in the 1970s as in the 1920s, she ranked among the richest women in the world.

The fountain consists of a large steel ring raised about thirty feet above the ground and supported by two legs. It is over a slightly sunken black granite pool. Lights play upon the flowing waters in evening hours.

Hart Plaza has been and continues to be used frequently during summer months for concerts. The concert area can hold as many as 40,000. However, many who visit are not so favorably impressed by the large expanses of concrete and the absence of attractive, interesting sites in the plaza. Shortly after becoming mayor, Kwame Kilpatrick recognized the severe ascetic limitations of Hart Plaza and announced his intention to propose a major redevelopment or renovation of Hart Plaza. However, he was not able to achieve such changes in Hart Plaza before his term as mayor ended abruptly.

Designer: Isamu Noguchi
Date of Design: 1973
Date of Installation: 1978
Material: Stainless steel
Use in 2015: Public Art
Photograph: Ren Farley
Description updated: July, 2015
Return to Public Art and Sculpture