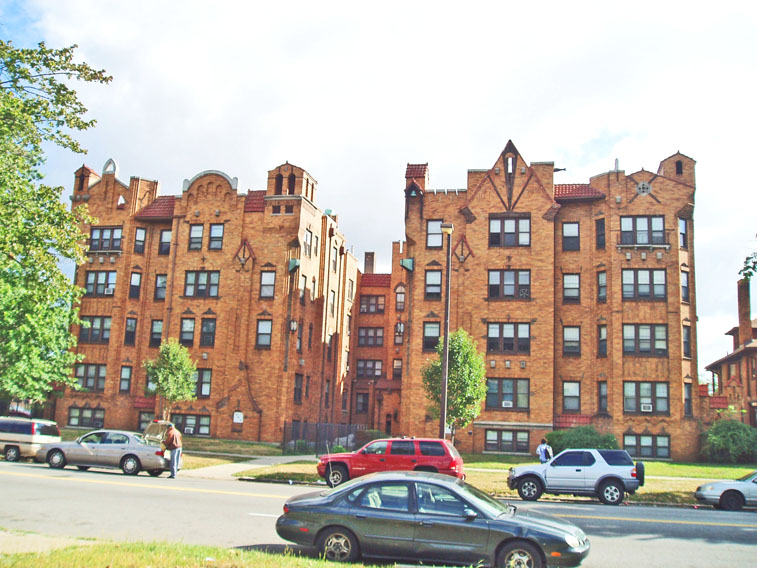 El Tovar Apartments
320 East Grand Boulevard in the East Grand Boulevard Historic District


Compared to the large Atlantic Coast cities and to Chicago, investors erected relatively few apartment buildings in Detroit. Land was inexpensive and efforts to build a subway system in Detroit came to naught, so single family homes were built throughout the city. However, Detroit's population boomed in the 1920s. The number of residents ascended from 994,000 to 1, 569,000, or a growth of 58 percent in just ten years. There was a tremendous need for new residences and an increasingly prosperous population able to pay rents. Furthermore, it was a time of architectural experimentation influenced by the popular Art Deco movement. Several substantial apartment buildings were constructed along prestigious East Grand Boulevard in this era.

The building you see pictured here is a teasingly appealing Spanish-Moorish structure. Note the warm color of the brick and the extensive orange terra cotta accents in many parts of the building. There is an attractive cou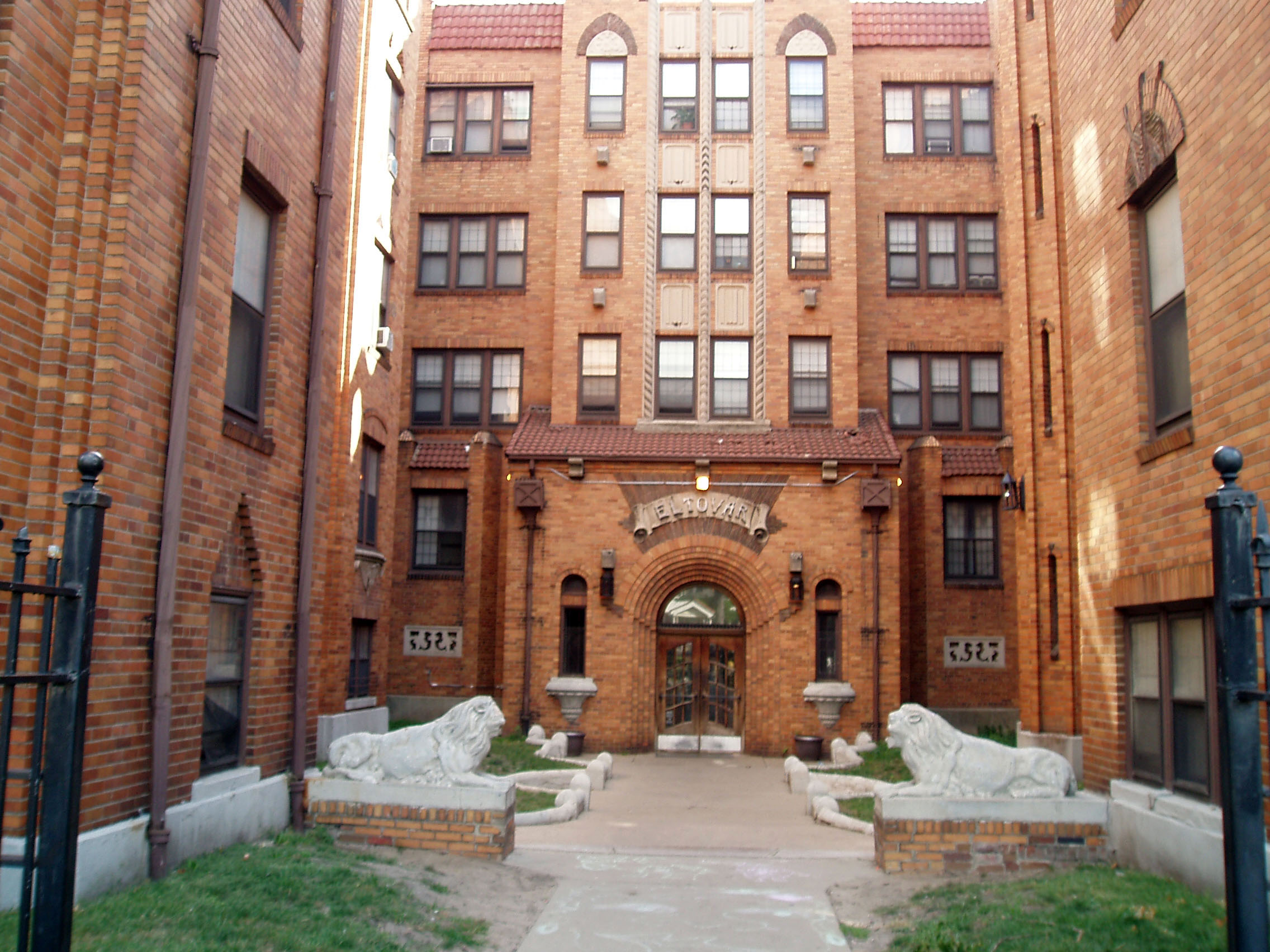 rtyard entryway. You will also notice numerous minaret towers reminding us of the Islamic conquest of southern Spain and their occupancy of that nation for several centuries until about 1492. This may be the best example of Spanish Moorish design now standing in metropolitan Detroit. This is an appealing four and one-half story building that originally contained 73 apartments.

Throughout Detroit you find faith-based organizations are now serving the needs of the city's many low-income residents. In 2009, 50.4 percent of the city's children and 30.6 percent of adults lived in households with incomes below the poverty line. The beautiful Messiah Church that Calvin Otis designed in 1852 was moved, stone by stone, from downtown to the corner of East Grand Boulevard and East Lafayette in 1901. Many churches in Detroit closed as their congregants moved to the suburban ring after World War II, but the Episcopalians continue to operate this parish. At some point, the administrators of that church decided to rehabilitate nearby apartment buildings using federal, state and private funds for use by local residents. El Tovar Apartments were opened for use by those holding Section 8 vouchers in 1992. The Messiah Housing Corporation has similarly renovated two other nearby apartment buildings in this historic district—the Saint Paul Manor Apartments and Kingston Arm Apartments.

I do not know much about the architects who designed this structure. I infer that they were influenced by the imaginative architectural designs of the 1920s and then were impressed by the Spanish Moorish architects. They used a rather similar Spanish Moorish design for their impressive Highland Towers complex at 12850 Woodward in Highland Park, a building that was basically destroyed by fire in 2010. These architects also designed the Santa Fe Apartments that were once located at 681 Merrick, the La Vogue Apartments at 245 Merton Road in Detroit's Palmer Park Boulevard Apartment Buildings Historic District and now undergoing renovation.

This building was listed on the Michigan and National Historic Registers. Subsequently, the East Grand Boulevard Historic District was listed on both registers on November 30, 1999. That district include the El Tovar.
Architects: Weidmaier and Gay
Date of Construction: 1928
Architectural Style: Spanish-Moorish
City of Detroit Designated Historic District: Not listed
State of Michigan Registry of Historic Places: Listed, P25,088
State of Michigan Historical Marker: None
National Register of Historic Sites: #91000214 Listed February 28, 1991
Use in 2008: Apartment Building
Photograph: Ren Farley, September 6, 2008
Description prepared: January, 2011