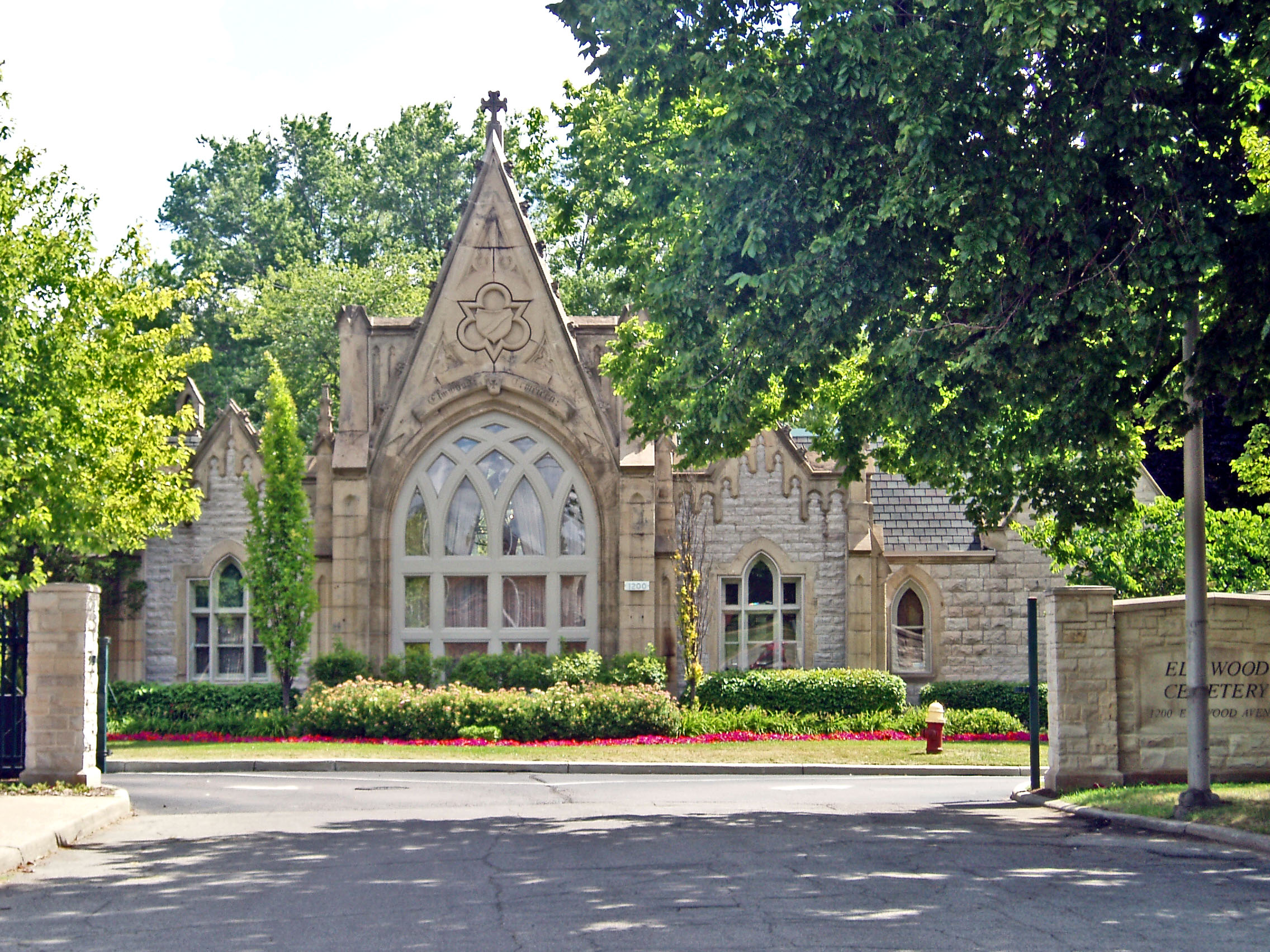 Elmwood Cemetery Gatehouse
1000 Elmwood Street near the intersection of East Lafayette and Mount Elliott

This is one of the three cemeteries that comprise the Eastside Historic Cemetery District. The other two are Mount Elliott Cemetery and Lafayette Street Cemetery. Traditionally, Elmwood served Protestant decedents; Mount Elliott, Catholics and Lafayette Street, Jews.

The first burial at this property occurred in September, 1846. The property was officially established in October of that year as a rural cemetery. In March, 1849, the cemetery was recognized by the state legislature as a non-profit corporation. Originally, it included 42 acres. Eventually, its size grew to 86 acres but, in the 1850s, a small land area was sold to Temple Beth El to serve as Lafayette Street cemetery.

One of its unique features is it bucolic design. Indeed, the nation's greatest park architect, Frederic Law Olmstead who created Central Park in New York, Prospect Park in Brooklyn, Fairmount Park in Philadelphia and Mount Royal in Montréal, was commissioned in 1890 to help landscape Elmwood Cemetery. He was, apparently, influenced by Mount Auburn Cemetery in Cambridge, Massachusetts—burial grounds dating from 1831 that was intended to create a rural environment in the midst of a populated city.

Prosperous Nineteenth Century cemeteries often selected leading architects to design impressive chapels and gate houses that served as offices for the officials. The attractive gate house shown in the picture above was designed by one of the most productive and creative architects working in Detroit in the post-Civil War decades: Gordon Lloyd, who also designed Central Methodist, Christ Church and Dowling Hall of the University of Detroit on East Jefferson.

Not shown on this page is the Elmwood Cemetery chapel designed by Albert and Octavius Jordan and completed in 1856. That chapel was destroyed by fire about a century later but was subsequently rebuilt.

Elmwood Cemetery is the final resting place of eight Detroit mayors: John Biddle, Zachariah Chandler, Douglas Houghton, Jonathan Kearsley, Zena Pitcher, Solomon Sibley, Coleman Young and John R. Williams. Seven men who represented the state of Michigan in the United States Senate are also buried here: Russell Alger, Zachariah Chandler, Lucius Lyon, James Millan, Truman Newberry, John Norvell and Thomas Palmer.

Elmwood Cemetery includes the site where the Battle of Bloody Run was fought on July 31, 1763 during Chief Pontiac's siege of British Detroit. At one time, many creeks or small rivers ran throughout the land area now included in Detroit such as the Savoyard River and Baby Creek. As the city grew, many of those streams were enclosed in underground conduits. The Indians defeated the British in July, 1763 as the Redcoats attempted to cross a bridge across Parent's Creek. For the most part, that creek has been enclosed but Frederick Law Olmsted's design for Elwood Cemetery left the water flow visible here.

The first of the three cemeteries was established in 1841. For some time after the War of 1812, Ste. Anne du Detroit served the Catholic population but it was basically a French parish. Following completion of the Erie Canal in 1825, some of the Irish workers who built that waterway came to Detroit. Most Holy Trinity parish was established in 1833 to serve the English speaking—largely Irish—Catholics of Detroit. In 1841, some members of that parish purchased 12 acres of rural land east of the city to establish a Catholic cemetery. The first person to be buried there, Robert Elliott, was an architect who died as a result of an accident on a construction project. The cemetery continues to bear his name. Additional land was purchased in 1865 and 1881 to bring the cemetery up to its present size of 65 acres. In 1869, the French Catholics who had been buried in Ste. Anne du Detroit cemetery were reinterred in Mount Elliott. I do not know where the original Catholic cemetery in Detroit was located. As a result, the military officer who took possession of Detroit for the United States from the British, Jean François Hamtramck, is buried here.

Temple Beth-El, dating from about 1850, was the first synagogue to serve the Jewish residents of Detroit. Shortly after its founding, its leaders sought a burial ground. They secured a one-half acre lot in what is now the Eastside Cemetery Historic District. I do not know if they purchased that land from Elmwood Cemetery or some other source. It was originally known as Champlain Avenue Cemetery but, after Champlain was renamed to honor Marquis de Lafayette, the cemetery was also renamed.

The Gothic style gatehouse that you see was remodeled in the 1950s and then, in 2003, the gate was officially closed since it could no longer accommodate the larger vehicles used today.
Architect for Gatehouse: Gordon W. Lloyd
Date of Construction: 1876
Architectural style: Gothic
Use in 2013: Cemetery
Website for Cemetery: http://elmwoodhistoriccemetery.org/
City of Detroit Designated Historic Sites:
State of Michigan Registry of Historic Places. Elmwood Cemetery is a component of the Eastside Historic Cemetery District. Listing P25,085
National Register of Historic Sites: Listed as a component of the Eastside Historic Cemetery District.
Photograph: Ren Farley
Description updated: December, 2013